Spoil Yourself with New Seafood Splurge Semi-Buffet Brunch at Feast
When you think August, what jumps into your mind? Vacation, sunshine, the beach, seafood, and lots and lots of bubbly drinks (for example, Champagne). For those of us unable to travel, brunch is the way out – a mini-escape from your grueling workweek. One of the best destinations for you to be whisked away to, right here in the city: Feast (Food by East) at East Hotel Beijing, where a brand-new semi-buffet brunch with oysters, crabs, prawns, lobsters, and plenty more seafood can provide a luxurious escape from your stressful, muggy work week.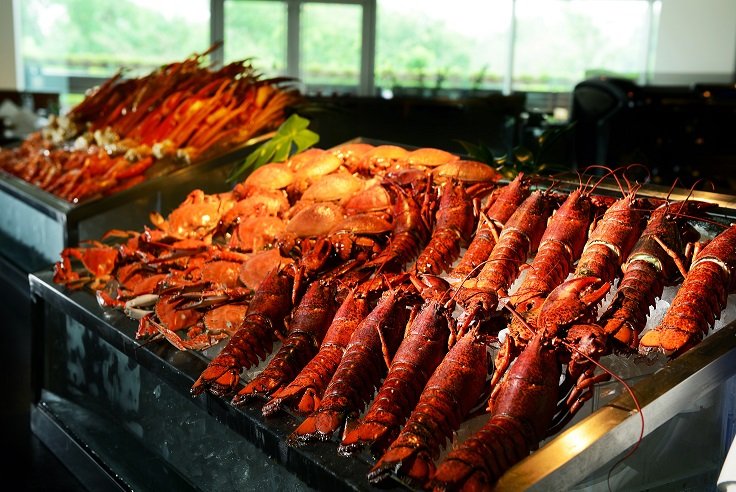 Our mini-vacation kicked off with a little tour to familiarize ourselves with the area. Numerous bright-red snow crab legs, Boston lobsters, prawns and crabs sit neatly at the entrance, calling for a taste; imported oysters from New Zealand and France are shucked right in front of you; pots of crayfish scream for attention. Lumps of green-lipped mussels, bread and salads, hearty and hot soups, roasted pork, trays of Chinese dim sum, imported cheeses from Italy and France – we stood before the bounty of delicacies, unsure of where to even start.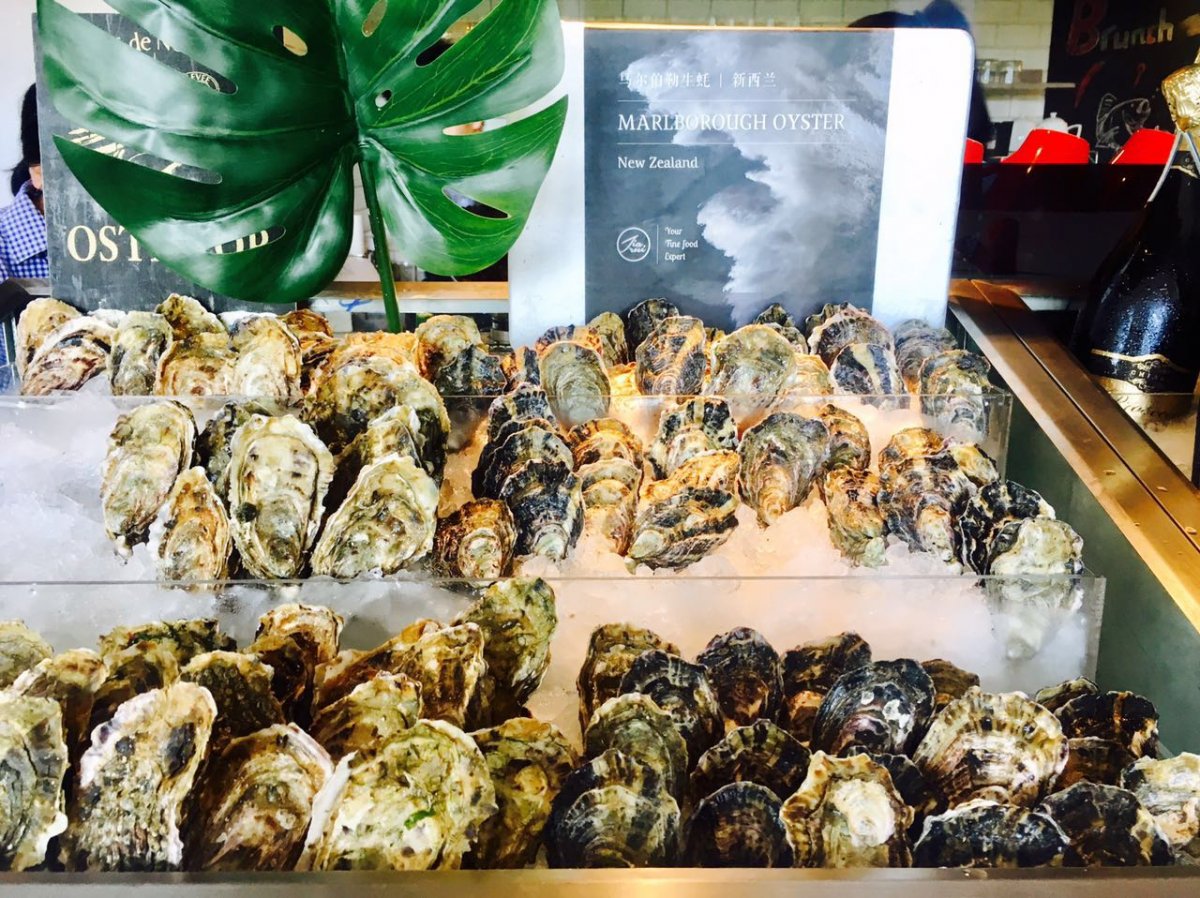 Healthy? Check. Delicious? Check. Beautiful? Check. Diners choose one of 19 main course options, including grilled prime rib, seared duck breast, garlic prawns, seared crispy-skinned salmon, grilled baby chicken, black cod, bangers & mash, half-lobster and prawn pasta, lamb chops, risotto, egg and mushroom omelets, zucchini mousse, farmhouse French toast, pancakes, eggs Benedict. With an upgrade, you can go for a Stockyard Australian black Angus grain-fed steak (for an extra RMB 325), or Stockyard Australian pasture-fed wagyu rib eye (for an extra RMB 488). If you are visiting with a small group, the Tomahawk serves two (for an extra RMB 388), while the Cowboy Tomahawk is for three or more (for an extra RMB 488). Steaks are served with fries, mushrooms, and charred tomatoes.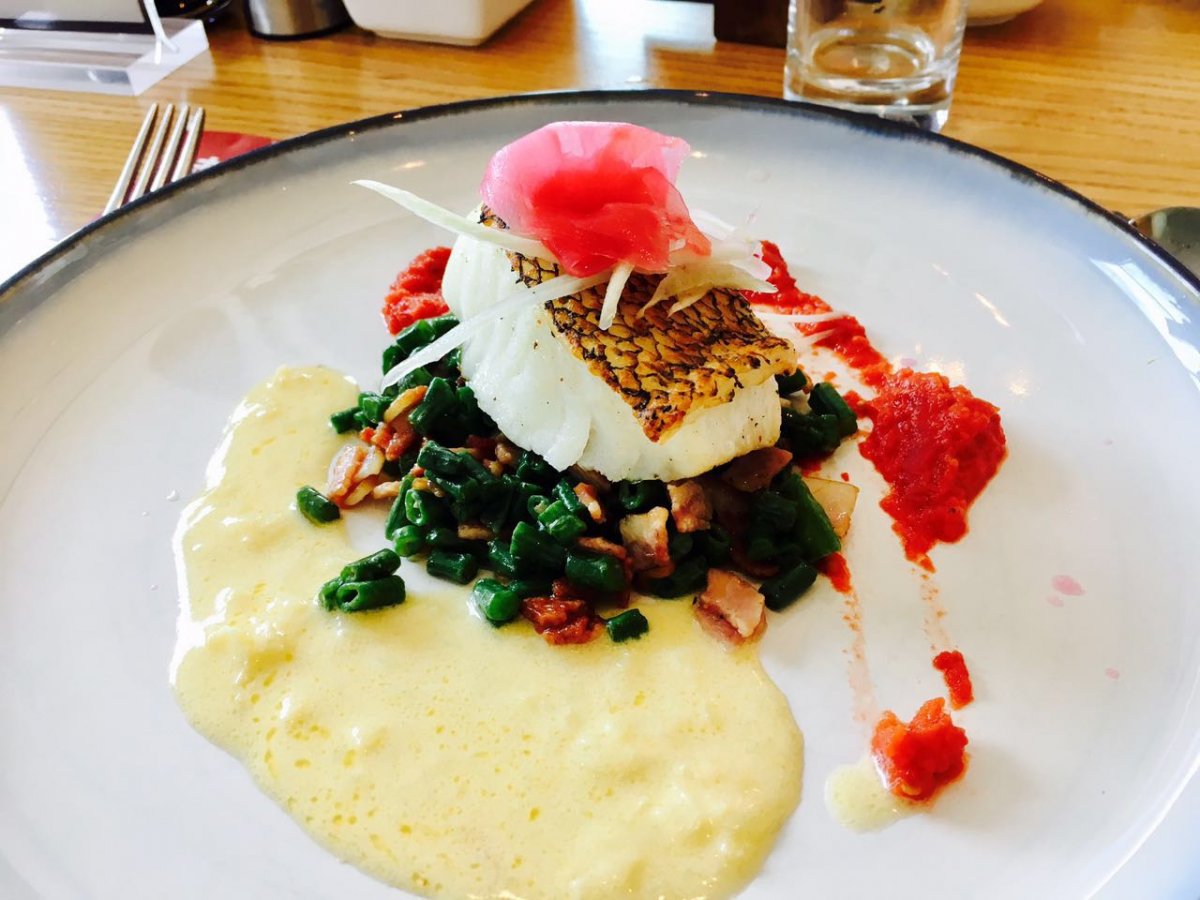 We opted for black cod, which was the star of the meal. The snow-white fish with crisp skin was sitting on a pile of fried beans and bacon chops, with sun-dried cherry tomato hash to add acidity, and seasoned with ginger and butter sauce to bring a creamy and spicy flavor. Slices of pink gari (pickled ginger normally served with sushi) gave it an Asian twist and balanced the overall aroma well.
An array of elegant desserts gives the sweet tooth another reason to cheer. Guests can custom-decorate glazed donuts with gummy bears and other sweets. The dessert bar is also home to cheesecake, mousse cake, chocolate cake, Swiss rolls, pudding, chocolate pie, ice cream... I could go on. For drinks, options are RMB 68 for non-alcoholic beverages, or RMB 138 for free-flowing sparkling wine, Tsingtao beer and house wines. And, of course, you can opt for free-flowing Mumm Cordon Rouge Champagne (RMB 198) as the cherry on top of this decadent midday dining experience. The dining area's airy ambiance, the relaxing music, helpful waiting staff and wide range of available dishes all make us feel incredibly spoiled here at Feast.
Is brunch not enough for you? You can head to Feast for the Surf & Turf semi-buffet dinner from Friday to Sunday (5.30-10pm) for RMB 388, with fresh seafood, premium beef, and more. Whether you'd like to reward yourself for all your hard work or have a good time with your loved ones, this is the season to partake in this seafood bonanza. The aforementioned weekend semi-buffet brunch costs RMB 388 per person every Saturday and Sunday (11.30am- 3pm). Call 8414 9820 for reservations.
More stories by this author here.
Email: tracywang@thebeijinger.com
Twitter: @flyingfigure
Instagram: @flyingfigure
Photos: Tracy Wang, courtesy of Feast
Comments