No Limit: Beijing Refuses to Cap Car Numbers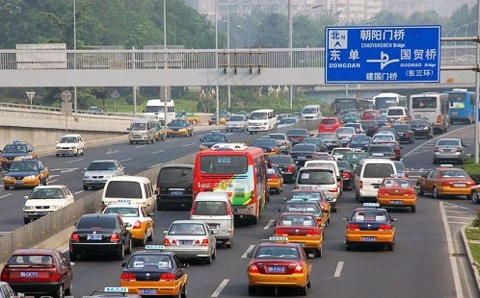 Rumors that Beijing was going to introduce a cap on car registration or sales have been quashed with an announcement on Wednesday that the city government would do no such thing. Despite the director of Beijing's Transport Department, Liu Xiaoming revealing that the government was seriously considering putting a limit on the number of vehicle registrations at a recent high-level transport conference, the Beijing Municipal Commission of Development and Reform (BMCDR) unequivocally announced at a press conference on Wednesday that no such measures would be introduced. The deputy head and spokesman of the commission justified the decision not to impose a limit on the grounds of a need to maintain the long-term development of the country's auto industry and sustain general economic growth.
Rumors of an imminent introduction of some kind of limit on car sales or registration led to a spike in car sales as Beijingers attempted to beat the introduction of the new regulations. So when the rest of China's auto industry was witnessing a drop in sales across the country, the Beijing market remained strong. China Daily reporting a 30% increase in sales at one of Beijing's biggest dealerships.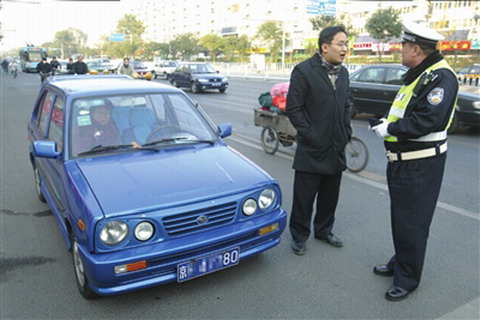 Reactions to the announcement are mixed, with many drivers already frustrated by the complex rules of the new car restrictions, they along with automakers and potential car buyers seem relieved that the government has not decided to meddle any further.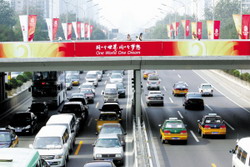 However, other residents who have enjoyed the benefits of the Olympic odd-even ban - according to reports it helped to eliminate 120,000 tons of pollutants (about 63 percent of total vehicular pollutant emissions) and has given Beijing the best air quality results it has experienced in 8 years - not to mention less congested roads - think that the government has sacrificed the quality of life of Beijingers for the good of the economy. Many residents are not convinced that the city's decision to forgo a limit on car numbers and instead to focus on expanding the public transport system, raising parking fees in downtown Beijing, offering free bike hire and doing away with fuel subsidies will be enough.
At present there are close to 3.4 million cars clogging Beijing's streets and approximately 1,200 new vehicles appear on the road everyday. It's estimated that this number will soon reach 4 million.
The following are a selection of differing opinions about the decision that we've sourced from various news commentaries and BBS posts.
For:
There are more vehicles on roads in cities like Tokyo, Paris and New York than Beijing, but they don't turn to limit on vehicle numbers to ease traffic,improving regional transportation planning is the right direction to go.
Beijing accounts for about a tenth of all car sales in the country, restriction on car numbers would certainly damage the development of China's auto industry
Take Shanghai for example, the private car license auction has been introduced for years but still haven't seen any improvement in traffic as many new cars got registered in neighboring cities.
Against:
We all witnessed the positive change in traffic and air quality over the Olympic period and the effect of new traffic restriction imposed on cars on roads was obvious
It takes long period to build perfect public transport system while the limit on car numbers can achieve the desired effect right away.
We shouldn't sacrifices the city's environment for the good of the world's world auto market.
The vehicle numbers must be limited, but it should mainly imposed on the government official cars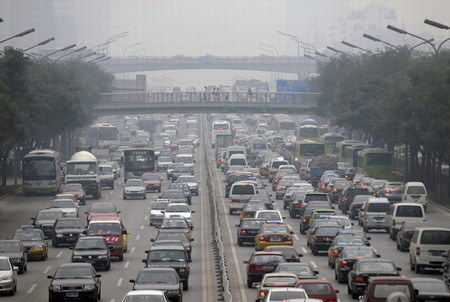 In related news, despite the recent fall in global oil prices, gas prices in Beijing are not going down. China will take advantage of the slump in prices to introduce a new tax on petrol and do away with subsidies. More information about the new measures, which are yet to be officially announced, here.
Links and Sources
People's Daily: Official: Beijing won't restrict private car purchase to ease traffic, pollution
Xinhua: China to reform oil pricing mechanism in 20 days
Xcar.com.cn: 北京市不会限制购买机动车或限发车牌 (image)
Xcar.com.cn: 网友评论 北京交通委主任称将限制新增机动车数量
Sohu: Attitudes to decision not to cap car numbers (Chinese)
The Beijing News: 北京不会限发机动车车牌
The Beijing Times: Article about likely rise in parking fees in central Beijing (Chinese)
New York Times: Facing a Slowdown, China's Auto Industry Presses for a Bailout From Beijing
Washington Post: China's Environmental Retreat
Yahoo: China to impose fuel tax "very soon": paper
The Beijinger: The Great Odd Even Debate
The Beijinger: Beyond Odds and Evens: Beijing's New Plan to Reduce the Number of Cars
The Beijinger: On the Road: Petrol Prices Up, Personalized Plates and Cops on Electric Bikes
The Beijinger: Beijing by Numbers: Housing Prices, Car Sales and the World's Next Great City
The Beijinger: Monday News Roundup: Free Bike Rental, Turning on the Heat and Man who Stabbed Two Foriegners in Beijing Arrested
Comments