Hot Pepper Eating Contest: The Results Are In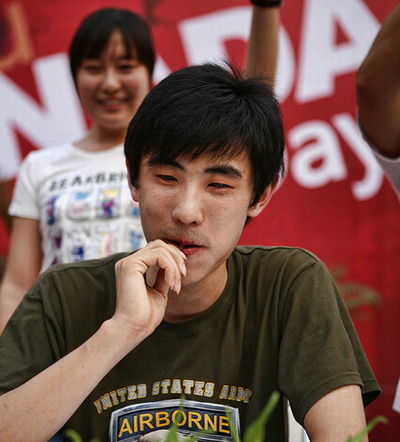 Saturday June 26 saw the Beijinger stage its 6th Annual Hot Pepper Eating Contest at the Canada Day celebration at the Canadian International School of Beijing. And the winner was…
…Gabriel Monroe from the US, who took the Master of Spice crown for a third time by consuming 64 hot peppers. Although Saturday's effort was a long way short of Gabriel's record-setting 2006 effort that saw him down a whopping 85 peppers, he was still streets ahead of the nearest contender, Beijinger Ford Chen, who managed to eat 26 peppers.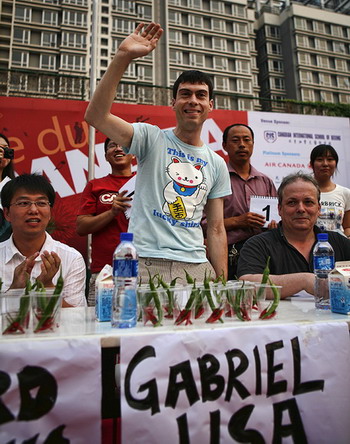 In our interview with Gabe last week, he described participating in the competition as, "An incredible rush – a massive endorphin cake. It takes you beyond the realm of pleasure and pain and into a world that is an exponential manifestation of both."
Here's the final table of results.
Ranking Name No. of Peppers Consumed
1 Gabriel Monroe (US) 64
2 Ford Chen (Beijing) 26
3 Yi Di (Hunan) 26
4 Greg Gordon (US) 21
5 David Liu (Beijing) 15
6 Luisa Dayzeth (Mexico) 13
7 Ning Chao (Qing Dao) 12
8 Vivian Zhang (Beijing) 11
9 Wu Di (Chonqing) 10
10 Thomas Wilson (US) 10
Check out our gallery of pictures from the event here.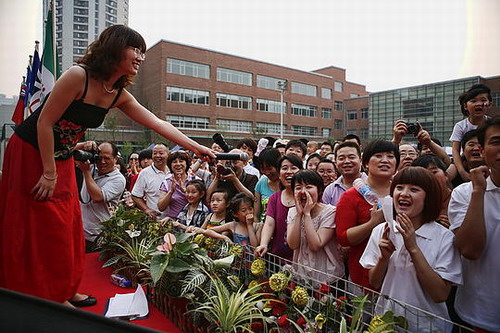 Thanks to our sponsors for providing prizes to our ten contestants - Ganges Indian Restaurant, The Taj Pavilion, Purple Haze and Yin & Out Lijiang Theme Restaurant.
Comments