American Roots & a Love for China: Abigail Washburn Returns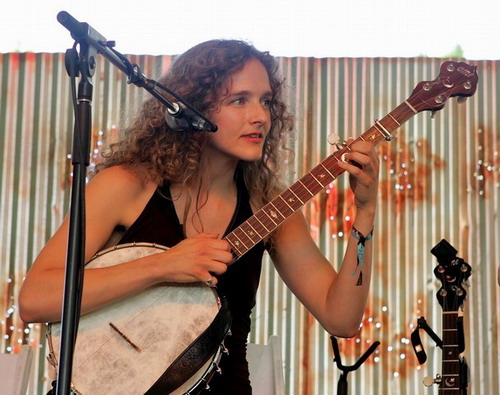 China's own beloved banjo pickin' girl, Abigail Washburn, is back and on tour for the Fourth of July season. After paying a timely visit to the Shanghai Expo for shows at the American Pavilion, she'll be in Beijing for a show at The One on July 9 with her old pals, Hanggai.
Here's what the lovely Ms. Washburn had to say about the tour, her upcoming album, City of Refuge, and life as a newlywed.
Looks like the timing of your tour is just right – a little Americana around the Fourth of July. Can we expect any patriotic songs?
The fact that we play trad American music, and music inspired by it, is by definition patriotic. And my grandma made us patriotic sweatbands: one blue wristband with stars, the other red wristband with stripes. When we wear them, we look like American superheroes!
I read that you recorded with producer Tucker Martine (The Decemberists, Sufjan Stevens) for your new album, City of Refuge, coming out in August. How did that influence what we'll be hearing?
The most different thing about the new album is the collaboration with Kai Welch. We ended up writing most of songs together. He comes from the pop-rock world, not the raw folk world like me. The combination is very different, plus the producer, Tucker Martine, was different – and amazing to work with.
The album is much more viscerally moving than in the past. New kinds of people will definitely be excited about it. Performing with this band is very different. It's still my voice and emotional expression, but there are drums! I've never played with drums before…
Your story for me is mired in lore. You were on a road trip before returning to China to study law and then were discovered. Where you were playing and who you did you meet that set the course of your life on this track?
After living in China for my third extended period in 2000, I returned to America and worked as a lobbyist. I took the HSK (汉语水平考试) in the hope of returning to Beijing to study law at Bedia. Before returning to China, I took a six week road trip down to Nashville. I had begun playing banjo and wanted to visit different places connected to the instrument, figuring I could share a little bit of American culture with my friends in Beijing – instead of karaoke, I'd show up with a banjo and a couple of good' ol traditional American ballads.
Along the way, I went to the International Bluegrass Music Association (IBMA) convention in Louisville, KY just to check it out. And I got offered a record deal! The offer made me realize that I wanted to live a creative existence. I could speak enough Chinese that I realized at that moment that the ultimate goal wasn't Chinese fluency for the sake of fluency, but to communicate something meaningful… something that transcended the cultural differences I had been working so hard to learn to understand and explain through academia and business.
I decided to stay in Nashville and dig into my American roots and find venues to express my love for China… for the way China renewed my sense of myself in the world.
So, now I play traditional American music and write original material in Chinese and English in an attempt to communicate my experience of the world and the feeling of being deeply connected to two cultures.
I know that you and your partner, Bela Fleck, got married recently. How did the two of you meet?
We met in Nashville at a square dance. He was playing and I was dancing.
How many banjos you collectively own?
Probably 50 or so, but they're mostly his.
How old were you when you wrote your first song? What was it about?
"Rockaby Dixie" was the first one. I was 23 and had just learned to play banjo. The second song I wrote was the Chinese tune "Song of the Travelling Daughter" [in Chinese].
What is the songwriting process like for you? Is it usually collaborative, or is it very private endeavor? Does the instrumentation come first, or lyrics and vocals?
It's evolving. Initially, it was very private. The important moment of conception has something to do with lyrics and melody, and then the rest is labor.
My Chinese songs have always been collaborative.
If you could host a dinner with only other musicians (living or deceased) as guests, name the top five you'd want at your table and why.
Hmm… Blind Willie Johnson, Frank Zappa, Dolly Parton. We'd definitely need a whirling dervish at the table, plus Woody Guthrie.
Abigail Washburn and friends play at The One at 9pm, Friday, July 9. RMB 100/80 (advance)
Comments