Let's Get Ready to Rumble: Beatboxing With Shamik at Yugong Yishan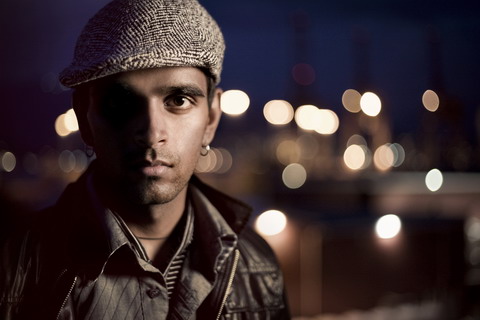 As Canadian beatboxer Shamik warmed up his vocal chords for his visit to Beijing this weekend to hook up with the Funk Fever guys at Yugong Yishan, he took the time to answer a few questions about his training regime, playing live and how he took beatboxing down an electronic road.
How did you get into beatboxing?
I always made sounds, mimicked voices, and was fascinated by all kinds of noises. I would watch a movie once and quote lines from it instantly, or come home from school doing impersonations of my teachers. The first time I saw actual beatboxing was Doug E. Fresh's solo in the '80s movie Beat Street, and the first time I heard any audio was Rahzel's Make the Music 2000 album. I was hooked after that. Then I looked for anything beatboxing-related – and keep in mind, this was minus the convenience of Google.
What did you do starting out?
I met a beatboxer at my school and started jamming with him. I tried really hard to have a good kick and snare. Of course, I wanted to be really loud or do crazy stuff right away. It took a lot of time and practice to increase my skills, but I was very diligent. He gave me good advice to keep doing the same sounds over and over again. Sharing the stage with musicians helped a lot, because I learned how to think like a drummer by being the vocal drummer. Once at a hip-hop club night, the DJ was drunk and in the bathroom and his record ended. There was no music, so I hopped on the mic and beatboxed. The crowd cheered, and I think that's when I realized that maybe I had a knack for it.
Do you practice every day?
Yes, I practice every day. Beatboxing is breathing for me. I don't even know when I'm doing it sometimes – it's what I live for. Because it doesn't really need setup, I can practice whenever I want. Some days I have more time than others, but I always make time.
Do you have a set routine, like a kind of musical circuit training?
I would say that no session is a routine, because I get new ideas daily. If I have something I'm about to do at a show, then I'll practice that more and more as the show date approaches.
Your style is more electronica than hip-hop - how did that come about?
I fell in love with electronica in the late '90s after I discovered The Chemical Brothers and Daft Punk. U2's Pop album and Beastie Boys' Hello Nasty albums lit a spark in me from their experimentation with electronica. A few years after I had been playing mostly hip-hop shows, I really wanted to make people dance from my beats. It was always the techno and drum & bass segments in my routine that either shocked, upset or stirred the crowd at these shows. Some of the hardcore hip-hop kids would say "Nice set, not sure about the rave stuff though." It was frustrating at first, but I loved the challenge. Over time, I worked on creating synth sounds and heavy basslines. I started to get noticed in other circles, and in 2005 I finally got booked for a proper electronica show. I was opening for three-time DMC champ DJ Craze, who at the time was doing turntablism, hip-hop and drum & bass. The fact that he was bending genres turned out to be ideal while I was attempting to do the same. I feel blessed and lucky that a lot of elements in my career came together shortly after that gig.
Is there a limit to what a beatboxer can do with just a set of vocal chords? How do you keep coming up with fresh ideas?
I think the possibilities are endless. Every obscure noise can end up being something cool. I am aware that all of our vocal ranges are different, so it's important to keep working towards having a unique style. The fresh ideas come from practicing and listening to a lot of music.
Do you feel people see beatboxing as a novelty?
I actually feel lucky that beatboxing isn't as common. When I tell people I'm a beatboxer, they are generally intrigued. I realize most people really like Top 40 music, bands or DJs, but music sharing becoming viral and the growth of YouTube addicts has increased the interest in producers, underground artists and even beatboxers. Lately the novelty factor is shorter. People are into a topic as long as it's the popular subject matter for the week, and then a new topic emerges. I hope to keep making music amidst all of that, because I really believe in it.
When it comes to a live show, are there any special challenges for a beatboxer as opposed to a DJ/MC?
The pressure is usually in what I open with, and then maintaining the crowd's interest. My goal is to do what I can to make them believe and keep the energy flowing. I approach each performance with excitement and take every opportunity to try to rock it!
Who do you most look up to among other beatboxers?
Doug E. Fresh, Biz Markie, Kenny Muhammad, Rahzel, Killa Kela, Shlomo, Beardyman and Eklips.
What are we going to get from you in Beijing?
I'll be performing a few original songs and will go from genre to genre to demonstrate all the kinds of music I love. My loop pedal will enable me to do some layering as well. I really hope people dance!
Shamik plays with Funk Fever at Yugong Yishan on Dec 3. RMB 50. 9pm.

Comments