Subway Stats and Strategy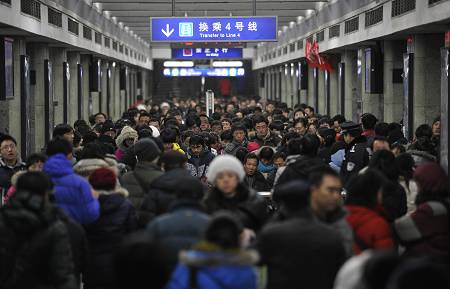 There is constant news and complaints about the traffic problems that plague Beijing's streets daily, but often this focus on the cars leads people to forget about the traffic problems underground.
In a recent article the Global Times reminded everyone of just how busy the subway really is, and was in 2010. The past year saw 1.59 billion passengers with 5,710,000 in a single day (for perspective that's the population of Rio de Janeiro or Denmark ).
Of course, "Line 1 was far and away the busiest line in Beijing, carrying 1,328,200 people around the city [in a day], and that makes for quite a crowded ride."
The article also discusses the blogging of subway-rider Li Zhe who travels from Pingguoyuan to Sanyuanqiao, a ride that takes an hour and ten minutes and after two and a half years has traveled 36,000 kilometers (4,000 shy of the length of the equator).
He proceeds to offer suggestions for surviving the subway that illustrates the Chinese mentality that expats are often confounded by, including rushing for seats, standing in the middle of the doors (never mind the blocking of outgoing riders, this is the best spot for getting on fastest) and the obtaining of the choice middle seats because "you usually won't be called upon to offer up your seat … because the frail and elderly 'don't have the power to crowd to that spot.'"
Comments