Tailor-Made: Totoro Cardigan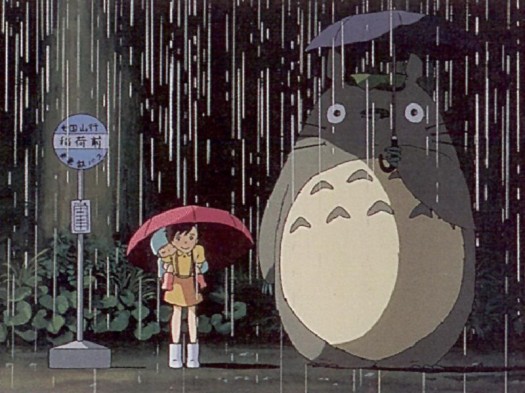 Ever since my brother and I spent a summer in a small town in Taiwan, passing the muggy afternoons by draping our limbs over my aunt's tatami in her air-conditioned room and watching My Neighbor Totoro over and over, I've been enamored with the fat forest spirit. His image (and those of his smaller friends) act like talismans, protecting me from stress, homesickness and Beijing traffic.
Meanwhile, several weeks ago here at the Beijinger office, it was announced we'd be putting together a feature on getting all types of clothing custom-made in Beijing. I was nominated to take on knitwear, since I live closest to Shangdi, home of Wool City.
I started doing my research, thinking about what I might like and getting advice from our Style editor. Only after pitching this giant Totoro cushion (unrelated to knitwear) to our managing editor (and getting shot down, mostly owing to his unyielding opposition to cushions in general) did I stumble upon the obvious solution: a Totoro sweater! Of course! Less obvious, though, were all the details. Cardigan or pullover? Repeating paper-doll design or a scene from the movie laid out in all its knit splendor? Wool? Cashmere? Poly blend? Slim fit or baggy? Cropped or long?
The first step was to find out which of those combinations was actually possible, and at what cost. So I arrived at Wool City armed with photos, ideas and iron-clad determination (not to mention a loyal, very helpful friend).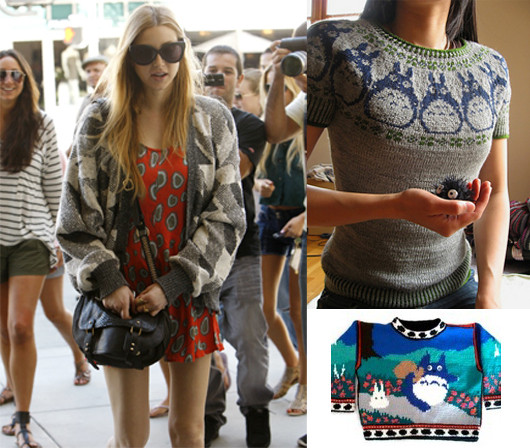 At first, the shop owners countered my requests with either reluctance or absolute refusal. "What the hell is that thing? We can't do that. Why don't you pick one of our patterns? We have sombreros. Monkeys? Cats?" Clearly they didn't understand the Power of The Totoro.
I was beginning to give up, until my friend suggested we hit up one of the shops listed in the Beijinger's December feature on wholesale markets. Shop 321 looked promising, so we found it in a back corner of the third floor and wandered in.
The upbeat women there were a stark contrast to the Debbie Downers we'd encountered elsewhere. They were very clear about what they could and couldn't accomplish – anything with a pattern was doable, and entire movie scenes were definitely out. I decided a long, loose cardigan with rows of Totoros (Totorows?) going across the entire sweater was my best option.
Then we had to work out whether I wanted this done by machine or by hand. All the machine-knit products featured a much tighter gauge, and therefore a stiffer, less cozy texture. Both for the sake of the look I wanted (loose, drapey) and the "hand-feel" (手感 shougan), it definitely needed to be done by hand, even though that meant the labor would cost RMB 300 instead of RMB 200.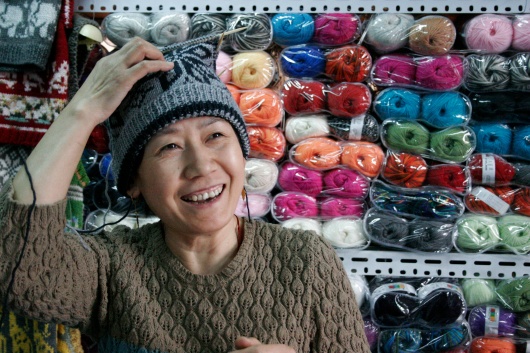 Many of the other shops I tried didn't even offer hand-knit custom items anymore, and the ones that did weren't terribly jazzed about working outside their comfort zone. Shop 321 had by far the most can-do hand-knitters; they seemed proud of their abilities and excited by the challenge, which I took to be a good sign.
The other boon of Shop 321 was their yarn selection. At every shop, I was noticing the difference between prohibitively expensive cashmere yarns and the cheaper but rougher wools and blends. I wanted comfort without breaking the bank, so I was pleased with another suggestion from the December shopping issue: a "snow cashmere" poly blend that was soft to the touch, just the right thickness and a reasonable RMB 70/jin. (Note: The price has since been raised to RMB 80/jin).
I was told the average sweater would require between 1-2 jin of yarn. That put the total cost of my cardigan at something between RMB 370-450, which I thought was a steal, it being both custom-made and hand-knit. (Try finding that on etsy, where relatively straightforward neck cowls can run USD 50 easy.)
The Shop 321 ladies took my measurements and told me they could complete my cardigan in about a month – after they finished the knit tablecloths they were working on for another of their foreign customers. (Is it just me or does a knit tablecloth seem improbable, both aesthetically and logistically speaking? Shrug).
I ordered my sweater on March 28, and it was ready for pickup on April 21 (I think my order got a little bit of a push once they found out I was planning to blog about it on the Beijinger's website …). During that time, I stopped by once to check on the progress.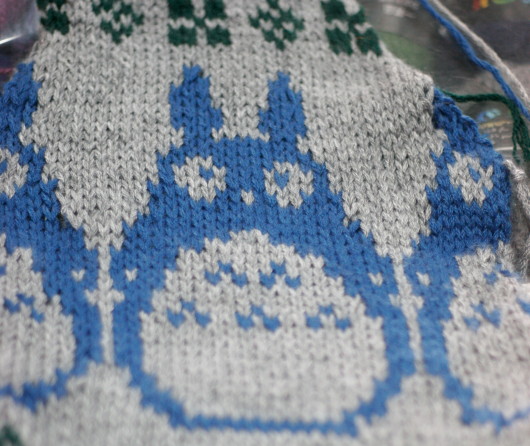 I also picked out my buttons – matte plastic discs in a variety of deep jewel tones. (Luckily, the lovely ladies at Shop 321 also boast that they have the biggest button collection in Beijing.)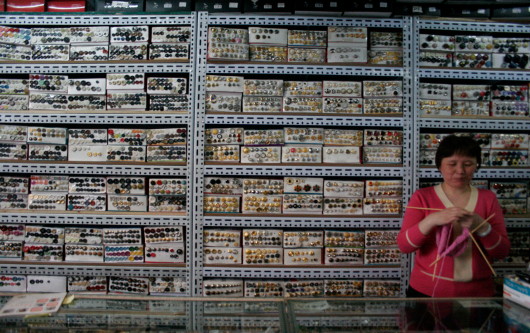 When I finally went to pick up the finished product, I felt a little nervous, like I was going on a blind date with really high expectations. I mean, it's a Totoro cardigan! If it wasn't perfect, I would have been heartbroken.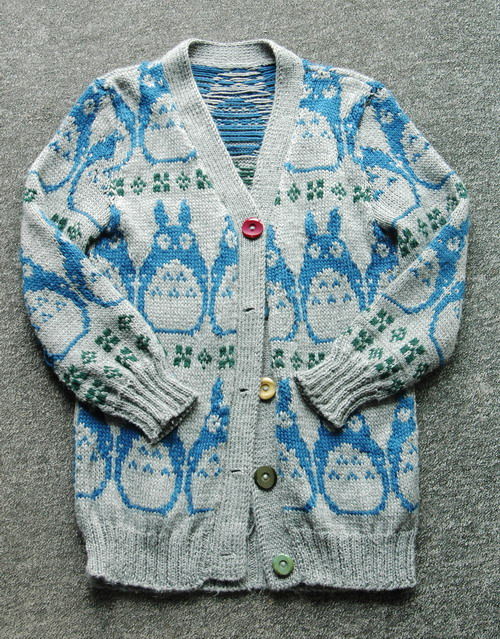 Luckily, I didn't have to deal with that. The woman who hand-knit the entire thing pulled it out of its bag with a flourish. From the moment I put it on, I couldn't stop smiling (my friend's squealing didn't hurt, either). My knitter was clearly happy with her handiwork – she grabbed the jacket I'd arrived in and started stuffing it into the bag. "You don't need that anymore …"
Final cost of the sweater? RMB 424, which includes yarn, buttons, and labor.
Two caveats: It had been such a battle finding someone who was willing just to make the cardigan that I hadn't thought down to every little detail. I realized after putting it on that it would have been really nice to have pockets. With knitwear, these things are pretty difficult to change after the fact, so be sure to think those choices through when you put in your order.
Also, be aware that loose hand-knit items will snag easily. Since this sweater was done in three colors using a stranded colorwork technique (basically, the unused colors were just being strung across "backstage"), it's easy for a caught strand to get pulled really far out. As an amateur knitter myself, it's easy enough for me to work the yarn back into the sweater, but you do need to be really careful that it doesn't get snagged so badly that it ruins the design – or worse, completely unravels the sweater. (You know that Weezer song: "If you want to destroy my sweater, hold this thread as I walk a-way, as I walk awaaaaay…" Yeah, you get the idea.)
The insides of the sleeves look like this as well, so I'll either have to ball my hands into little fists every time I put on this sweater, or consider getting it lined. Maybe with jersey?
Anyway, so there you have it: a bona fide Totoro sweater. It's warm, comfy, and my friend's 2-year-old loves it. For once, I find myself hoping the warm weather will hold off for just a few more weeks so I can wear it as much as possible.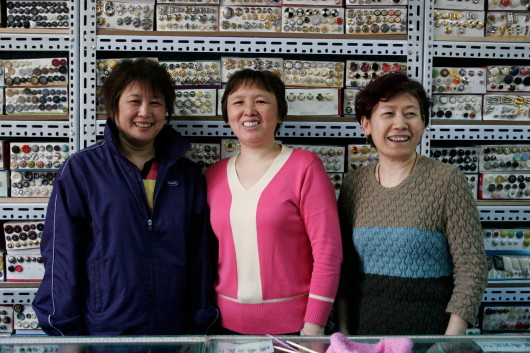 Since I had this made, we've all been brimming over with ideas for custom knitwear. One friend is considering commissioning a similar cardigan with pandas all over. Another has brought up the somewhat disturbing idea of a knit full-body suit ... (But NOT like this one: http://pinterest.com/pin/13888153)
Fair Isle sweaters would be nice for that retro-ugly look, as would any assortment of unique scarves and hats for winter. Shop 321 had a pattern for a fun convertible hat + neck cozy that would cost roughly RMB 80-100 total – that'll probably be my next project.
As you can see, the possibilities are quite endless. And if you have a more ambitious piece in mind, now is a good time to get an order in, as the low season promises faster turnaround. Once autumn rolls around, it could take between one to two months to have a cardigan – or full body suit – made.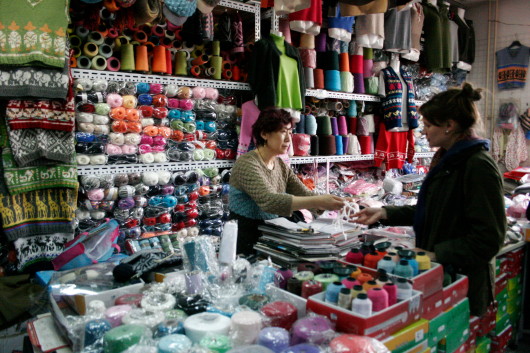 Wool City. Daily 9.30am-5pm. Anningzhuang Donglu (west of Qinghe Xiaoying Qiao), Haidian District 清河毛纺城, 海淀区清河镇安宁庄东路(近清河小营桥). Shop 321 (6291 0284)

Photos from Disneydreaming.com, etsy.com, pinterest.com and by Judy Zhou, Marilyn Mai, Liz Parke

Comments