Brand Nü Starts Anew: A Chat with Nathan Zhang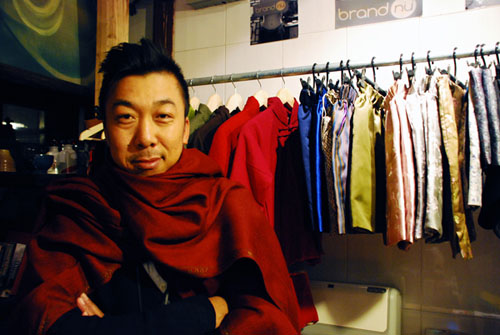 For the last couple of months, the future of Brand Nu was unclear (see here and here). But with the help of the community, owner Nathan Zhang was able to raise the funds – a whopping RMB 84,000 – to ensure his charity shop's survival. We asked Zhang about what gets him up in the morning, and where he plans to take Brand Nu from here.
Congratulations on saving Brand Nu! What's the first thing you did when you heard the news?
I handed over the money to pay off my debts.
Is Brand Nu like Goodwill? Why or why not?
I love second-hand shops – Beijing had nothing like that when I first got here in 2008. But unlike Goodwill, Brand Nu is more of a social enterprise. We do a lot of charity activities, but we want to be self-sustainable and we want to be cool.
How have your goals shifted since you first started Brand Nu three years ago?
We're becoming more style-focused, and we're trying to do it in an appealing way. Right now, I'm very interested in the concept of UPCYCLE fashion – that is, working with local talents to create new designs using old materials that people didn't want anymore. All our products are made from secondhand clothes and unused fabrics.
How do you change unwanted fabric into something desirable again?
Companies like Gap and Coach are donating fabrics. I'm working with the top designers in China, including Sarah Yun, na(too) and Zhang Da. They all love the idea of using their creativity and design skills for a good cause. So far, we've had really great feedback – we sold all our stuff at Wuhao right away.
What's it like working with rural artisans?
There's no real benefit to me, I just want to help them. I pay a moral price to contribute to the local market. In assigning them such work, I give them the confidence to achieve more. These rural women have special handicraft skills, but they need an urban designer or artist to make their products appealing to the urban markets.
What have been some of your favorite Brand Nu designer collaborations, and why?
Sarah Yun, Zhang Da – they're really down-to-earth. They know both ends, they know the fashion and they also know the rural area. They make the projects doable.
What gets you up in the morning?
Lots of social causes. I'm currently working on a bunch of projects that promote gender equality and the fair trade model. But also, I just have to get my two kids ready for school!
When can we start getting excited about Ethical Trade Fair 2011?
I think after the scare this year, I'm too busy tying up loose ends as it is. It'll definitely happen again in the future, and I'm looking for more help. If you want to get involved, contact me!
Anything else to add?
I want to thank all the people who have directly or indirectly supported me these last two years. Without their help – my wife, Plastered T-shirts, Gung Ho! Pizza, Argo, Saffron and the rest of the neighborhood – Brand Nu wouldn't be here. The projects wouldn't have lasted, and life would have been really boring.
Tue-Sun 10am-10pm. 61 Wudaoying Hutong (just west of Vineyard Cafe), Dongcheng District (150 1115 3421) 东城区东城区五道营胡同61号
Comments