Another Tiger Woman, This Time in the Kitchen
After working her way through a series of respectable newspapers along America's East Coast, journalist Cheryl Tan soon found she wanted to reconnect with the food of her family's past. Of course, not only did she find pineapple tarts, braised duck and dumplings, she also found multiple wives, opium addictions and other family secrets. Read on as Tan talks to us about her wild ride as a writer, cook and Singaporean sojourner.
Can you tell us briefly how you found yourself in New York writing about fashion, and then how you found your way back into the kitchen from there?
Growing up in Singapore, I had always known that I wanted to write – this led me to coming to the United States for journalism school, interning at newspapers like the Washington Post and Chicago Tribune. At my first job – at the Baltimore Sun – the paper needed a fashion reporter that ended up being me. I was the paper's fashion critic for a few years before moving to New York to work at In Style magazine and then the Wall Street Journal. After close to 13 years in the U.S., however, I started to feel a nostalgia for home – and my yearning for home was really about a longing for the food that I grew up with, the pineapple tarts my late grandmother made for Chinese new year, the green bean soup my mother used to make for me. And along with that longing was a sense of loss and sadness because I realized I had absolutely no idea how to make any of these dishes. This led me to taking a trip back to Singapore to finally ask the women in my family to teach me to cook.
The "culinary road home" is becoming a whole memoir genre of its own that readers seem to just devour. Why do you think people have such insatiable appetites for this kind of writing?
I think it's a very universal feeling that people have – perhaps it's the new mid-life crisis. Many people move far from home in order to pursue their careers these days and it isn't until you've achieved a certain level of success that you suddenly take stock of your life and go, wait a minute, there's something missing – what is it? For me, being so far from home triggered this yearning. And from the readers I've heard from, it seems to be a common sentiment at a certain age – when you hit your 30s and maybe you're cooking a little bit more, starting your own families, you start to think about the foods that the people who loved you and nurtured you made for you when you were growing up. And if you don't know how to recreate that for the people you love now, it's hard not to feel a sense of loss. Returning home and learning all this helps you reclaim that part of your identity – and keep your family history going.
Conversely, what would you say differentiates your approach?
In my case, it was very important for me to gather the recipes and intimate stories of my own family – a Teochew (Chaozhou) Singaporean family in Southeast Asia and find out the deep family secrets that came out as these recipes were being taught to me. I learned many things – about my maternal grandfather having multiple wives, illegal gambling dens, opium addictions. Through these stories and recipes I felt I really got to tell the story of a culture, a life in Singapore, a country whose intimate folkways people outside of Southeast Asia still don't read much of in literature.
You talk about the regret of not learning cooking from your ah-ma before she passed away. Are there any other aspects of the culture or your family's past that you regret not learning more about?
I regret the cooking – I also regret the chance to ask a lot of questions about my family and our interesting stories from the past. But I feel very fortunate that I got to do a lot of that over that year that I spent traveling to Singapore. While making dumplings for the dumpling festival, mooncakes for Mooncake festival, Chinese new year cookies and more, I feel like I got to spend a lot more time with the women and my family and learn about them. I had grown up emulating the men in my family – believing that because they got to go out into the world and have great careers, they were the strong ones to emulate. But through my year I realized that the women in my family had always been the strong ones, holding the family together, making a meal for their family no matter how hard things got. I learned that I had always taken them for granted – and I regret that I didn't know this earlier.
Early in the book, you state that when it comes to Singapore, you miss the food first and then your family. Can they really be separated?
Yes and no – there are many dishes that I love in Singapore that my family doesn't make. I adore Indian roti prata and noodles, for example, and Malay curries. So there's a very great love for all that. However, there's also the food that my family makes – Teochew-style braised duck, salted vegetable soup, otak, my mother's black chicken soup. Those are the dishes that will always symbolize home for me.
How do you think being a fashion writer has influenced how you think and write about food?
I've covered many topics in my journalism career – police, city government, fashion, entertainment. In my work, I've always tried to bring the same curiosity and powers of observation that lead you to finding and writing good stories in any topic. So I'd say it was really my years of journalism – no matter the topic – that really influenced how I ended up writing about food. I followed my aunties around the kitchen with a notebook and pen and camera in hand – I found it really helpful as I wrote to look at some of the pictures I took while they were cooking. When they say the pork should be about 40% done, for example, seeing a photo of that pork later helped me understand how pink it should look.
Is there a "holy grail" of Singaporean cooking that you have yet to accomplish? Any plans to tackle it, and how?
I admit to being a little obsessed with Indian and Malay cooking – I grew up with mainly Chinese food at home but Malay and Indian food (the spicier the better) are what I really adore. I'd love to learn how to make these dishes at home really well – so far this grand plan has only manifested itself in me asking a Malay friend's mother to teach me some dishes. She's a phenomenal cook, though, so I hope to learn more.
Where, outside of Singapore, is the best Singaporean food you've found? And if you've been to Beijing before, how do our city's offerings stack up? (Incidentally, we included a piece in the December issue of our magazine that discusses where Singaporeans go when they need a taste of home in this city. You can read it here if you'd like.)
It's been close to impossible to find good Singaporean food outside of Singapore – many of the versions I've tried in the U.S. are much flatter, not as spicy or complex in flavor. At most Singaporean restaurants I've been very disappointed. There are a few places in New York that I love, however – Taste Good, which sometimes caters events at the Singapore Consulate in New York, does some really good renditions of street food dishes like beef rendang (a coconutty beef curry) and assam laksa. I also like Cafe Asean in the West Village, which is a trendy pan-Asian place but does have a few Singapore dishes on there – the Malay-style grilled tofu pockets filled with julienned vegetables and topped with spicy peanut sauce here are just divine.
Any plans for more books about Singaporean soul food? Or any other types of food, for that matter?
My next book is not really about food – so another food book is not on my immediate horizon. But who knows what will happen beyond that – I wouldn't rule it out for future books.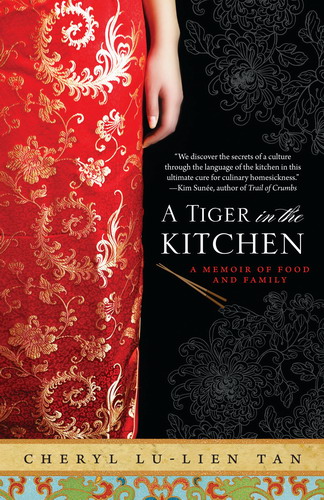 Any movie deals for A Tiger in the Kitchen in the works?
None that I know of but I'd certainly be more than happy to chat with anyone interested!
If there were a movie being made, who would you want to play your role?
Such a tough question – there are so many actresses I love out there. I think she's far more beautiful and graceful than I so this may not be an accurate portrayal but I am a great admirer of Maggie Q and think she'd be wonderful.
Tiger women have spent a lot of time in the spotlight this past year. How do you feel for your Zodiac sign?
I've always been very proud of my zodiac sign – my mother used to tell me that Tiger girls were once maligned in Chinese culture because they were aggressive, fierce and ambitious. My answer to that has always been – that's good! I am proud of the Tiger qualities I see in me and I'm glad tigers were in the spotlight this year. If you haven't read The Tiger's Wife by Tea Obreht, I highly recommend it.
What's next for you?
After China, I will be heading to Paris to cook at the Paris Cookbook Fair – I'm very much looking forward to sharing my family recipes with international cooks! I'm also currently working on my second book, a project I'm very excited about but can't share just yet. Will definitely share when I can!
Cheryl Tan discusses her memoir A Tiger in the Kitchen at the Capital M Literary Festival on Saturday February 25.
Tickets can be purchased online at mypiao.com or in person at Capital M. Check out Capital M's website for a full schedule and author bios.
Comments