Voting Now Open in the 2012 Reader Bar & Club Awards!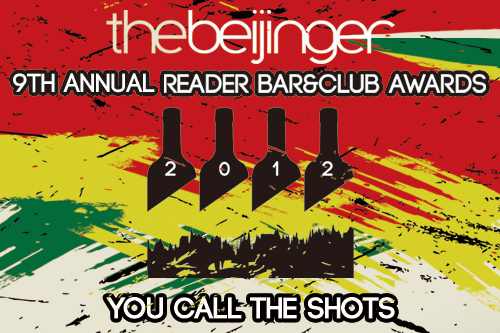 Voting is now open in the Beijinger's Ninth Annual Reader Bar & Club Awards. We want you to tell us what you think of the city's nightlife scene.
What venue is your choice for a quiet pint?
Where do you head to when you just got paid and want to get out of your mind?
Who offers the best happy hour?
Where's the best place to meet that special someone?
Where's the best place to take them out on a date?
These are just some of the questions that we want your answers to. Read on to cast your vote – and to find out what great prizes you might win for sharing your thoughts.
Voting couldn't be easier. Just click away in the survey below. You have until May 9 to do so ... but well, you're here already and so's the survey. It seems like the perfect time to vote.
What? You haven't voted yet? If you need an incentive, here are a few:
You could win vouchers from:
Senz Wellness & Spa Therapy
Ganges Indian Restaurant
Green Bites To Go Dumpling Bar
Sherpa's Home Delivery
Radegast Lake View Hotel
Plus beer packs from Chimay.
Get voting!
Comments