Sex Mushroom: TV Show Gets Red-Faced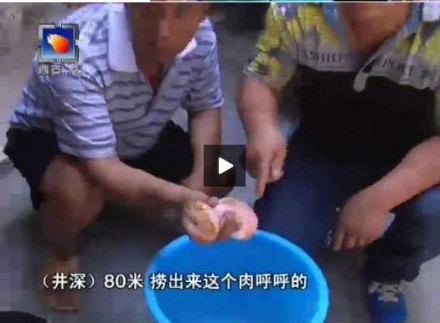 There's being embarrassed ... and then there's being embarrassed on TV and the Internet in the world's largest country. Step forward, Xi'an TV's Xi'an Up Close. Their team recently got a little too up close to a used "marital aid" that they took to be a rare mushroom. (If it had been a mushroom, there'd probably be a damn sight more pubescent boys climbing down wells to look for fungi.) Is it surprising that no one noticed what the device was when, according to a 2011 survey, 50% of chinese people get their sex education on the Internet, 48% from books, 13% from newspapers and 18% from nowhere?
Watch the show below and make up your own mind whether you'd have known any better.
As you can imagine, Xi'an TV have been mercilessly ribbed for your pleasure all over Weibo. Here's a sampling of netizen reactions:
"At first, I didn't understand what this was about. Now I'm full of tears"
"Who threw that in the well? The whole village is ashamed now"
"Will this item be popular on Taobao now?"
"The villagers have been drinking from that well …"
"Which company made this? The quality is so good"
"Maybe the reporter knew but what could she say in front of the camera"
The news team has apologized to the audiences, but how can they explain it to the villagers?
Don't blame the reporter; some guys may not even know what it is
If the village men knew what it was, maybe they will all want to try it
How pure are the reporter and the cameraman!
Unsurprisingly, Xian TV found the time to apologize on their Weibo:
"An open letter to all netizens and viewers: Hi everyone, one of our news reports which aired last night has made everyone laugh. This incident has been widely followed, shared and commented on. As our reporter was still very young and unwise to the ways of the world, this report has brought great inconvenience to everyone. We'd like to take this opportunity to thank everyone from the bottom of our hearts for your criticism and correction. Please forgive our oversight!"
We cock our hats to the Shanghaiist on this story.
Photo: Shanghaiist
Comments