Chris Devonshire-Ellis: A Classic Expat Mad About Mozart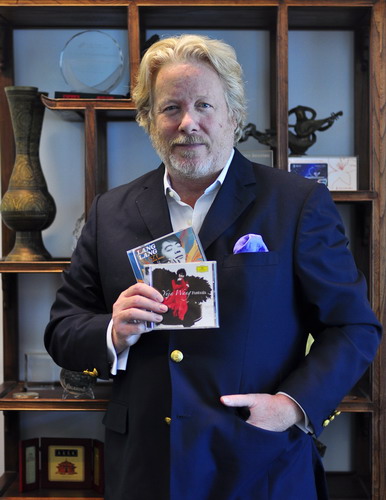 Chinaexpat.com founder Chris Devonshire-Ellis is many things, including a Scottish baron. He's also quite the classical music enthusiast.
On his musical background
I used to be an amateur opera singer. I'm a tenor, which means you get all the great parts, although much of my work was choral. But I sang with Opera North a few times. I was in it for meeting girl sopranos, to be honest, rather than actually being any good.
On the best performance he saw in the last year
Probably Bertrand Haitinck conducting the Chicago Philharmonic at the Egg. They played Bruckner's Seventh Symphony, which is a huge piece, and they'd brought over 100 musicians with them. They had this little Chinese-American girl on timpani at the back of the orchestra. She just sat there, for ages, with this other guy in evening dress with a triangle, waiting for their moment. Towards the end of the piece, Bruckner describes a thunderstorm, and all of a sudden these two musicians became quite animated and then – crash! This girl banged the cymbals together – once – and the triangle player just went "tinkle tinkle tinkle." Two musicians, all the way from Chicago to Beijing just to perform one cymbal crash and three notes on the triangle. Now that's attention to detail.
On the best new act he's seen recently
Yuja Wang, playing Rachmaninoff's Third. Brilliant. She's tiny, but really talented, and she scandalized the Americans earlier this year by playing a classical concert at the Hollywood Bowl while wearing a tiny orange miniskirt. That's what you want: music and sex appeal, and she's got both.
On the future of classical music in China
I'd like to see Chinese composers and musicians follow the real point of music, which is to aurally describe. But at present most are just rehashing old works. No one dares improvise or write anything new and meaningful. But down that path leads atrophy and boredom.
On the need for new compositions
I'm working with some local musicians now and have commissioned a piece to mark my firm's 20th anniversary in China this year. It's important if one is in a position to do so to encourage the arts.
On the NCPA
The Egg is a pretty good place – but they need to pay some attention and get drinks and champagne available in the bars at half-time!
Click here to see the September issue of the Beijinger in full.
Comments