When the Fans Hit the Sh*t: Beijing's Poop-Themed Restaurant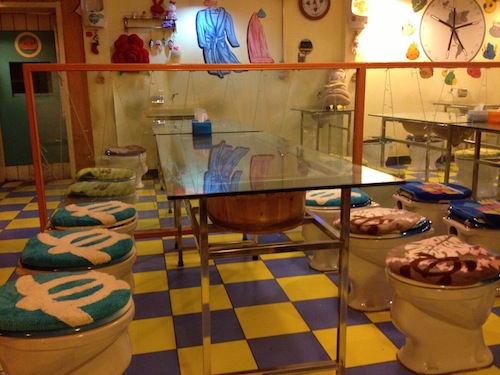 Eating at House of Poo Poo, Beijing's toilet-themed restaurant, takes an iron stomach. It's not just that the food itself is bad, but rather that all the poo-raphernalia makes for an extremely unappetizing experience.
This isn't normally something we'd cover, but German TV network Kabeleins asked the Beijinger's dining editor to help with the Beijing episode of a travel show, so our reconnaissance trip brought us there.
House of Poo Poo has been around for a couple years now, and follows in the footsteps of similar gimmick eateries in Japan and Taiwan. Its food does taste like crap, though not literally. Still, I'm sure it will appeal to some. Tourists and fetishists (or should I say fetish*ts?) will have a gas.
You'll be sitting on a toilet and eating over a glass-covered sink. The floor and walls are decorated like showers or bathrooms, and there are various turd-themed knickknacks. I'm not sure if this is intentional or not, but the place is dingy, adding to the whole creepiness of it all.
The first time we went, we got the "super constipation black dry sh*t" (RMB 26), a mess of soft serve, shaved ice, red beans and sprinkles served in a miniature squatty-potty. My germophobe alarms were going off like crazy while eating this, so it was impossible to enjoy. Even so, I'm not convinced that the dessert would be edible if served in any normal restaurant either.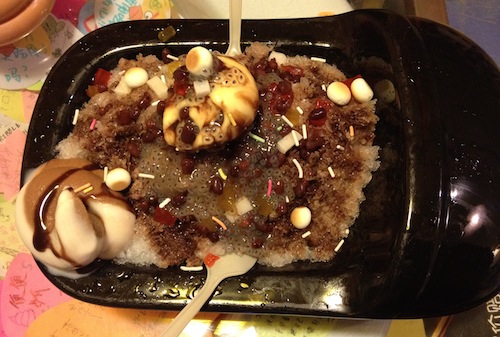 TBJ Dining Editor Marilyn Mai tried the curry when she went back with Kabeleins and says she doesn't recommend it.
If you're in the mood for a drink, poop lemon tea (RMB 8) comes in a swirly turd cup but it's just overly sweet ice tea. There's also a Two Girls One Cup ice cream (RMB 15) on the menu, but we steered clear of it. If you don't know why already, you probably don't want to know.
House of Poo Poo 便便满屋 Daily 9am-10pm.
91 Dianmenwai Dajie, Xicheng District (8403 5296)
西城区地安门外大街91号(地安门商场南)
Photos: Marilyn Mai
Comments