Metallica Rumor Control: Beijing No, Shanghai Yes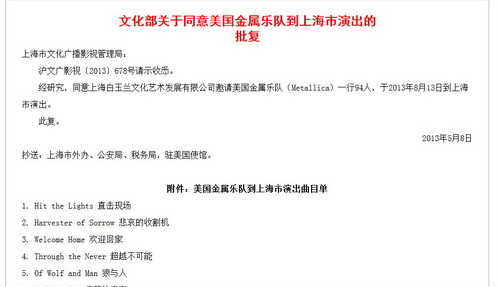 Metallica will play at Shanghai's Mercedes-Benz Arena on August 13, an official post (see the screenshot above) approving the metal band's set list and performance confirmed. Published on the Chinese government's Cultural Department's website, Metallica will take the stage with a set list that may include as many as 35 songs. There will be no show in Beijing. No word yet on opening acts, although we hope for their sake it won't be Duck Fight Goose.
Rumors that Metallica would be swinging by for a China show this August have been flying about during the past couple of weeks, with a lot of buzz on Douban and Weibo. The August 13 date was flung about a lot as it fit in perfectly with the band's Japan and South Korea dates. And last Thursday we received confirmation through word of mouth that the band's visas were approved and ticket prices set, but still had no official confirmation on a date.
Fans of Linkin Park, Pet Shop Boys, Smashing Pumpkins, and Steve Vai can all start wishing that their rumor dreams come true too. All are touring in Asia this summer, with dates in Hong Kong, Japan, or South Korea. Linkin Park has a big fan base in China and has already played in Shanghai, in 2007; the group cancelled an October 2008 Beijing show after singer Chester Bennington sustained a back injury.
"I'm delighted of course that Metallica is coming to China. But Shanghai? They'll be waving glow sticks. Shoulda been Beijing," said Beijing's Metal Mayor Kaiser Kuo.
Start growing your hair.
Comments