To the Brim: New Restaurant Stuffs You With Sausages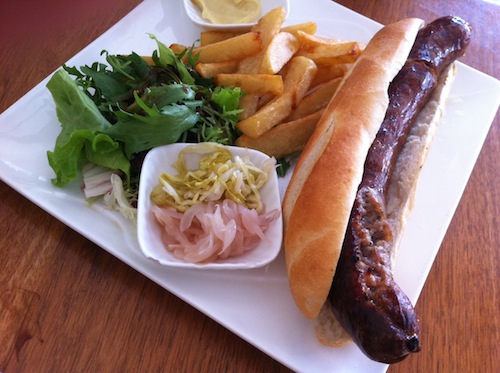 Last month, we told you what used to be The Vine Leaf has been refitted and rebranded into Stuff'd. You know what kind of meal you're getting there thanks to a name that makes you want to loosen your belt before you even sit down to eat. It's the oversized burrito in the room when it comes to most of Beijing's dining, so arrive hungry because Stuff'd is bursting at the seams with pleasantly oversized portions.
Co-owner and pioneer of the "stuffed" concept, Thomas Gaestadius, had me wondering how their homemade sausages can even fit on a grill. The Herbie English banger (RMB 60 for the meal) makes the thumb-sized wieners in pigs-in-a-blanket look trivial. One fatal bite into the end of the rosemary, thyme and parsley-seasoned pork sends your taste buds rolling. The kitchen takes that mighty, meaty dream one step further by wrapping ol' Herbie in bacon for one of their starters (RMB 36). Stuff'd also features a housemade bratwurst made with their own stout, a Swedish sausage of pork, potato and mushroom, and "The Siesta," a chorizo-inspired sausage spiced with smoked paprika peppers and red wine.
The Vine Leaf has a Russian matryoshka doll thing going on with their Scotch Egg (egg wrapped in sausage, battered and fried; still available for RMB 46), and now, Gaestadius has done the same with the stuffed pizza. Turn "The Sage of Sau (Triple Sausage, RMB 72) into a giant calzone, and you'll get what I mean.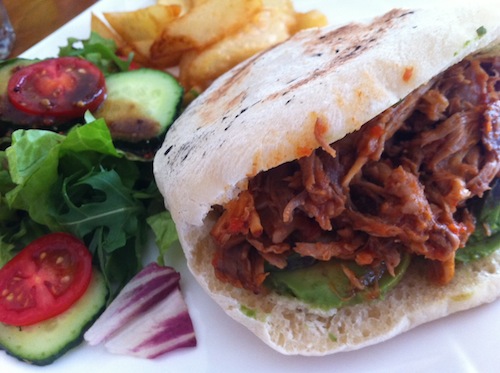 Beijing has a number of pulled pork options, but this delight (RMB 68) might just monopolize the whole industry for pulled pork fiends. A spin on the traditional coleslaw version, these juicy, barbecued chunks fill out a toasted pita lined with a refreshing avocado spread.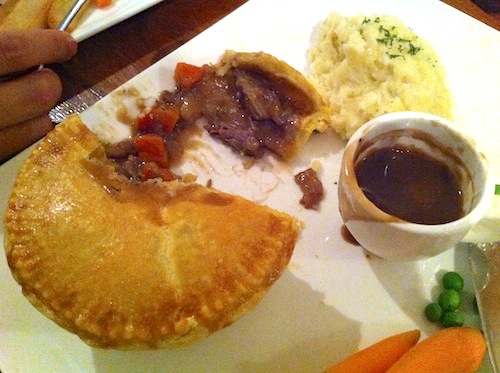 Old favorites remain. You'll remember the Steak and Ale Pie (RMB 68) with its savory chunks of beer-braised beef, and the traces of The Vine Leaf endure on the weekends when Stuff'd continues to offer the same brunch. Some of you might miss the battered fish, but that's available more appropriately on the bank of the Liangma River at Will Yorke's second branch of The Vineyard Cafe. There are plenty of replacements worthy of devouring on Jianchang Hutong though, and you can be certain that you will leave feeling – quite fittingly – stuffed.
Photos: Jessica Rapp, Cat Nelson
Comments