Foreigner on Motorbike Who Hit Lady to be Deported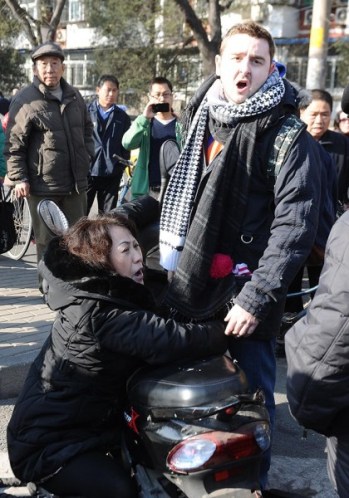 The expat motorbiker who ran into a pedestrian and became the latest poster boy for bad expat behavior is to be deported, along with his father, according to reports.
The latest in the bizarre tale that began when original reports claimed the expat was the victim of an extortion scheme is that in investigating his paperwork it was discovered he did not have a license for his bike, nor proper working papers.
The investigation also netted his father. The two are reportedly once part-owners of two well-known Sanlitun eateries that we'll leave unnamed pending confirmation.
With rumors swirling of another crackdown on foreigners, it's a good idea for all of you to brush up on your adherence to Chinese law, here are some tips to ensure you're nice and legal when riding on the roads and working in the city:
1. If you don't have a driver's license, stop driving and get one
2. If your vehicle is unregistered, stop driving and get one
3. If you are working illegally, go on strike until your employer gives you the proper paperwork.

 
Comments