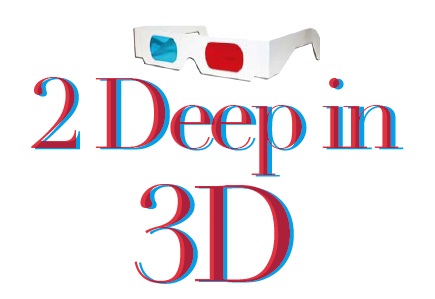 2 Deep in 3D: Finding a Balance Between Tradition and 3D Glut
It can make bullets seem to zip by the corner of your eye or make explosions threaten to swallow you whole. Audiences love the immersive quality of three-dimensional films, especially in China, where 3D theaters are opening at an incredible rate. But some of those Middle Kingdom movie buffs aren't content with the technology. In fact, a Beijing-based filmmaker wants to give this conventionally showy technique a new dimension.
Keith Collea, a Hollywood-bred 3D expert, is collaborating with beloved Chinese director Jiang Wen (Let the Bullets Fly) on a movie that uses 3D for subtlety instead of spectacle.
Since last fall, they have worked on Jiang's forthcoming Gone with the Bullets (GWTB), a lavish period piece. They're using the same technique as any 3D team – shooting with special two-lens cameras that capture left and right eye data, which is fed to audiences' three-dimensional glasses allowing them to see depth onscreen. But Jiang and Collea are equally interested in emotional depth, utilizing 3D to make an actor's arched eyebrow or grimace hold more significance.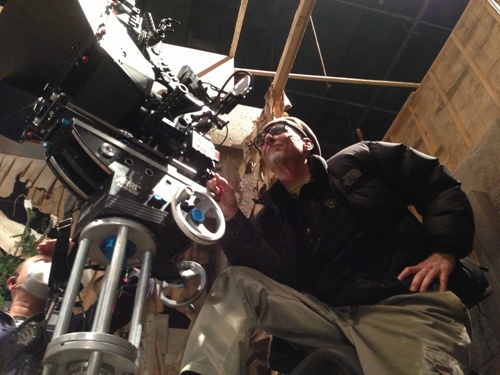 "The actor doesn't have to be as emphatic with this technology. It makes conventional film feel like going back to theater, where actors have to project so blatantly," says Collea, who got his break as a crew member on box office hits like Titanic.
"China is the best proving ground for such experiments," says Hugh Hu, CEO of Soulpower Films, the Beijing-based 3D consulting firm working with Jiang and Collea on GWTB. Hu says Chinese audiences love these high-tech visuals because they usher in a new age, literally.
"The average Northern American movie goer is in his late 20s. The average person in a Chinese cinema is 21 or younger. That makes them more willing to try new things."
Jim Chabin believes China's love of 3D cinema is as well rounded as the images on its screens. As president of the International 3D Society, a group that gives awards to the technique's innovators, Chabin says he has the figures to prove 3D's relevance in China. He says half of the nation's top ten grossing films in 2013 were 3D (two from Hollywood, the others from the Mainland). He adds that China built 150 IMAX theaters last year, with 350 more under construction. The numbers dwarf the increase in 3D cinemas in the US according to a recent Motion Picture Association of America report.
"China is a growing country, and 3D excites people there," Chabin says.
But Luke Tai, general manager for China at Infratrans Vision Co., a 3D consulting firm, thinks the hunger for 3D has lead to undercooked products. He points to Don Quixote – China's first 3D film, released in 2010 – saying audiences complained that its three dimensional effects were barely noticeable. Conversely, 2011's Flying Swords of Dragon Gate dizzied viewers with its 3D glut. After consulting on those flops, Tai moved on to 2013's Young Detective Dee in which 3D heightened the action without becoming a distraction.
Collea says that nuanced balance is the key to 3D's future, adding the technology's success mirrors that of China's film market.
"Think about the number of theaters being built here, and in turn, the amount of films being produced. It's taking off like crazy," he says, adding that growth rate will make the market cater more to Sino-cinephiles as they become a bigger majority.
"They're going to want more stories that speak to their culture, like Gone with the Bullets. Spider-Man just won't cut it." He believes that sentiment will carry through to the films' special effects.
"Everyone knows 3D can make spears fly at the audience. But that's not all we can do. Now it's up to directors like Jiang to let 3D tell stories and express emotions."
SEE 3D! A SAMPLING OF BEIJING'S MOST EYE-POPPING SCREENS:
Bona International Movie Theater (Chaoyangmen)
博纳国际影城
B1 U Town Mall, 2 Chaowai Sanfeng Bei Li (near Chaoyangmen station, Lines 2 and 6), Chaoyang District (5977 5660)
北京市朝阳区朝外三丰北里2号楼悠唐生活广场B1层(朝外钱柜南侧)
Ticket price: RMB 100-120
Jackie Chan Yaolai International Cinema (Wukesong)
北京耀莱成龙国际影城(五棵松)
F5 east side, Zhuo Zhan Shopping Mall, 69 Fuxing Lu (near Wukesong station, Line 1), Haidian District (6818 8877)
北京市海淀区复兴路69 号卓展购物中心5层东侧
Ticket price: RMB 90-120 (3D), RMB 90-120 (VIP)
Lumiere PavilionsBeijing Fangcaodi Theater
卢米埃北京芳草地影城
LG2-26 Parkview Green Plaza, 9 Dongdaqiao Lu (near Dongdaqiao station, Line 6), Chaoyang District (5690 7679/0)
北京市朝阳区东大桥路9号芳草地大厦LG2-26
Ticket Price: RMB 90-130 (3D)
UME International Movie Theater (Huaxingdian)
UME 国际影城 (华星店)
44 Kexueyuan Nan Lu, Shuangyushu (near Renmin University station, Line 4), Haidian District (8211 5566)
北京市海淀区双榆树科学院南路44号(双安商场对面)
Ticket price: RMB 80-130 (3D), RMB 120-130 (IMAX)
Photos: Courtesy of the International 3D Society
Comments