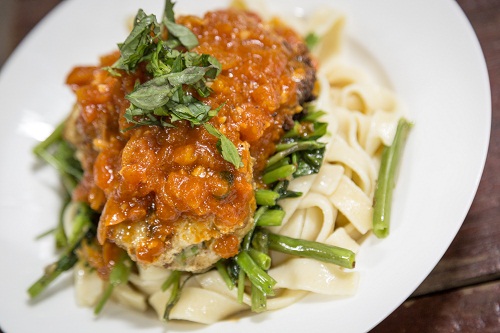 Let's Do Lunch: Jun Trinh's Spiced Fish Cake Pasta

Sponsored by TooToo Organic Farm (沱沱工社) – find all of the organic, natural, and healthy ingredients you'll need for this recipe and more by visiting their English online shopping website: shop.tootoo.cn – it's easy to make orders and get your products via TooToo's own Cold-Chain logistics system to your door. Ask your favorite restaurant where they source their food supplies – TooToo Organic Farm can be your reliable resource! 
Most foreigners know Jun Trinh as the chef and owner of 4corners, a vietnamese fusion restaurant in Gulou. But a far bigger Chinese demographic would recognise the lanky dreadlocked restauranteur as the star of Who Will Lend Me a Kitchen? a hit cooking and travel TV series that found Trinh pursuing markets and cooking at eateries across Asia. 
In a way, all the jet setting was a full circle manoeuvre for Trinh. His father, a Vietnamese refugee, and his mother, a Laotian immigrant, fled their impoverished homes when they were young and eventually settled in Canada, raising young Jun in Toronto. He began working in kitchens there at the not-quite-ripe age of 14. At the time becoming China's answer to Anthony Bourdain was the last thing on his mind. 
"I became a cook out of necessity," Trinh says, adding that while his upbringing in Toronto was by no means affluent, despite it being far more stable than the South East Asian slums his par-ents came from. "I first worked in the kitchen of my aunt's Chinese restaurant, because she needed the extra pair of hands. It was easy for a kid like me to work in a kitchen then – the public couldn't see how young I was." 
As it turned out, Tirnh had a knack for handling frying pans and knives, and before long he was landing plum positions in dining halls across Toronto. His mentors in those kitchens encouraged him to deepen those natural gifts by travelling to his forefathers' exotic locales and taking ad-vantage of his roots. 
"The chefs I looked up to encouraged me to travel, find new ingredients and different recipes. I don't think they wanted me to be a generic cook that never leaves Little Italy in Toronto. They wanted me to learn about more authentic dishes." 
In today's dish Trinh's past and present collide. This spiced fish cake pasta features fillets served up Vietnamese style, along with the noodles that are all too common in the banquet halls where Trinh first cut his teeth as a chef. 
"I would cook some of the ingredients in this dish in my aunt's kitchen, while its pasta really reminds me of Toronto's dining halls," he says. 
Trinh has several tips for anyone readying the dish's fish cakes for the first time. "Be sure to pack the cakes together really tight, to keep them from falling apart," he says. Trinh adds that although today's recipe calls for frozen pollack fillets, that ingredient can be swapped with other types of fish, and such experimentation can give the dish a whole new flavor and texture. "Frozen fish will make the cakes crispy, kind of a Western style. But if you want, you can use fresh fish, and that'll make it more flaky and allow you to pack it into more of a meatball that'll give it an added crunch."
Check out the dish's specific instructions and needed ingredients below.
Once again we sourced all of the ingredients in this recipe from Tootoo Organic Farm (a reliable organic, natural food online shopping supermarket).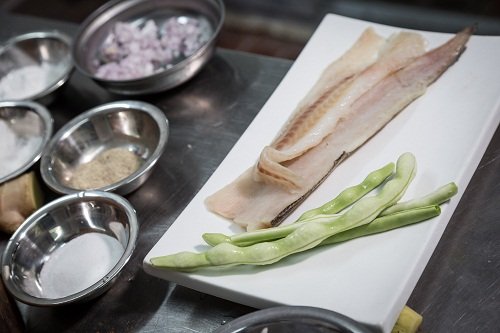 Ingredients:
For the Fish Cakes:
2 Pollack Fillets
5 Long Beans (thinly sliced) (try TooToo's farm-fresh Shengda String Beans)
1 Egg
2 Shallots
1 clove of garlic
1 tsp garlic powder
2 tsp of fish sauce
1 tsp palm sugar
1 tsp white pepper powder (try TooToo's McCormick White Pepper)
2 tsp of corn starch
For the Tomatoes with Pernod Sauce:
4 Tomatoes (Check out TooToo's Organic Beijing Tomatoes)
Coconut Oil
1 tbsp Onion Powder
1 tsp Brown Sugar (try TooToo's Taiwan Organic Brown Sugar)
400 ml Water
2 tsp Tomato Paste
1/2 tsp Cracked Black Pepper
1.5 oz of Pernod
Gluten Free Pasta or Regular Fettucine (or try TooToo's Tallerin Spaghetti)
Instructions:
For the Fish Cakes
1.  To prepare the fish cakes, place all of the fish cake ingredients into a food processor (except for the fillets and long beans) and puree them. You can also use a mortar and pestle.
2. Add pollack fillets and puree into a shiny paste.
3. Remove from the food processor.
4. Add Long Beans.
5. Shape and form into balls 10cms in diameter.
6. Chill in refrigerator.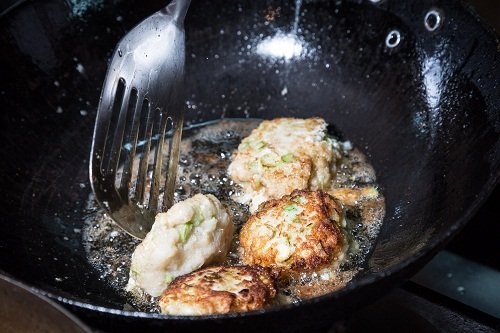 7. Press slightly into thin disks (like a little hockey puck), and cook over medium heat with 1 tbs of coconut oil.
8. Cook until centers are firm or a toothpick inserted into the 'fish puck' come out clean.
For the Tomato with Pernod Sauce
1. Sauté Garlic and Onion till golden yellow with coconut oil.
2.  Add tomatoes and sauté. 
3. Add remaining ingredients except for the Pernod.
4. Boil and then simmer into a sauce (approx. 5 minutes).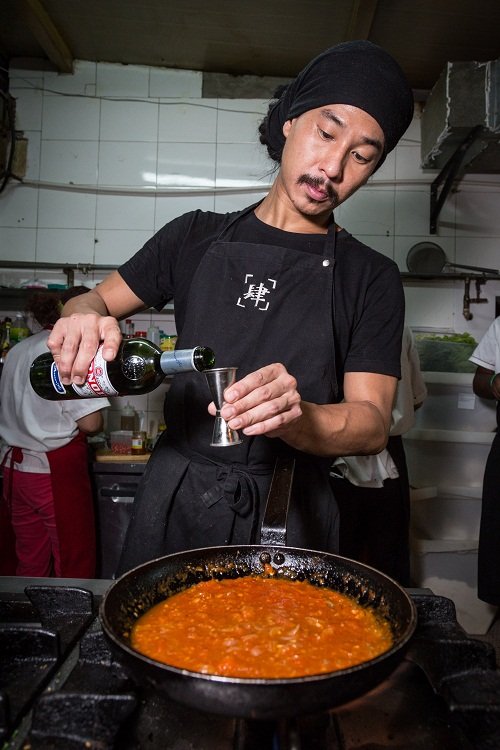 5. Add Pernod and light on fire. Stir into sauce. Turn off heat.
6. Boil the pasta and serve al dente.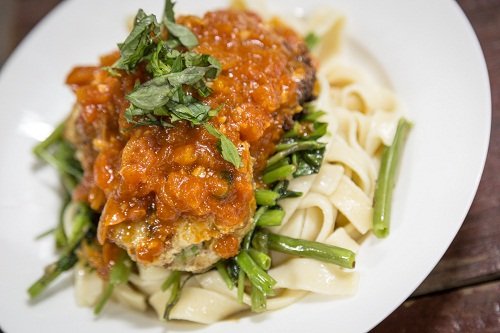 About the author: A ravenous foodie and frequent tbj contributor, Kyle Mullin has been working as a freelance reporter in Beijing since 2011.
Photos: Mitch Pe Masilun
This series is sponsored by TooToo Organic Farm. Ask your favorite restaurant where they source their food supplies - TooToo Organic Farm can be their reliable choice!

Convenient, Safe, Fast, Economic & 100% Satisfaction Guaranteed
Order fresh organic food online and get it directly delivered to your home or office. Sign up from today until September 22 and receive a voucher worth RMB 90 for any purchase over RMB 100, and until September 30 you can get two free avacados with your first order, among other great deals!
For questions, please e-mail service_en@tootoo.cn or visit our website at shop.tootoo.cn
Comments