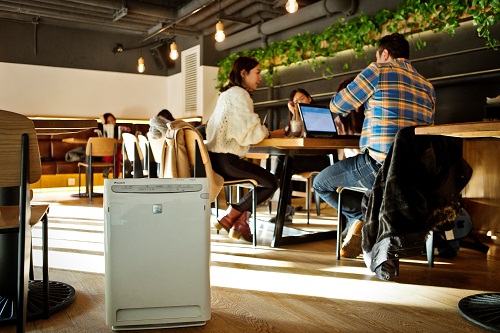 Breathe Easy: Ten Tips for Choosing and Using Air Purifiers in Beijing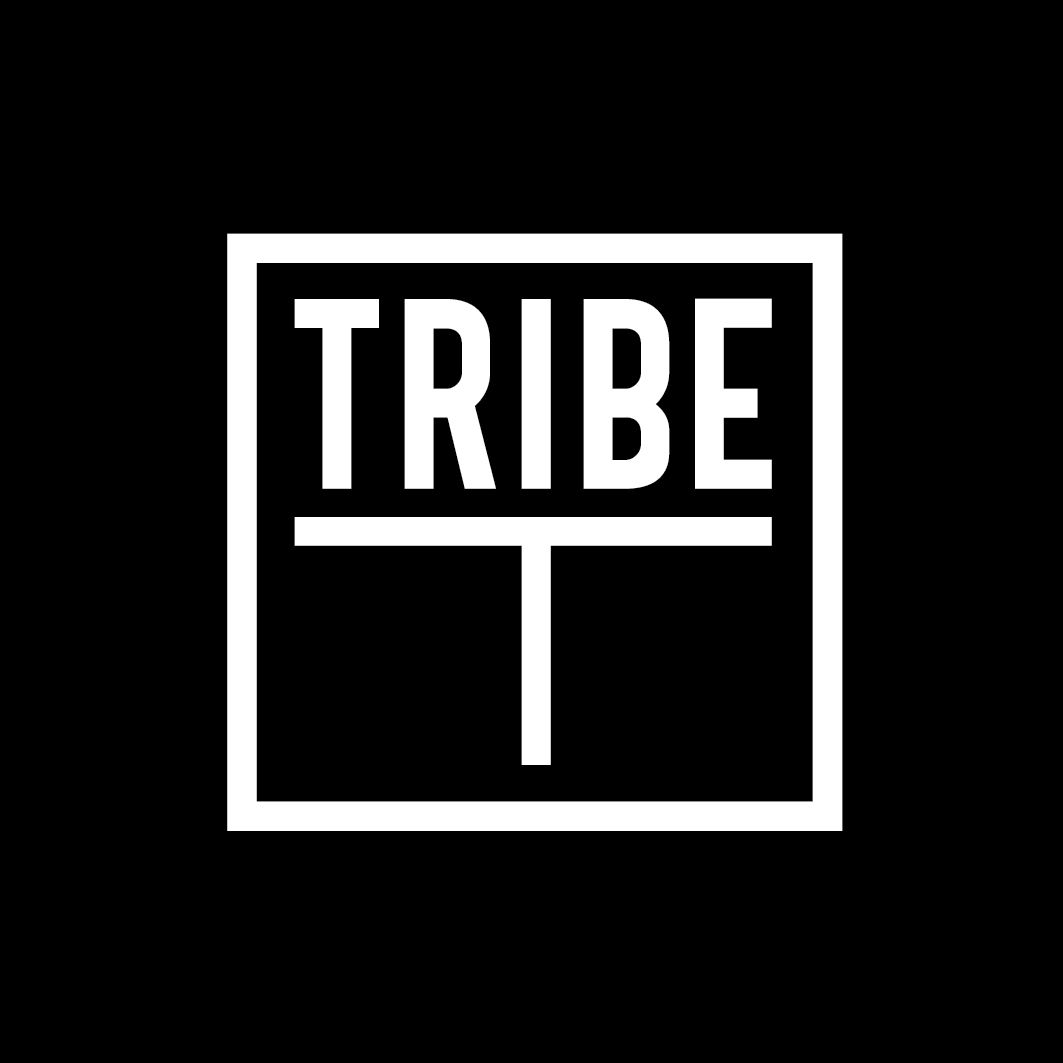 This blog series is sponsored by Tribe Organic Restaurant, Beijing's newest option for fresh, healthy,      organic and vegetarian-friendly dining. 

Tribe may be best known for its fresh and organic-based food, but it is also working to create a healthy atmosphere, literally. The Gongti Donglu restaurant not only has a bed of aloe planted above the entryway, and a pair of thick-pane doors that seal out Beijing's notorious smog – it also utilizes top of the line Daikin air purifiers to ensure the split-level 70-sqm interior is cleansed of PM2.5 pollutants. 
"We have 'eat, drink and breathe' written on the window when you walk in, because we know how important breathing is in Beijing," explains Yvonne Yu, Tribe's Executive Director, who adds that all of the restaurant's tables and chairs were constructed and painted with natural, chemical-free materials. 
"We just want to guarantee that the air is purified enough. And the model is very well reviewed. It works very well so far, and customers say the air smells fresher at Tribe," says Yu.
Considering how bad the air in Beijing can get, it's a shame that many businesses have not invested in air purifiers to keep their customers healthy and safe. But at the very least you can, and should, use air purifiers to clean the air in your own personal spaces. If you're looking to buy an air purifier for your home or business, here are a few tips on what to look for and how best to use them, followed by a select list of links, brands and retailers to keep in mind: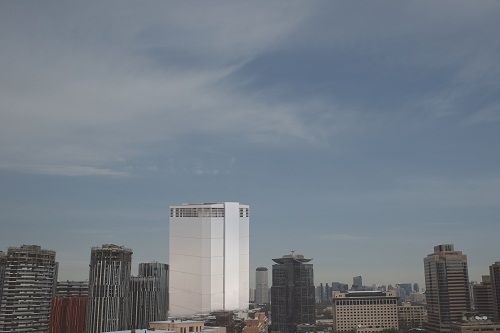 Tip 1: Avoid the duds
When it comes to air purifiers, purchasing any old device simply won't do – especially those that generate ozone or rely on ionizing technology. These devices are not only ineffective at cleaning the air, they can even "expose users to potentially harmful levels of ozone, posing serious health risks … some of the contraptions out there can do more harm than good." 
Tip 2: Pricey doesn't necessarily equal quality
While some purifiers are dangerously faulty, it isn't difficult to find quality, reasonably priced alternatives. Nikki Wu, marketing manager at Airgle Air Purifiers, notes that brands and prices aren't the most important factors when it comes to purchasing a safe and reliable device. Instead of focusing on the brand logo, she suggests checking for a seal of approval: "There are a few third party groups that have cleared about 40 air purifier brands for the market. Because they're third parties, the results are fairer," Wu says, adding that air purifiers bearing the seal of these objective standardization organizations – such as the AHAM (Association of Home Appliance Manufacturers) – will be up to par. 
Tip 3: HEPA filters are a must
Aside from third party approvals, air quality experts also recommend purifiers with HEPA (high efficiency particulate absorbing) certified filters, which are defined as those that filter 99+ percent of particles sized 0.3 microns or larger. Bear in mind that HEPA is a minimum benchmark – many manufacturers offer devices that go above and beyond this standard and feature superior air circulation capabilities, which is a hallmark of the larger and pricier machines.
Tip 4: There are different types of air filter for different purposes
Purifiers range in size and capabilities. As purelivingchina.com points out, many manufacturers offer purifiers that range from basic models that simply clean PM 2.5 pollutants out of the air to top-of-the-line components with "medical level" filters that can weed out the tiniest of viruses and microbes. Allergy and asthma sufferers should go with models that use HEPA filters, while people who have recently remodeled their home or office should buy special purifiers with carbon-activated gas filters.
Tip 5: Assessments can be an asset
If you're super detailed and serious about finding the most suitable purifier for your needs, consider calling in professionals for an air quality assessment. Many retailers, including HealthPro (which sells IQ Air) and Torana (the distributor of Blue Air) offer home testing – HealthPro charges RMB 500 for testing while Torana does it for free. PureLiving China also offers home testing (for a fee, depending on the size of the space you want to get tested), which they claim can also detect indoor pollutants like lead, carbon monoxide, ozone and radon gas. If you prefer to go DIY, you can go online and buy a testing kit to see for yourself. 
Tip 6: Ensure your purifier measures up
One of the most important factors to consider when purchasing your air purifier is the room that you want to place it in. Depending on the size of the room, certain purifiers may be too small to adequately cleanse all its air, or may be so big that a smaller, cheaper unit could do the job and save the user considerable expense. 
Tip 7: Your purifier needs room to breathe as well 
"Do not put your purifier up against the wall. The air needs to circulate through it properly," says He Jiao, a spokesperson for Lightair purifiers. Also be sure that the air has the space to circulate upwards – units should not be placed under shelves – and there should be a "few feet of clearance at the top, front, and sides for optimal efficiency." 
Tip 8: Change filters regularly (and consider their cost when buying a unit)
Air purifiers are pretty glorified fans once their filters get too blocked up. So unless your aim is to run up your electric bill or circulate dusty air around your room, you're well advised to change the filters on a regular basis (manufacturers all have their recommended timetables – most recommend changing every six months). Do note that filter costs, which can range from RMB 200-500, depending on the brand and model, can add up over time, so consider this factor carefully before you buy.
Tip 9: Keep it running
As opposed to your air conditioner, and unless it's a "legitimate blue sky day," it's actually best to keep air purifiers running around the clock to ensure that the air you're breathing is actually clean at all times.
Tip 10: Keep your windows closed
Last but not least, be sure to keep your windows closed when your purifier is on, otherwise you will simply be cycling in the dirty air from outside on a continual basis. As our sister site beijingkids puts it: "The grim reality is that you have to choose between a hot, stuffy room with clean air, or a cooler, more aerated room with pollution."
 
Useful Links
Dr. Richard St Cyr's myhealthbeijing.com has one of the most comprehensive sets of air quality posts relevant to Beijing. For more details on air purifier brands and models, refer to Consumer Report's test results, as well as the reviews from Consumer Search. My Health Beijing also lists the results of a 2013 analysis, conducted by the Shanghai Consumer Rights Protection Commission, on major air purifier models like Blueair, Samsung, Honeywell and more (IQAir, one of the most popular purifier brands, is strangely absent).

Other useful sites include the afore-mentioned and Shanghai-based purelivingchina.com and smartairfilters.com, which sells budget-priced, simple air purifiers for as little as RMB 200 (see info in the directory below).

Directory
The following is a select list of some of the more prominent air purifier brands and retailers around Beijing. For more details on unit specifications and features, visit the brands' sites.
Airgle Air Purifiers 
Corporate HQ: Unit 2302, Central Place Apartments Building Bldg 4, 89 Jianguo Lu, Chaoyang District (Sales hotline: 400 0064 365)
朝阳区北京市朝阳区建国路89号华贸商务4号楼2302室(华贸公寓院内)
airgle.com.cn, airglexm.tmall.com (e-store)
Air Oasis
Corporate HQ: Fengtai District Headquarters, District, Bldg 1A 902, Fengtai District (8368 2478) 
丰台区总部基地一区一号楼A座902室 
airoasischina.com
Alen Air Purifiers
(Customer service: 800 630 2396)
alencorp.com
Daikin Air Purifiers
20F, Tower E3, Oriental Plaza, 1 Dong Chang'an Dajie. Dongcheng District (Customer service: 400 820 1081)
东城区东长安街1号东方广场东三办公楼20层  
daikin-china.com.cn

HealthPro (IQ Air distributor)
Corporate HQ: Air China Plaza, Rm 1303, 36 Xiaoyun Lu, Chaoyang District (8447 5800) 
朝阳区霄云路36号国航大厦1303室
www.iqair-china.com
LightAir
Bldg 5, Zhongteng Jianhua Shangwu Dasha, Jiancai Cheng Xilu, Haidian District (Sales hotline: 4008 948 788, 8246 5391) 
海淀区建材城西路邮政研究院附近中腾建华商务大厦5楼 
www.lightair.cn
Mayair
Rm 2450, Bldg 4, SOHO Shangdu South, 8 Dongdaqiao Lu, Chaoyang District (5166 8017) 
朝阳区东大桥路8号SOHO尚都南塔4楼2450室
enquiry@mayair.com.cn, mayairgroup.com
Oransi
B008, 3/F, 118 Jianguo Lu, Chaoyang District (400 665 9677) 
朝阳区建国路乙118号3层B008
oransi.com
Renaud Air
Corporate HQ: Rm 1006, Yufei Dasha, Dongcheng District (5941 7546) 
东城区东直门外大街42号宇飞大厦1006室
www.renaudair.cn
Smart Air Filters
Budget air filters available online and at two Beijing retailers:
Natooke, Wudaoying Hutong 19-1, Dongcheng District (8402 6925)
北京市东城区五道营胡同甲19-1号
Organic Farmers' Market, Phoenix City Shopping Street, Shuguangxili, Sanyuanqiao, Chaoyang District (5742 8210)
北京市朝阳区三元桥曙光西里凤凰城凤凰商街
www.smartairfilters.com
Torana Clean Air Center (BlueAir distributor)
Unit LB09, basement level, Europlaza Mall, Tianzhu District, Shunyi District (8459 0785)
顺义区天天竺镇裕路99号欧陆广场, LB09
Unit 1115, Building 1, San Li Tun SOHO, 8 Gongti Beilu, Chaoyang District (8590 0511)
朝阳区工人体北路8号三里屯SOHO一号楼1115
toranacleanair.com, toranabeijing@163.com, www.blueair.cn/en
Yadu
Tsinghua Technology Park Bldg A, 12/F, Haidian District (6297 5500) 
海淀区清华科技园科技大厦A座12层
yadu.com.cn
Find out how to make nutrient-rich juices, learn how to make a healthy pumpkin pie, click here to find out how to make cold pressed coffee, learn about kombucha here, and check out how to create cold and flu-fighting warm winter drinks here. 
About the author: A ravenous foodie and frequent tbj contributor, Kyle Mullin has been working as a freelance reporter in Beijing since 2011.
Photos: Uni You
Comments