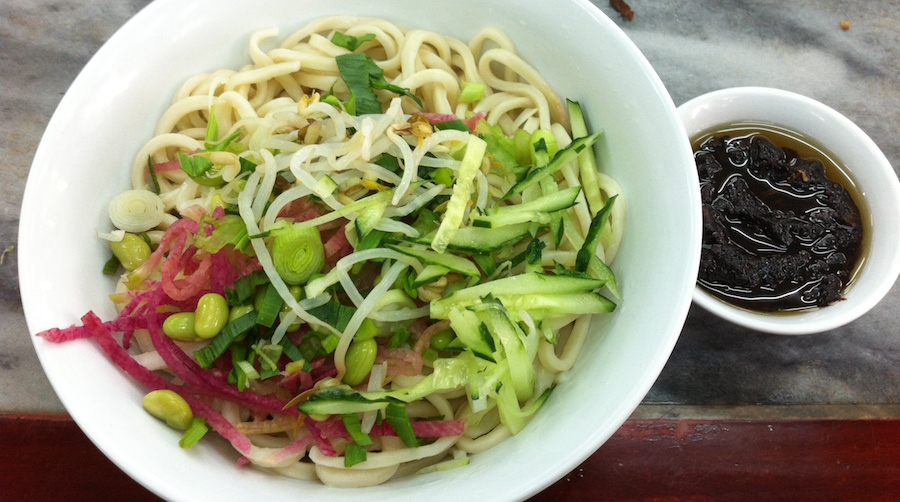 Food Writer Carolyn Phillips Serves up a Recipe for that Beijing Classic, Zhajiang Noodles
Last week we posted an interview with food writer, academic, and illustrator Carolyn Phillips, who has just published All Under Heaven, an incredibly detailed compendium of stories and recipes from China's many and varied cuisines. Carolyn was kind enough to also allow us to publish one of her recipes and since we are, after all, a Beijing publication, it seemed only right to choose that classic Beijing dish: zhajiang noodles. 
Related: In Conversation with Carolyn Phillips, Author of New Chinese Cookbook All Under Heaven
Zhajiang literally translates as "deep-fried sauce" and although the cooking method for this dish doesn't actually involve any deep frying, the combination of fatty pork, oil, and sweet bean paste does combine to make an incredibly rich, umami-laden sauce. A small amount of the sauce is mixed with cooked noodles, while shredded vegetables like cucumber and radish further cut through the richness. The version below also includes cubes of fried eggplant, an idea Carolyn took from essayist Liang Shih-chiu. According to the introduction to the recipe in All Under Heaven, although most believe this dish originated in Beijing, northeastern Chinese cuisine has a similar dish known as zajiang, or "mixed sauce" noodles.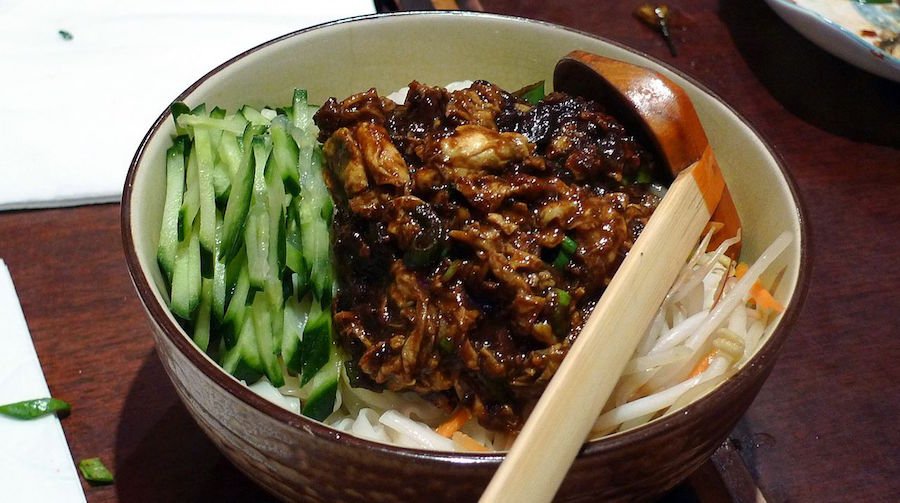 One more thing: make sure you use fresh noodles, not dried, when preparing this dish. Fresh noodles can be easily sourced from a wet market like Sanyuanli or from the "deli" counter of a supermarket like Jingkelong. 
Zhajiang noodles 
Zhájiàng miàn (炸酱面)
Serves 2 to 3 as a lunch or snack
Noodles and eggplant:
450g fresh, wide noodles, preferably hand-pulled 
2L boiling water
2 small eggplants
30 to 60ml peanut or vegetable oil
Sauce:
1 tbsp peanut or vegetable oil
225 g ground pork (15 percent fat)
½ medium yellow onion cut into ½-inch dice
2 tbsp peeled and minced fresh ginger
3 cloves garlic, finely minced
2 tbsp plain rice wine (mijiu)
6 to 8 tbsp toasted sesame oil
3 tbsp sweet wheat paste (tianmianjiang)
1 tbsp regular soy sauce
2 tsp sugar
60ml hot water
Garnish:
1 Japanese, Persian, or pickling cucumber, trimmed and julienned
1 green onion, trimmed and julienned, optional
1. Prepare your own noodles or use store-bought fresh ones, preferably something wide and chewy like paparadelle. Shake the noodles out onto a tea towel and loosen the strands. Cover them with a clean tea towel to keep them from drying out. Have the water in a pot on the stove with the lid on to keep it hot.
2. Clean and trim the eggplants and then cut them into ½-inch dice without peeling. They can be deep-fried or baked in the oven. To fry them, heat the oil in a wok on medium-high and fry the eggplants until they are browned all over; to bake them, toss the eggplants in some oil and bake at 350°F / 180°C for about 15 minutes, turning them over now and then until they are completely browned. Remove the eggplants to a work bowl.
3. To prepare the sauce, heat the 1 tablespoon oil in a wok over medium-high and add the pork, onion, ginger, and garlic. Lower the heat to medium and cook them, stirring occasionally, until the onions are translucent. Raise the heat to medium-high again and fry the mixture until it has some browned edges.
4. Pour in the rice wine and stir it around quickly to stop the caramelization. Scoop the mixture up one side of the wok. Raise the heat to high; pour the sesame oil into the wok, and add the sweet wheat paste. Stir the paste around in the oil to break it up into a smooth layer and to fry out any raw flavors. Add the soy sauce and sugar. Mix the meat mixture into the sauce and toss this around over the heat. Pour in the hot water and stir the sauce to incorporate the water. Lower the heat to a simmer and cook the sauce gently for 10 to 15 minutes. Add the eggplant, taste and adjust the seasoning, and cook the sauce for another 3 minutes.
5. Just before serving, cook the noodles until done, making sure they to keep them nice and chewy. Use a Chinese spider or slotted spoon to remove them to noodle bowls, but don't pour out the noodle water. Ladle the sauce on top of each mound of noodles and garnish with the cucumbers and the optional green onions. Serve a soup bowl of the hot noodle water on the side to each person as a soup. Your diners should toss the noodles with the sauce and garnish before eating.
More stories by this author here.
Instagram: @gongbaobeijing
Twitter: @gongbaobeijing
Weibo: @宫保北京
Photos: Wikimedia Commons
Comments