Sanlitun's Taikoo Li Wakes Up and Smells the Soloist Coffee
Longtime fans of Qianmen's uber-hip Soloist Coffee may be surprised to see the café branch out beyond Dashilar to Sanlitun's far slicker Taikoo Li mall, but that's exactly what has happened. The newly opened café not only brings a fresh aroma quality imported beans, but also a breath of fresh air in a complex that's grown increasingly stale with bland chains and big foreign brand names.
RELATED: Basic Coffee Brings Freshly Ground Quality Beans to the CBD Area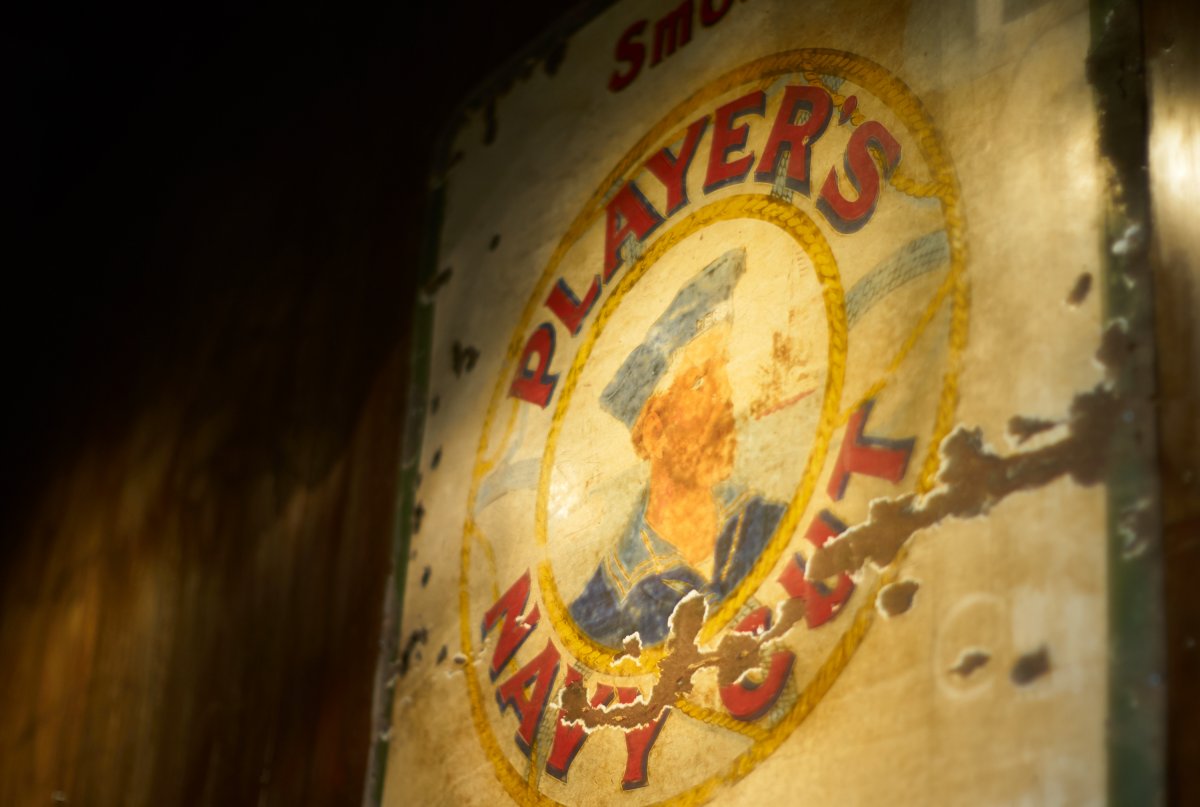 Yes, it's tough to argue that the new Soloist lacks personality, and local coffee lovers seem to agree with us. A recent weekend afternoon visit saw the café jam-packed, with hardly a single of its 50 or so seats available, meaning they'll either need to find a bigger location or start warning patrons upon arrival that there'll be a wait time.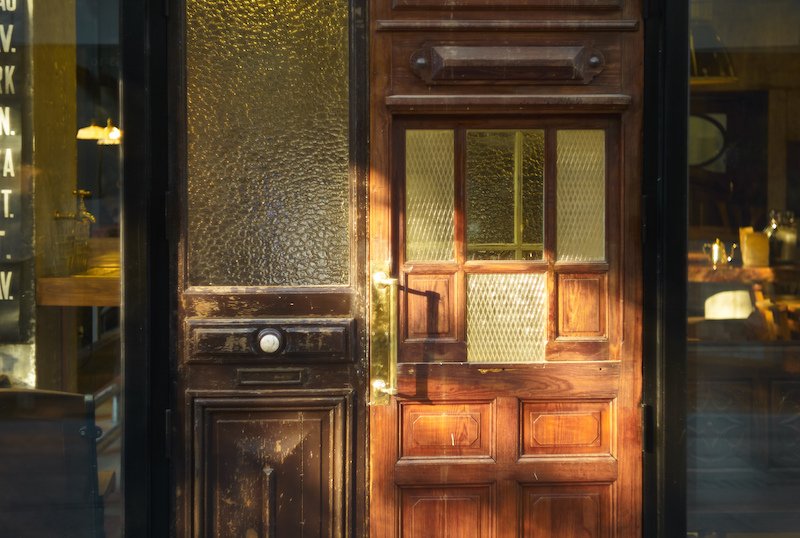 There's a rugged, retro rustiness to much of the café's decor, including aged file cabinets and lockers, town house doors at both the mall entryway and hanging from ceiling, oblong hinges on both the chairs and light fixtures that look like the springy innards of a bygone contraption. While these antique elements might seem like strained gropes at authenticity to some cynics, we felt it didn't go too over the top, giving the café a quirky lived-in vibe that is juxtaposed strikingly with dashes of softer, splashier colors on some wall paintings and the menu pages.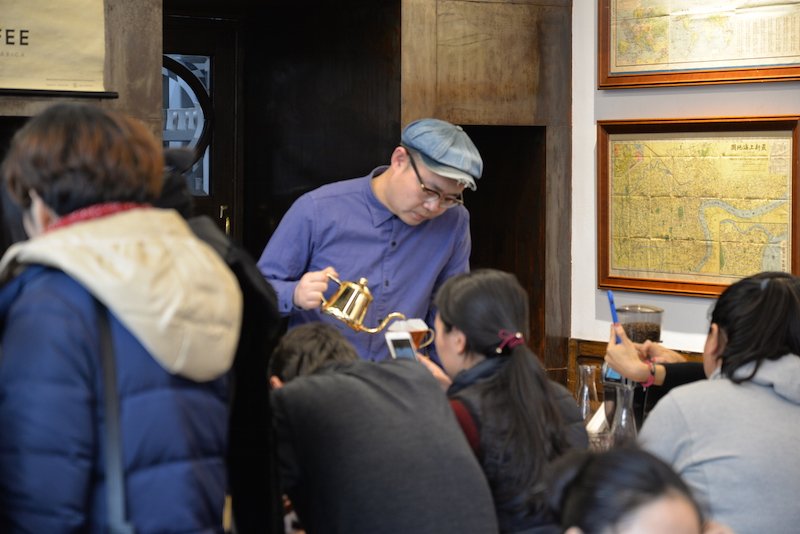 Speaking of the menu – it seems Soloist is striving to be known on this side of town as much for its eats as it is its beans. While homemade cheesecake and other tasty treats were a hallmark of even the earliest Qianmen rendition, this new Sanlitun outlet (Soloist's third venture, after opening their second café in Beijing's CBD in the spring of 2016) has plenty of enticing brunch options like a brekkie board (featuring two scrambled organic eggs, ham, salami, cherry tomato salad, avocado, mozzarella alongside servings of fresh fruit and toast; RMB 75), a fresh fig seasonal salad (RMB 70), and other meat stuffed sandwich options like paninis, bagels, and pita pockets (RMB 50-70).
But the coffee, of course, is what we we're here for, and Soloist didn't disappoint, the Ethiopia Yirgacheffe Idido dry process (RMB 55, selected from the "coffee shot" specialty section of the menu) served fittingly in a quirky beaker that you pour into the mug yourself. Despite the superfluous serving method, the coffee itself boasted a deeply rich aroma that evokes that hearty soil from which it was grown, and an acidity that was low enough to tempt us into ordering another cup.
If we had to gripe, there were a pretty narrow range of such speciality varieties on offer at time of our visit, and we would have loved to see some more offbeat or obsure beans.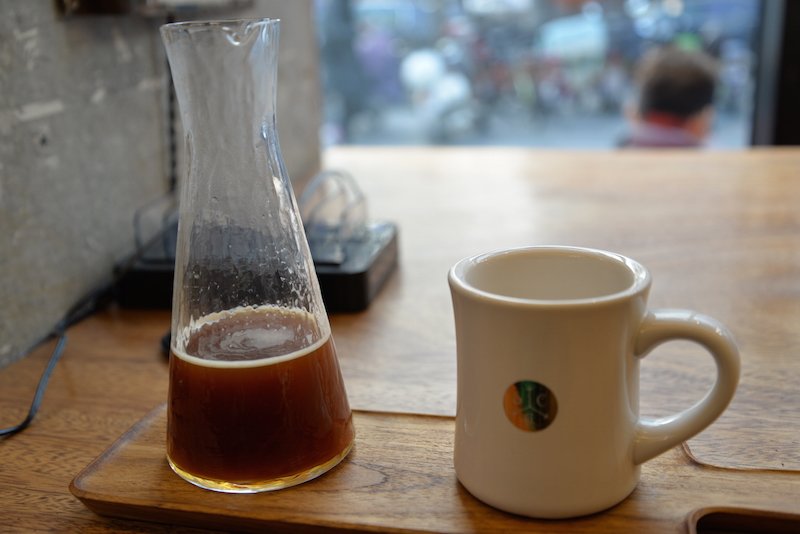 If those specialty coffees prove to be too pricey, then more standard RMB 30 3oz espressos, RMB 30 Americanos, RMB 40 cappuccinos and lattes, and a range of iced coffees (RMB 30-55) are also on hand. But let's be honest: the whole point of coming here is to splurge on the steep brews, watching the staff carefully ready the filter and other intricate equipment, savoring the rich aromas, and marveling at the more distinct flavors. After all, cheaper Americanos and lattes abound at the more generic outlets throughout Taikoo Li. It won't become our regular morning order-to-go haunt but what's being brewed at this new café is just what's needed to perk the surrounding complex up.
Soloist Coffee Taikoo Li
Daily 10am-10pm. S3-18 Taikoo Li South, 19 Sanlitun Lu, Chaoyang District
朝阳区三里屯路19号太古里南区S3-18号
More stories by this author here.
Email: kylemullin@truerun.com
Twitter: @MulKyle
WeChat: 13263495040
Photos: Soloist Coffee, Kyle Mullin
Comments