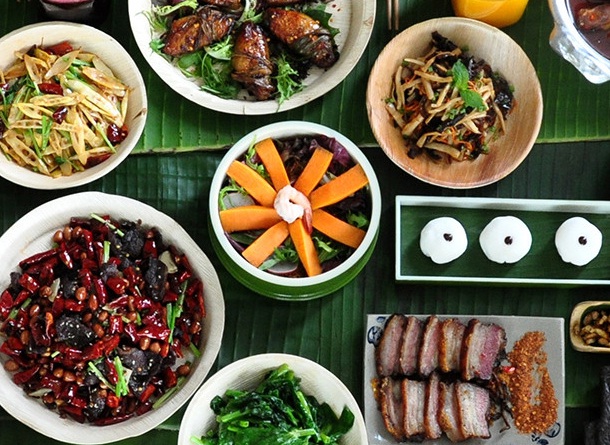 How to Save Money With Deals on Dianping (Plus Deals at Popular Beijing Restaurants)
Often called "the Yelp of China," consumer review app Dazhong Dianping 大众点评 is not without its flaws (chief among them being the questionable legitimacy of some of its reviews and rankings), but it remains one of my favorite ways to discover new restaurants and restaurants that fly under the usual expat radar. Of course, my second favorite thing about Dianping is all the money-saving deals. Many restaurants across town, Chinese, Western or otherwise, offer regular dining deals through Dianping – good for those of us who have made a resolution to live more frugally in the new year but still want to eat out. 
Deals usually take one of several forms:
Discounted set menus: purchased in advance through the app (sometimes requiring you to book at the restaurant in advance);
Direct discounts when you pay through the app: either a certain percentage off your total bill or a "spend RMB 100, get RMB xxx off" (usually in the range of RMB 5-12) arrangement;
Cash e-vouchers: purchased through the app e.g. pay RMB 79, get a voucher worth RMB 100.
I'll admit, some of these deals do sound fairly trifling (a few percentage points don't add up to much at some of the cheaper locations), but if you eat out a lot those few kuai here and there will add up considerably over the course of a year.
Here's how to use the simplest of those deals, a direct discount on your total bill when you pay through the app (note that this does require some basic Chinese reading skills). Once you've chosen a restaurant that's offering this deal, eat your fill as usual and when you ask the waitress for the bill, follow the steps below:
1. Download the Dianping app
Once you've downloaded the Dianping app (available on most major mobile operating systems), go to "我的" (my account) on the menu bar at the bottom right. You'll then be prompted to log in (1), which will take you to another page where you can either create an account by linking your phone number (in which case, enter your phone number and press the button on the right to receive a temporary log in code [2]) or log in via a third-party service like WeChat (3).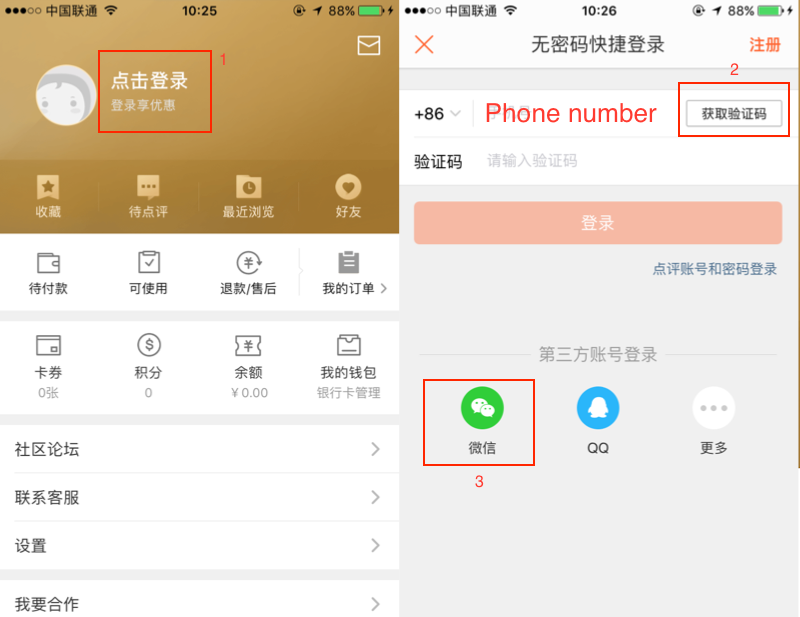 2. Go to the restaurant's Dianping page
On the restaurant's page on Dianping look for the orange "买单" (pay bill) button. Other logos to look out for are the yellow "券" (voucher) and orange "团" (meal deal), which indicate what deals the restaurant has on offer.
3. Enter the amount
On the next page, enter the amount payable and Dianping should automatically apply the discount. Click "确认买单" (confirm and pay) and you'll be taken to another page where you can choose from several payment methods, including WeChat and Alipay. Proceed to pay as you would usually with your chosen platform.
Below are a few popular restaurants (frequent Beijinger Reader Restaurant Award winners among them) that are currently offering deals on Dianping:
Duck de Chine
Duck de Chine are selling a four-person set menu featuring 11 different dishes (including their signature roast duck) for RMB 988 (original value RMB 1,677), which can be used at lunchtime or from 5.30-6.30pm.  
Haru Teppanyaki and Sushi Bar
Haru sells vouchers worth RMB 200 for RMB 180 or an equivalent 10 percent off (note that the vouchers can only be used at lunchtime). 
In and Out
The north Sanlitun branch of Yunnan restaurant In and Out offers RMB 50 off for every RMB 100 spent when you pay through the Dianping app every Monday, 10.30am-10pm. 
Little Yunnan
The new Dongzhimen location of Little Yunnan is offering 8 percent off your bill when you pay through the Dianping app, or RMB 100 vouchers for a discount price of RMB 88.
Pass By Bar
Nanluogu Xiang stalwart Pass By Bar off a grand 20 percent off your bill when you pay through the Dianping app.
The Red Chamber
China World Summit Wing's Peking duck restaurant offers 10 percent off your total bill when you pay through the app or a roast duck set menu for four for RMB 627.5 (originally RMB 713).
TubeStation (Wudaokou)
Get a RMB 100 voucher for just RMB 60 at their newest location to try it out. Vouchers bought on Dianping are valid through March 31 and redeemable on weekdays.
More stories by this author here.
Instagram: @gongbaobeijing
Twitter: @gongbaobeijing
Weibo: @宫保北京
Photos: Dazhong Dianping
Comments