Colorful New Bar Red Dog Aims to Serve Equally Vibrant Cocktails in SLT Soho
If Sanlitun Soho looked drab and borderline barren during your last visit, then brace yourself for a livelier surprise. Red Dog, a cocktail bar situated in the basement of the Soho's southeast corner, held its opening party on February 11. And we're happy to say that during our visit the lounge seemed very much part of the Soho's slow but sure new wave of higher quality establishments, which also includes the opening of more diverse eateries like Pachakutiq and Poke Inn.
One of the bar's most apparent attributes is its design, which is bold and colorful. Though the space is on the smaller side (50 people, at most, could squeeze in; only about 30 could be seated), it's brimming with flowery decorations, including a topless Mona Lisa and other iconic artworks tweaked with with a candy cane swirls and psychedelic splatters of color. An adorable sculpture of the eponymous red dog, inspired by co-founder Yannick Megueule's childhood pet, sits behind the bar.
Megueule cofounded the bar with Jack Kangyin Ren, formerly of The Opposite House and who cut his teeth in the hospitality business in Switzerland. They also hired a top-notch bartender nicknamed JC who trained at fellow creative cocktail joint Botany.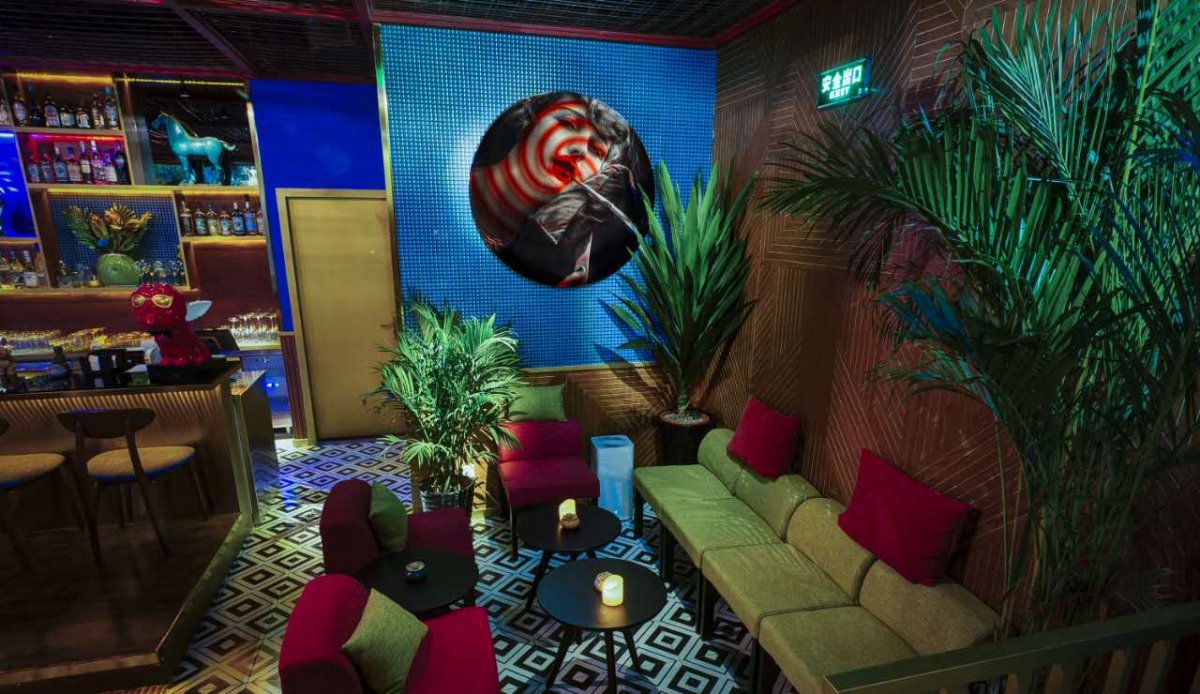 "We tried to create a unique and original design in Beijing around flowers and contrasting colors," says Megueule, adding that that theme carries over the drinks. "So the cocktails have to also be colorful, with lots of flavor."
We tried two such drinks: the Red Dog, which was unfortunately wasn't so memorable (despite its cherry brandy base), and the rum-loaded Punchline, which was much better thanks to its fruity flavor and spicy aftertaste. That latter drink also boasted an enticing foaminess thanks to the egg whites that JC mixed in with expert finesse, making it nice and frothy but not overly thick and sloshy, like far too many of the egg white featuring cocktails we've been subjected to as of late.
Those were the only two cocktails offered to us at last weekend's opening party as the menu is still being tweaked, but expect a finalized version in the near future. Until then, it's too soon to say just big a hit Red Dog will be in Beijing's already overcrowded cocktail scene. But based on the talent and enthusiasm of those involved, and the tastiness of the Punchline cocktail we tried, it is clear that Red Dog has plenty of promise.
Red Dog
Daily 6pm-2am. B1-538, Bldg 5, Sanlitun Soho, Chaoyang District (go to the basement floor and walk all the way to the south-east corner)
朝阳区三里屯Soho 5号楼B1-538
More stories by this author here.
Email: kylemullin@truerun.com
Twitter: @MulKyle
WeChat: 13263495040
Photos courtesy of Red Dog
Comments