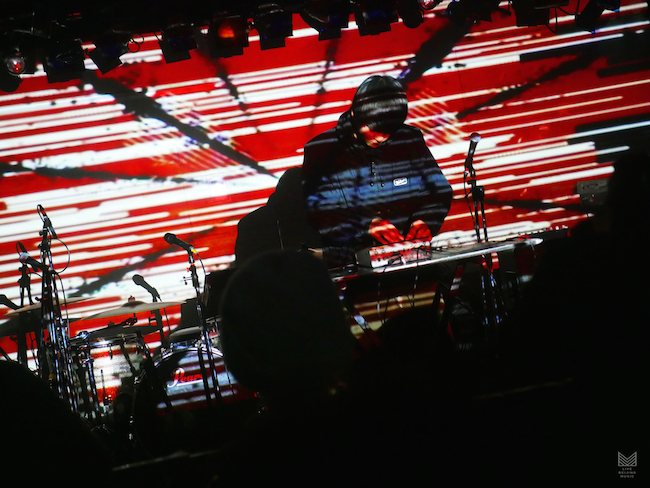 Noise Pollution: Dirty Fingers, Macha Gharibian, Pixel Echo Festival, Technica
Alright – last week was a bit of a flunk. Slim pickings. Beijing was still coming out of its holiday hibernation. But just looking outside today, it's clear as day that we're getting back to basics and the music scene this weekend is as feisty as ever with great gig after great gig to stumble wildly into. So shake off that winter fat, procrastinate finishing all those file reports, and come with Live Beijing Music (WeChat ID: livebeijingmusic) to chase down that dragon this weekend.
Friday, February 17

Dirty Fingers, Subs, Dress Code at Yue Space
Dirty, never bring home to your mom Shanghai punk shit stirrers Dirty Fingers pillage their way through Beijing once again – they'll be setting up their own little island of anarchy over at Yue Space where they'll be joined by DIY punk legends Subs alongside Dress Code, whose fastcore/hardcore power violence has made them one of the scene's freshest new acts. RMB 60
Shave N' Shut, The Diders, The Demonstrators, Day Dream, Shochu Legion at School
School Bar is back in business folks and what better way to catch up with everyone's favorite hangover inducing live house then with a punk powwow featuring five punk bands of different ilk including oi boot scrapers Shave N' Shut, scrappy Joyside inspired Day Dream, streets punk The Demonstrators and more. RMB 60
Kuso Eyes, Jaruco Punk, Lost in Space, Flying Peppers, Rope, Hell's Teacher at 13 Club
13 Club is kicking off the year of the rooster with aplomb and punk swagger with a fresh-blooded punk hoedown featuring a slew of acts ready to kick 2017 square in the nuts – check out Kuso Eyes, Jaruco Punk, Lost in Space, Flying Peppers, Rope, and Hell's Teacher give it their all. RMB 60
Macha Gharibian (FR) at DDC
Born and raised musically between Paris, Erevan, and New York singer-songwriter Macha Gharibian presents her fantastical musical landscape where oriental jazz meets Americana, neo-classical and psyche pop with ethereal, irresistible results. Catch her at DDC as she presents her latest album Trans Extended. RMB 70
Latitude-30°N at Mars Club
Speaking of keeping the torch strong and bright, Mars Club on Batong Line adjacent to the Communications University, continue lighting the outskirts of Beijing aflame with a steady roster of events – tonight they host American roots hard rockers Latitude-30°N who'll be debuting (gasp!) twelve new songs – which frankly means you probably will need twelve more shows before any of those songs sound good. But kudos! Free
Xue Ting, Wang Yuguang at Mogu Space
Check out some shadow puppetry as musician Xue Ting joins shadow puppet artist Wang Yuguang on stage at 69 Cafe for a concert that combines a new take on the traditional Chinese art of shadow puppetry, with a new take on traditional Chinese music, blending traditional instruments from home with new ones from abroad, like the didgeridoo. RMB 66
Wang Yawei, Ma Xiao at Jianghu Bar
Cuddle up with some nice folk tunes at the cozy Jianghu Bar as Wang Yawei is joined on stage by guest Ma Xiao. Wang is preparing for his new, twenty-five city tour. Expect the two to be playing some of their current hit singles including 'Libra and Pisces' and 'Youth Ballad'. Awwww. RMB 60
Los Crasher, guests at Temple
What can I say – Temple and glam rock go together like apples and pies. They're both a little dirty, a little too on the nose, not much sophisticated, but oh so genuine in their love for all things rock – so when you've got tight jeaned 80s reppin Los Crasher on duties you best believe its gonna be a good time. Free
Ding Yuan, Sun Liang at Snail Club
Pianist and vocalist Ding Yuan appears with guitarist Sun Liang at Snail Home for a concert in support of her first album Flower. Improvisational but not jazz, folk without too much pop flavor, and the perfect amount of bitterness. RMB 60
The Rebel Five at Hot Cat Club
Soul, funk, and rock and roll – the three elements that make The Rebel Five such a riotous good time. Cash in on said good times over on Fangjia Hutong at none other than Hot Cat. Free
Scott MacArthur (US) at Mogu Space
Guitar player and singer for folk rock outfits The Plum Trees and The Sleepwalkers, Scott MacArthur looks to give a classic folk, ballad-filled, unplugged performance tonight at the Xizhimen space. RMB 30
 
Saturday, February 18
Pixel Echo at Yue Space
The latest edition of Pixel Echo, a mini-festival organized by electronic label Bwave, goes down at Yue Space and believe me folks, this is definitely something different. Bringing together artists killing it in the multi-media and audio-visual world in Beijing, alongside some of the experimental scene's best most sought after acts, Pixel Echo give audiences a sensory workout. Performers include this time Bwave founder Hong Qile, who'll be presenting material from his new album, Dreaming Julie, a rag tag team that features Li Tieqiao, Feng Hao, among others. Also on the bill are In_K, GogoJ, Fen Cha, Huang Jing, Kan Min, Tian Xiaolei, and more. Full time schedule here). RMB 100
FaTiao KaMuSuo, Shouchou Legion, Gentle Grape, Rhythm Traveller, Both Willing at School
Local promoters QingChun ZhiZao have rounded up quite the motely crew for yet another electric Saturday evening including – 'making the trek in from Tianjin the extremely popular FaTiao KaMuSuo, Beijing punk trio the Shouchou Legion, pop punk dudes Gentle Grape, pop duo Rhythm Traveller, and last but not least, the extremely talented folk rockers Both Willing'. RMB 80
Technica feat. Periphery (US), Animals As Leaders (US) and Nick Johnston (CA) at Yugong Yishan
Seismic technical instrumental music that draws from the greats of prog rock, experimental metal, modern jazz, and even world music, three of the best bands in that arena including US's Periphery and Animals as Leaders, as well as Canada's Nick Johnston – some serious talent here – expects earlobes to be blown to bits by the end of the night. RMB 380
ListenUp at Omni Space
Just west of the Temple of Heaven, Omni Space hsts the cross-country rap battle to end all rap battles – ListenUp. Sponsored by Baidu music, the concert looks to promote rap and hip hop with a event that'll featuring some of the best artists around China including C-SIR, Young Gorilla, Odd Mido, Longjing Sun Xu, Cee, and many more. Have your say and help pick this year's newest rap sensation. RMB 100
December3am, Rudra's Sage at Mogu Space
Philippines born sitar player Rudra's Sage, a scene regular since the heydays of River Bar in Sanlitun, returns to Beijing with his sitar for a intimate performance in Xizhimen alongside the post krautrock duo december3am, one of last year's shining stars – an performance you owe yourself to see at least once. RMB 66
The Paper Tigers at Temple
Rock it out with The Paper Tigers, who will bring their edgy indie rock in the vein of The Cure and BlocParty to all thirsty patrons at the one and only Temple alongside an array of other knee slapping bands. Free
Krazy Family at Modernsky
Graduates of the rap battle circuit Krazy Family, made up of Huizi, MasonBoy, Cir, and Fatso (poor poor Fatso), has become one of China's most sought after hip hop groups. They'll be throwing a hip hop party at Modernsky Lab alongside friends D0M1e, Dungeon Beijing, and DJ Wesley. RMB 80
Hot Club of Beijing at DDC
Multi-national gypsy jazz ensemble bring their 1930s swinging jazz, hot latin rhythms, and gypsy waltzes to DDC so best bring your dancing shoes. RMB 50
Zhu Guangyu at Snail Hostel
Music manger and promoter Zhu Guangyu goes back to his singer-songwriter roots for this rare live performance where'll he perform his 70's inflected ballads. RMB 70
Zhenren at Jianghu Bar
From before the Chicago blues era, Zhenren specialize in the musky blues of the American South. The band which features Peter Murchison on guitar, slide guitar and vocals, and Richard Barnes on electric guitar will be joined by harmonica player Zhang Xiaosong tonight. RMB 60
Stevie Mac & The Mac Daddies at Hot Cat Club
Inspired by all things classic, pop, and big band, Stevie Mac & The Mac Daddies bring 'a vintage approach to contemporary music'. Enjoy classic reimaginings from the ever-expanding trope at Hot Cat Club. Free
The Diagon Alley, The Lake, The Fast Food at Mars Club
Rising indie pop bands bring their heart warming, head bopping sounds to Mars Club on Batong Line including The Lake, The Diagon Alleys and more. Expect catchy melodies and lots of swooning ladies. RMB 80
Nathan Borofka, Nick Parsons, Liu Beibei at 69 Café
No strangers to the cozy 69 Café on NLGX, Nathan Borofka, Nick Parsons, and Liu Beibei bring an evening of acoustic folk to the couch-ridden establisment. RMB 60
 
Sunday, February 19
MIJI Concert Series #43 at Meridian Space
Subjam's MIJI Concert Series returns bringing together Beijing artists and international performers for experimental jam sessions. Artists are welcome to engage in cold improvisation, radical performance, and absolute noise. Tonight's edition features audio and visual artists Hui Ye, Paul Gründorfer from Austrian, as well as Sheng Jie and Zhu Wenbo. RMB 50 (8pm start)
Roksonaki at DDC
Anyone down for some afternoon 'ancient nomadic Kazakh ethno-folk' tunes cause right about now that sounds like a mighty satisfying meal. 'Bringing the 13th century into dialogue with the 21st, Roksonaki's unique sound fluently and joyfully combines elements of ancient nomadic Kazak traditions – reed flutes and throat-singing – with contemporary rock and jazz.' Dope indeed. RMB 60 (3pm start)
Plateau, Qinyujie at DDC
If that wasn't enough to entice you to head to DDC then why night an evening of indie friendly hard folk and psychedelic-tinted sounds courtesy of Plateau and Qinyujie – two outfits that have been hovering on the radar for years – perhaps this is their year! RMB 50
Royal As Purple, Redundant Seconds, Jaruco Punk at School
Rage out this Sunday with a host of bands at School including Royal as Purple – the new project from Melvin Wong, old school rockers Redundant Seconds, and no holds barrel punk ruffians Jaruco Punk. Free
Phew! Still hungry for more? For events, videos, and photos from Beijing's thriving music scene, head over to Live Beijing Music or check out all of our live music listings here.
Images: Live Beijing Music, courtesy of the organizers
Comments