Never Judge a Restaurant by Its Look: Bobo Serves Decent European Food at Sanlitun Soho
Tucked away on B1 of Sanlitun Soho, opposite Café Flatwhite, Bobo's reopening earlier this year after a period of renovation was certainly low key. From just a peek inside, the decorative chandeliers and mosaic tiles belies the fact that Bobo actually serves decent European food.
The Chinese couple owners of Bobo both studied and lived in Germany for years, but wanted to bring their favorite food that they discovered during that time back to Beijing. Wife Hoshi Chang's family also runs a farm and beef business in Tianjin, giving her access to the ingredients and the knowledge needed in starting up her F&B venture, which happens to be named after the owners' son, Bobo.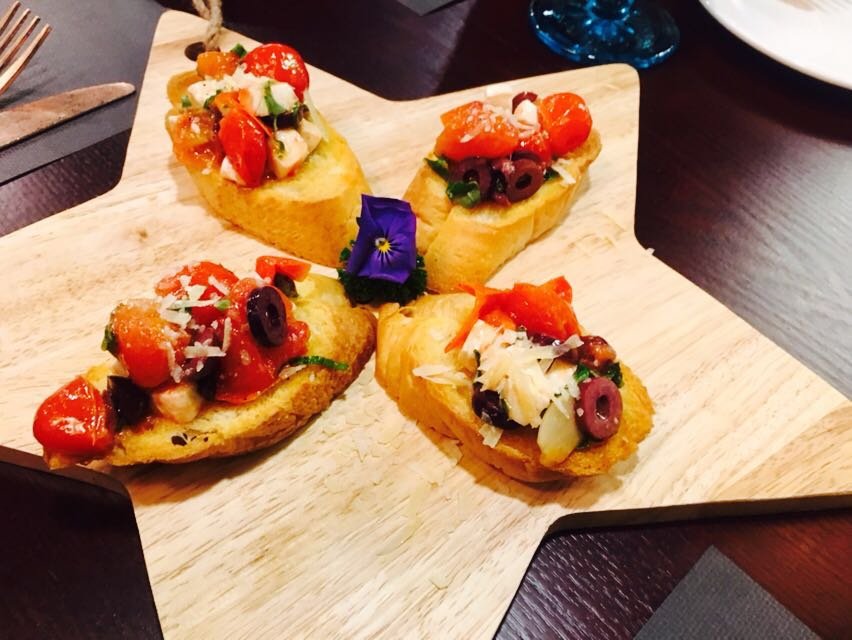 We're a little uncertain what exactly the renovations over Spring Festival amounted to as the noisy decorations and slogan on the walls remain. Surrounded by ornate chairs and baroque cutlery, I wasn't sure that this style of maximalist, like-eating-in-a-nail-salon dining was going to suit my usual no-fuss tastes, but never the one to judge a restaurant by its look (not until I've tried to the fare at least), I was happily surprised to find that the menu here usurps the atmosphere ten-fold.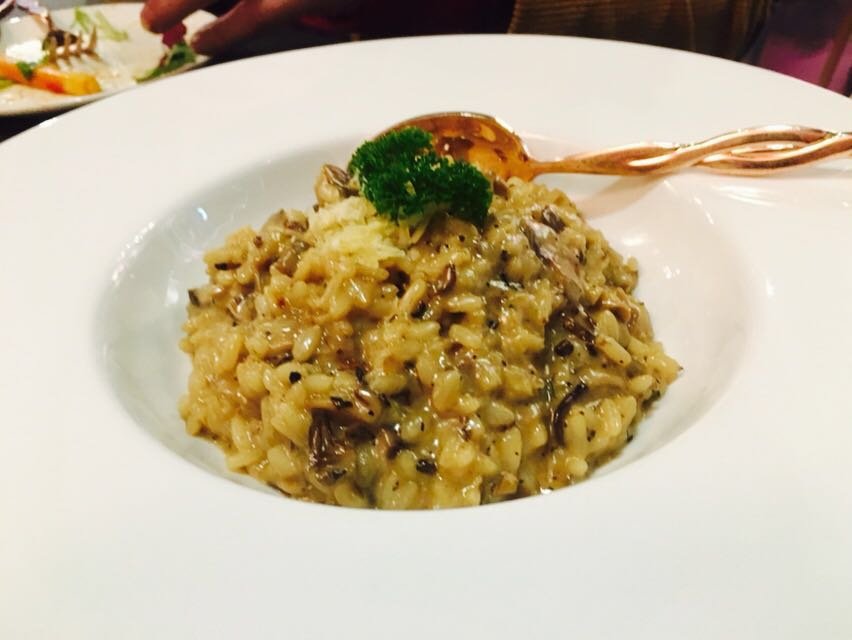 The menu is simple, and comprised of dishes such as white wine boiled Canadian mussels (RMB 56), salmon basil bruschetta (RMB 46), grilled sardines with mint fava beans tartare bruschetta (RMB 42), several soups (RMB 38-48), salads (RMB 45-88), sandwiches (RMB 68-78), pasta, and risotto dishes (RMB 56-118).
Main courses options include several steaks (RMB 178-268), as well as tomahawk steak (1kg for RMB 666, and 1.5kg for RMB 888), pan fried Alaskan cod with tomato risotto (RMB 168), and grilled New Zealand lamb chops with vegetables (RMB 128).
We tried the Beef Wellington (RMB 288), which when sliced open revealed the steaming hot and tender cut of beef surrounded by a crisp but moist pastry crust. Our favorite was the truffle risotto (RMB 108), which could be listed as one of the best in Beijing, with a generous helping of rich, earthy flavors and cooked true to the not too soft, not too hard consistency.
As for the desserts, we recommend the chocolate lava cake (RMB 58) if you have a sweet tooth for chocolate (who doesn't?), a warm and gooey chocolate center oozing out onto the plate is expected here. Drinks can be found here, too, with wine (sold by glass and bottle), tequila shot (RMB 10), beer (RMB 20), Desperados (tequila flavored beer, for RMB 38), basic cocktails (RMB 38-58), and mocktails (RMB 28-48), other beverages such as coffee and tea (all RMB 38).
Prices have been adjusted a little higher for the reopening, and delivery has been withdrawn from online platforms, but Bobo continue to provide lunch deals angled towards catering for the worker bees nearby. 
Bobo teaches us a lesson in modesty and although the gaudy decor and surroundings might not be what we usually look for in a restaurant, we will be back to stuff our faces with the decent European food on offer.
Bobo
Daily midday-late. B1-503, Bldg 5, Sanlitun Soho, 8 Gongti Beilu, Chaoyang District (5785 3567)
朝阳区工体北路8号三里屯Soho5号商场B1-503
More stories by this author here.
Email: tracywang@thebeijinger.com
Twitter: @flyingfigure
Instagram: @flyingfigure
Photos: Tracy Wang
Comments