Sanlitun Strip North of Taikoo Li Getting Bricked Up Thursday Morning
Beijing's relentless pursuit of turning everything we once knew into a gleaming mall claims another victim Thursday as the strip of shops, restaurants and bars north of Taikoo Li in Sanlitun gets bricked up.
The section of road is one of the last bastions of the days of yore in Sanlitun: rows of tiny shops built into the first floor of residential buildings in the style long tolerated by the city government. However, this type of streetside commerce has come under increasing fire as part of a citywide campaign designed to eliminate overcrowding and general messiness.
READ: Chatter About More Business Teardowns Intensifies; Xingfucun and Fangjia Hutong Next?
Sanlitun itself was once nothing but a collection of these sorts of establishments, but over time a burgeoning economy resulted in the redevelopment of most of the area into shopping complexes like Taikoo Li and Sanlitun Soho.
Where once 10 kuai shot shacks and streetside cafés dominated, now gleaming malls filled with Starbucks and name-brand fashion shops are the norm.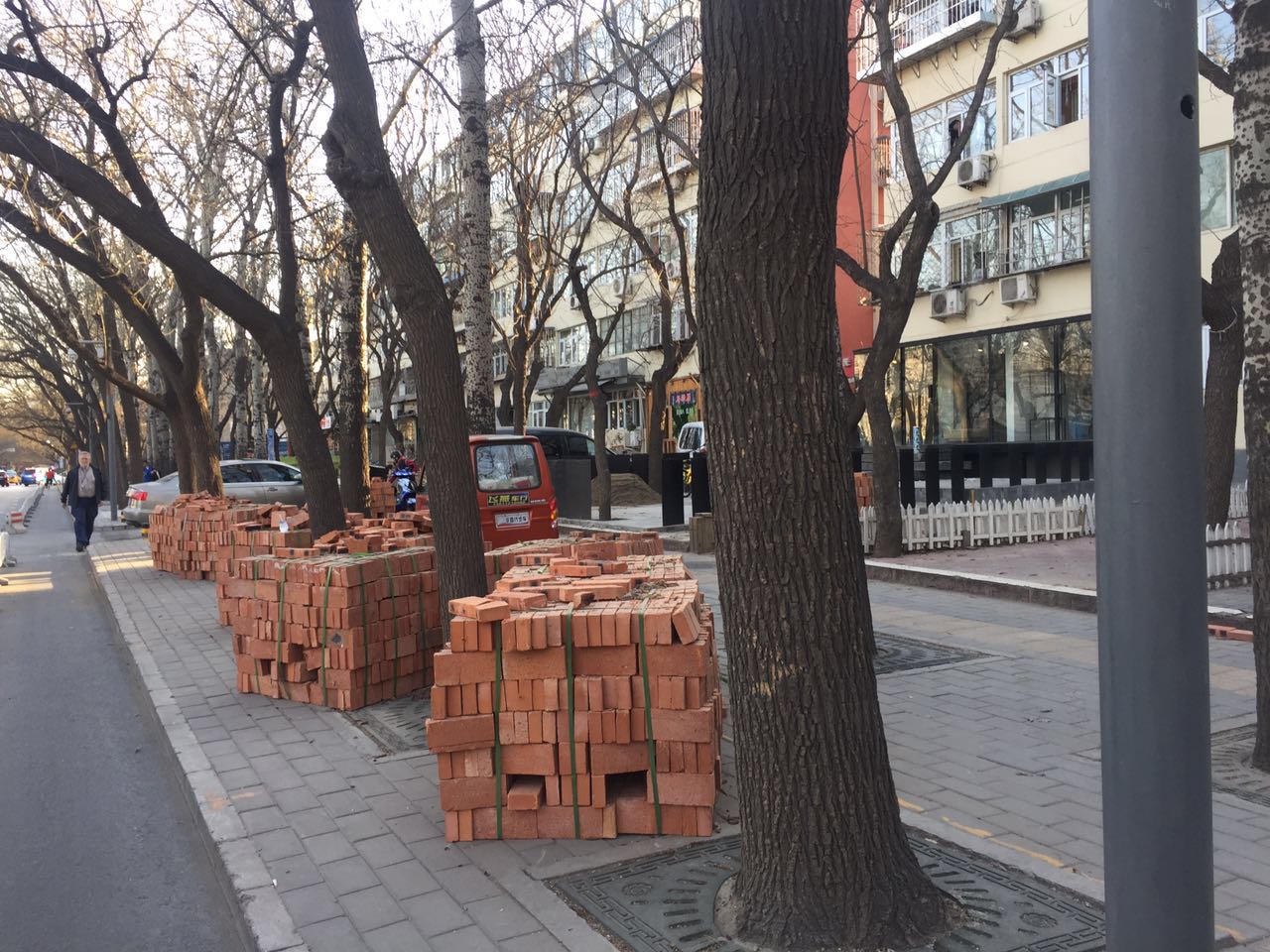 On Thursday morning, the piles of bricks that currently sit ominously every 10 meters or so on the west side of the road from Taikoo Li up to Gongti Beilu will be used to erect a wall in front of the shops that remain.
The once vibrant strip has seen better days, and many of the tenants have already folded up. But those that are still holding out inlcude Cheers Wine, Cappuccino Lounge, Sunnie American Diner, and a smattering of other businesses. Others, like the Lomography Shop and Tanghulu childrenswear, are already vacant.
The actual fate of the remaining establishments remains to be seen. Many of them have proper business licenses for their current address, yet the city is hell-bent on seeing these businesses close.
Usually that means just enough ambiguity for the situation to be resolved in a straightforward manner. The city's usual approach in these manners is to administer the "death by a thousand cuts" – aka inconvenience the businesses to the point where they naturally decide to close up shop.
Creating a brick wall that cuts off normal access to these businesses is one way of doing this; it relieves the city of the burden of attempting to evict the commercial tenants, yet makes it next to impossible for customers to find their way into the shops.
Shopowners have been told they are welcome to stay open through May, but customers will have to find their way in from the other side of the building.
The owner of the Turkish Doner restaurant has already decided to not put up a fight and will focus solely on his other Ritan location as soon and the wall goes up. Cheers, no stranger to getting bumped from popular locations, is throwing a party Wednesday to mark its final day of pre-wall business.
READ: Bye Bye Beixinqiao Santiao?: Beijing's Favorite Lamb-Leg Street Undergoing Major Remodeling
Though the gleaming malls of Taikoo Li, Sanlitun Soho and the like have their charms, it's sad to see so much of the vibrant street life that have long characterized this neighborhood (and indeed much of Beijing in general) targeted for closure.
The slow disappearance of the streetside shop – where rents tend to be cheap – leaves a lot of smaller businesses up the creek, as many do not have the size or scale to consider commercial rents in a mall or a more established commercially zoned building.
More stories by this author here.
Email: kylemullin@truerun.com
Twitter: @MulKyle
WeChat: 13263495040
Images courtesy of Cheers Wine
Comments