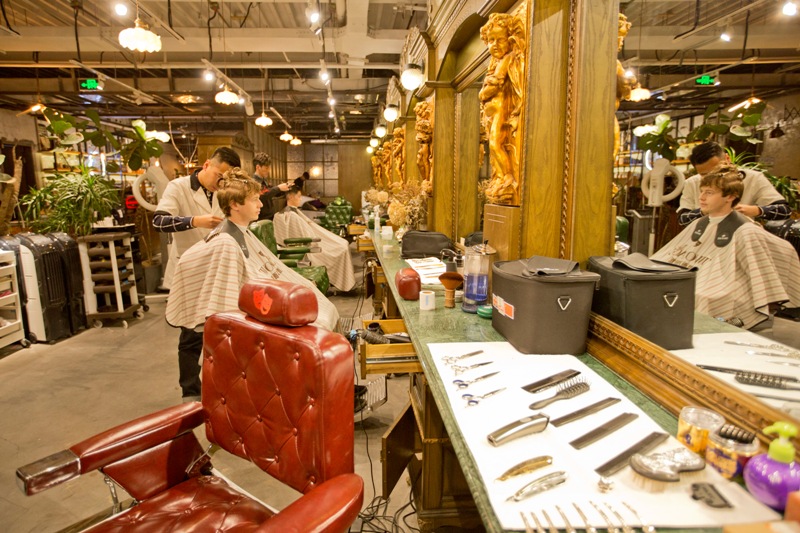 Twoface: Slick and Vintage Cuts for Men and Women at Sanlitun's 3.3
I had a hard time of getting a haircut when I was young. Lack of style treated me well (at least until I was old enough to recognize a decade's worth of criminal bowl cuts) and having my own personal hairdresser – my mum – was fine except that one time she lopped off (read: nicked) the top of my ear, a major jolt to both my feelings of security and my quickly diminishing oedipal complex. My local barber wasn't much better thanks to an uncaged, psychopathic parrot who was of the opinion that little boys' fingers were much tastier than stale, dry peanuts. Luckily I quickly became a teenager and it was finally acceptable to go without a haircut for months on end under the "guise" of nonchalance.
Things may not have changed much since then but some scars take longer to heal than others, so you can imagine my delight that neither my mum nor a single demonic parrot was present when I stepped into Twoface on the sixth floor of Sanlitun's 3.3. What you'll see instead is a polished space made up of dark wood, ornate golden cherubs, and rich, red leather-bound metal chairs harking back to America's 1950s post-war boom. The cuts that Twoface specialize are also largely borrowed from that halcyon era: youtou, or slicked-back, Brylcreem-heavy styles with short sides and long, combed back wavy and straight tops. The hairdressers here are trained in such vintage styles almost to a fault, which saw my preference of less rockabilly, more just-out-of-bed chic, met with slight befuddlement but was quickly cleared up through some careful translation from the floor manager on hand.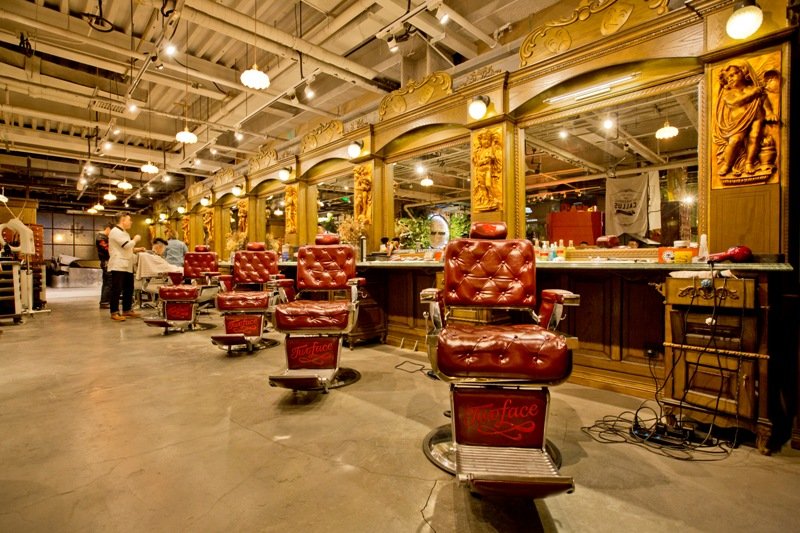 If the haircuts aren't simple, the pricing certainly is, with a choice between RMB 260 for a cut from the crew's lesser experienced barbers, RMB 380 for someone a little higher ranking, and RMB 580 for the kind of haircut from the manager that'll presumably have water hydrants exploding as you strut down the street and leave every man, woman, and dog panting in your wake. Each option comes with a basic wash which can be supplemented with hot towels and shaves, and it should be said that this is in no means a men only salon – women are just as welcome.
Although I've been instilled with a "cheap and cheerful" outlook when it comes to a requisite and often begrudged trip to the hairdresser, I was happy with my final look despite it cashing in at over 15 times my usual hutong joint. Even if you leave Twoface without a new hairdo you can still splash out on a whole new vintage look given that the surrounding shops have acquiesced into something of a vintage emporium and include a tattoo parlor, leather goods outlet, and a branch of Mega Vintage. Don't, however, expect to pay prices that you'd find in somewhere like the States, as these imports, like your haircut, will set you back a pretty penny – it's the price you must pay to secure a coif and threads more akin to Elvis Presley than Kim Il Sung, and depart with both ears intact.
Twoface
Daily 9am-9pm. 6/F, 3.3, 33 Sanlitun Lu, Chaoyang District (5745 1230)
双面复古理发馆: 朝阳区三里屯路33号3.3大厦6层
This article originally appeared in the March/April 2017 edition of the Beijinger.
Photo: Uni You
Comments