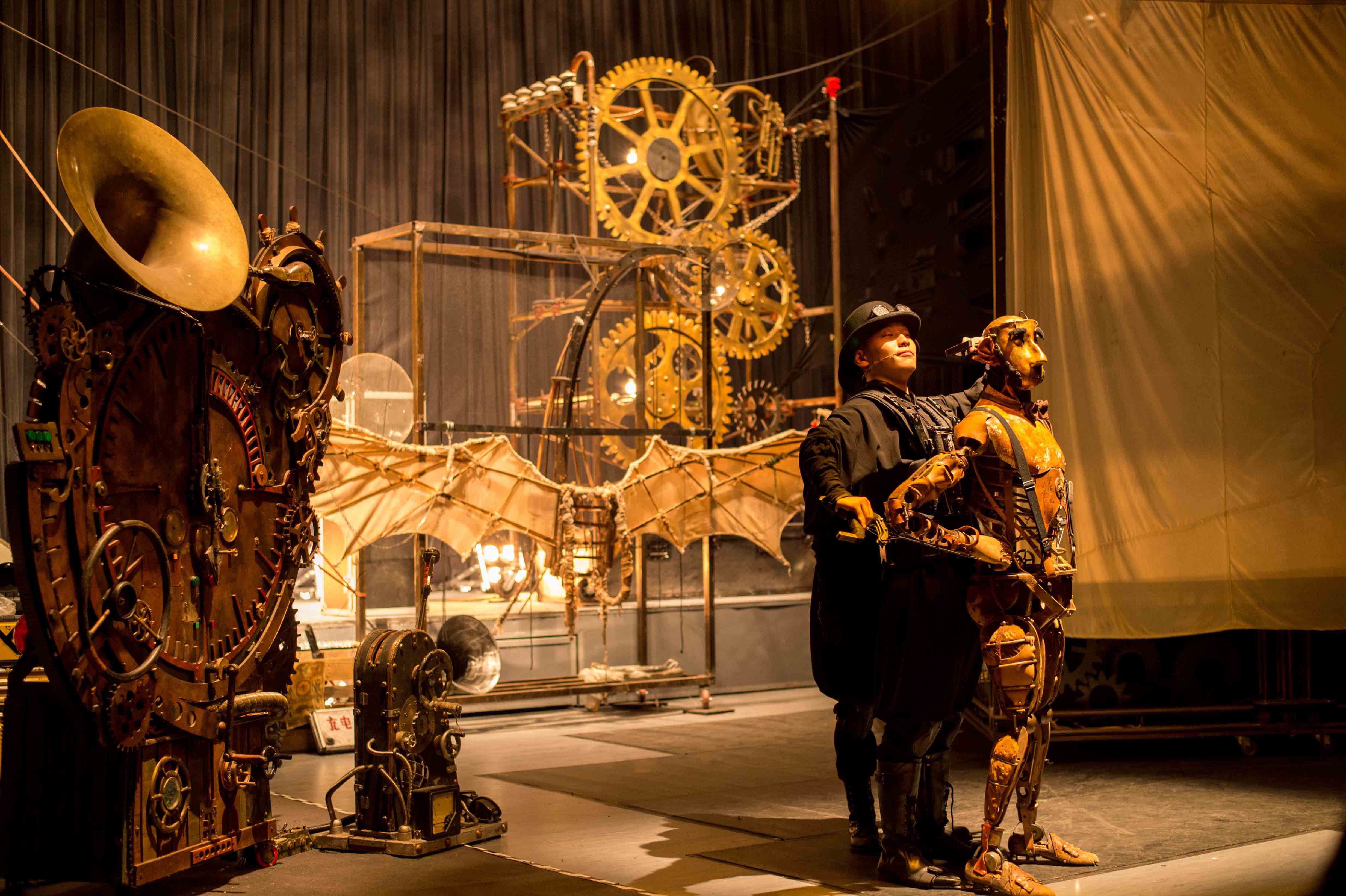 Loving Memoriam: How Creator of 'Papa's Time Machine' Turned His Father's Struggles With Alzheimer's Into a Captivating Puppet Show
Levers and wires and pulled and manipulated until the wooden and metal creatures are brought to vivid life. And though the puppets onstage look like steampunk robots from a retro sci-fi flick, their origin stems from an intimate heartache that, for far too many of us, is routine and everyday.
Such is the onstage scene set by acclaimed Chinese artist Maleonn. Known in the Mainland's gallery and fine arts scenes for his avant-garde set dressings and photographs, the designer is now drawing praise for his stage play Papa's Time Machine, and the quirkily futuristic puppets he created for it (watch the trailer for the play here). The story is an allegory for the Alzheimer's diagnosis that Maleonn's father has contended with, and how children of the sufferers must also grapple with the cruel condition. The play (which has no dialogue, giving it universal appeal) has been performed across China to rave reviews and enthused audiences, and will be staged in Beijing from April 21-May 1 at the Tianqiao Theater. Below, the designer, playwright and puppeteer tells us more about putting on this heartstring-tugging production.
The show's "theater of memory" includes elaborate puppet beasts such as a giant fish, a birdman, and a shadow monster. Which of these "beasts" was the most challenging to design and create?
To be honest it was all challenging. Every design is a new experiment for me, and I work so hard on them I become perturbed before they're finished. We tweaking the designs to make the shows better, and even scrapped some designs one minute before performances, because we don't want the imperfect ones. I never had this kind of working experience in the past. Before I was done when the photo was taken or the paint had dried. But drama is another thing that seems like it will never stop changing or becoming better.
What influences and inspirations did you draw on for these puppets? Steampunk? Classic movies? Something else?
It took me about three years to design them. This is new territory for me, and I keep learning from different channels like movies, books, images found online, so it's hard to say where the inspirations exactly comes from. Creating is like a reel of silk from cocoons; when you're making a sculpture from a big stone, every piece you chip off brings you closer to the finished work, even though each piece you chip off isn't the pivotal one.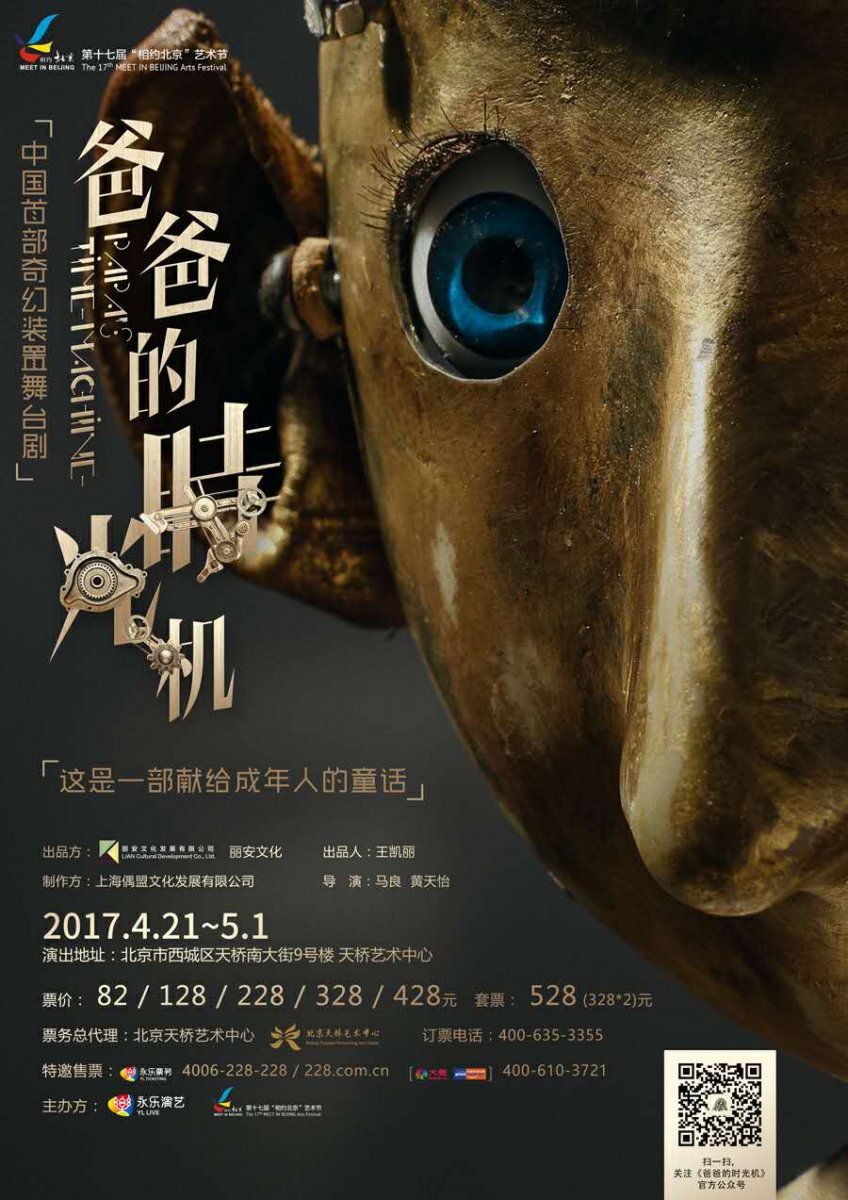 I assume that audiences have been very moved by this play, especially audiences members who have had to deal with a relative's Alzheimer's. Have those audiences given you feedback about, and if so what kinds of things did they say?
I first began talking about it with many friends that are my age. Many of us face this problem, and those friends told me what they thought after watching the play. Art isn't like scientific research that can change these problems. But when you are moved by a work of art, and others in the audience have the same feeling until you're laughing, crying, and experiencing weakness together. After that, you'll feel better than you did before.
How did working on this play help you deal with the pain and sadness of your father's illness?
My dad used to be my super hero, my idol. I was so frustrated when he lost his memories and mental strength day after day. I know every son or daughter has to adjust and face this problem. But, this memory loss isn't all bad for parents – sometimes it lets them live like kids again, and forgot all the badness they've faced in the past.
Did your father have a chance to see the play?
He liked it, and after it was over we talked a lot. Days later he forgot, and couldn't even remember all the time I'd spent on this drama. But I do remember, on the day of the performance, after the audience was gone, my dad hugged me tight. It made me feel like I was a little kid again.
Papa's Time Machine will be staged at the Tianqiao Theater from April 21-May 1. Tickets are priced between RMB 82-528. For more information click here or see the poster above.
More stories by this author here.
Email: kylemullin@truerun.com
Twitter: @MulKyle
WeChat: 13263495040
Photos: The Art Gorgeous, ECNS, Arts Bird
Comments