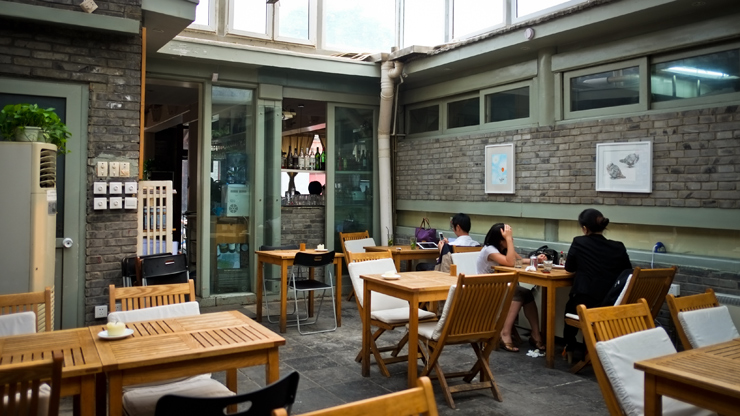 Dead On the Vine: Wudaoying Stalwart Vineyard Cafe Shuts Down But Set to Open Delivery Kitchen
After 11 years of serving tasty Western fare in Wudaoying Hutong, Vineyard Cafe has announced that it's closing its doors.
Owner Will Yorke sent a statement to the Vineyard's WeChat followers this afternoon saying that the long-running restaurant will shut down tomorrow (Apr 13) and that today will be their last day of business. The sudden news is sad indeed for Beijing foodies, who no doubt would have loved a little more notice in order to dine on Vineyard's range of wholesome sandwiches, pizzas, and salads just one last time.
But it's not all bad news: Yorke writes that Vineyard will open a delivery kitchen in Chaowai Soho soon, though no specific opening date was given.
Of the forthcoming Chaowai opening, Yorke states: "We plan to provide a range of food and drink items that can please arrange of palettes; be it children, healthy, vegan, gluten sensitive, carnivore, downtown barbecue, Asian fusion, Mediterranean vibrant, weekend brunch delivered to your hangover, cocktail delivery, wine, and Arrow Factory beer delivery, and soon. We are currently setting up the kitchen and will be ready soon. Once we are ready we will let you know!"
And while long-time Beijingers are sure to feel a pang of nostalgia at seeing one of the city's early Western eateries be shuttered, it could be argued that Yorke's collaboration with Arrow Factory – both at the brewery's adjacent Andingmen location and at their newer, slicker Liangmaqiao joint, which Yorke formerly ran without his beer buddies as Vineyard Cafe by the River – has eclipsed that of his initial Wudaoying location.
So far it's not clear whether the Vineyard's closure is in any way connected to the surge of construction that began on Wudaoying in late March. That renovation was a part of a heavy month-long gentrification push across various Beijing streets, leading to the closure of hotspots like BBC and Cheers' Sanlitun north branch.
Vineyard Cafe had a strong showing in the Beijinger's 2015 Pizza Cup, and at the time we also praised the fish n' chips that Yorke, one of the local F&B scene's best known Brits, had his staff serve up.
For now, further details about the closure and the forthcoming Chaowai Soho Vineyard are a bit scant, though expect a follow up story from us in the coming days. In the meantime, we suggest the restaurant's longtime fans hurry on over to Wudaoying for one last dinner before it's gone.
More stories by this author here.
Email: kylemullin@truerun.com
Twitter: @MulKyle
Photos: Swiss, Trip Advisor
Comments