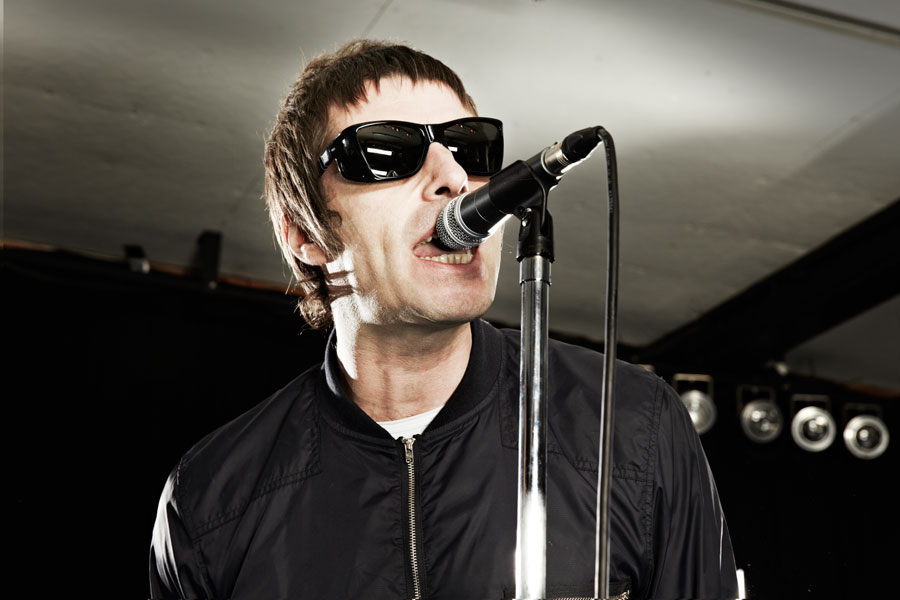 Former Oasis Frontman Liam Gallagher to Play Beijing Aug 10, Tickets On Sale May 18
Today is gonna be the day Liam throws it back to you, Beijing – by that we mean tickets to the Oasis co-founder's August 10 solo show at the Olympic Sports Center Gymnasium, which go on sale at 3pm today (May 18). For more information about purchasing tickets, click here (Chinese only for now; we'll add more info later as it comes in).
Liam Gallagher and his brother Noel rose to international super stardom in the 1990s as the singer and guitarist, respectively, for their band Oasis. They were forerunners of the Britpop wave that dominated radio and album charts, along with bands like Suede, Pulp, and their bitter rivals, Blur. Megahit singles like "Wonderwall," "Don't Look Back in Anger," and "Champagne Supernova," helped their sophomore album, (What's the Story) Morning Glory? become the fourth highest UK selling LP of all time according to VH1, only behind elder icons like Queen (who topped that list).
The band's musical feats, though, have often been eclipsed by the abrasive Gallagher brothers' bad behavior. Liam has become notorious for doing everything from headbutting a backpacker to being banned from the airline Cathay Pacific because he and his bandmates "smoked, swore, and threw objects at staff and other passengers."
Noel is equally notorious, though moreso for mouthing off in the press, especially when it came to Britpop rivals Blur (members of whom, he said should "catch AIDS and die," though he quickly apologized for the remark) and fellow chart topper Jay-Z (whom he felt had no place headlining the formerly rock driven Glastonbury Festival a few years back).
Aside from starting wars of words with other musicians, Noel has been equally bad when it comes to his brother. After all, during the Morning Glory tour, Liam would change the lyrics of his sibling's songs onstage to offend Noel and the audience, leading to one of many fist fights between the pair. Such tit-for-tat went on for years and by 2009 Noel decided to leave the band after another fight lead to the destruction of some of his guitars.
Since then, Noel has founded the band High Flying Birds while Liam toured with other Oasis members as Beady Eye. That group has also since fallen apart, and Liam has played solo shows and plans to put out an album of his own in 2017. And he even can't seem to resist badmouthing himself – now that his older band mates aren't there to bicker with – posting on social media at one point "Solo record are you f*cking tripping d*ckhead im not a c*nt LG X." before subsequently Tweeting "It's official I'm a c*nt LG x" and detailing his plans to Q Magazine to release a swath of songs he'd written over the years. In another interview Liam said one of the new album's songs will be "Greedy Soul," which he has played onstage many times before.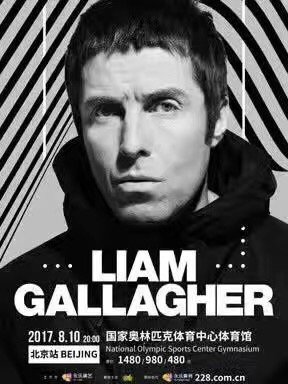 You can see the "c*nt LG" sing his own, post-Oasis songs at the Olympic Sports Center Gymnasium on August 10. Tickets are RMB 480-1480. In a recent TV interview Liam said he'd play deep cuts from his former bands' older LP on this new tour, and hopefully he'll break out a few of Oasis' biggest hits to satisfy longtime fans. He also recently told one reporter, in regards to his upcoming solo LP, "I'm sure you'll like it, but I'm not doing it for you. I'm doing it for me," before mumbling a few more sentences that were indecipherable, aside from the profanity.
If you want to learn how to become just as boorish as these Britpop bad boys then check out Exclaim Magazine's "Gallagher Insult Generator," on which you can click to be given glorious one-liners like "Whining Mug-me Looking Kid" and "Pompous Mug-me Looking Geezer." That should tide you over before Liam's surely profanity-laden Beijing gig.
More stories by this author here.
Email: kylemullin@truerun.com
Twitter: @MulKyle
WeChat: 13263495040
Comments