Ebeiguo's Bagels and Varied Healthy Fare May Be Some of Sanlitun's Best Value
Sometimes we find a lot of excuses not to stick with eating health, telling ourselves: "It's too expensive!", "I don't have enough time to prepare a healthy lunch!", or "The portions are so small that I'll just end up at KFC for a second meal."
In our effort to stay on the right track, we found Ebeiguo (贝果轻食), which opened last month and is located on the first floor of Zhaolong Hotel. It's a nice spot near the Third Ring Road and Tuanjiehu Station, and easy for nearby office workers who don't want to actually go into the center of Sanlitun just to grab some lunch. And another bonus: Nirvana Fitness is upstairs, so you can get a healthy meal and a workout in at the same time if you do so wish.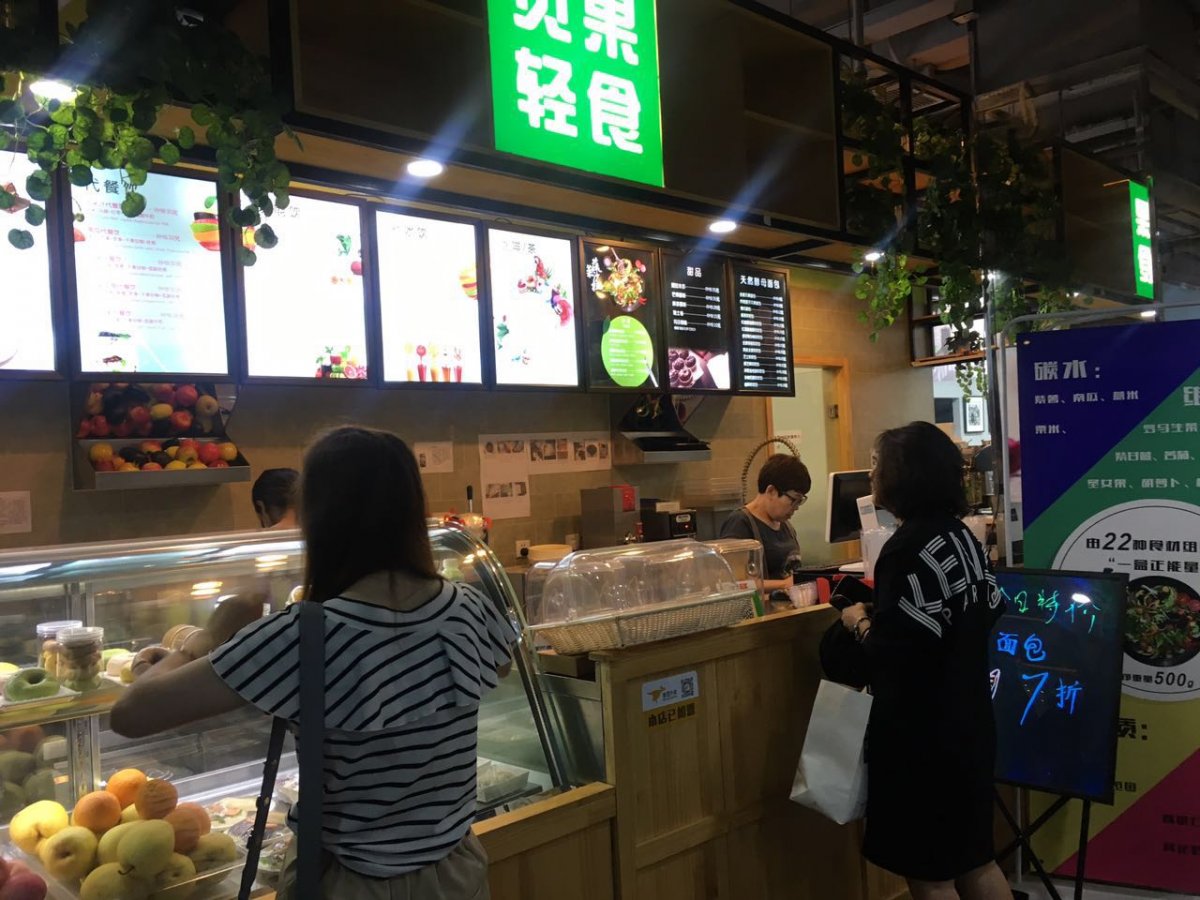 The shop is fast-food/canteen-style; tell the staff what you want at the counter, then wait for them to prepare it, and pick it up. There are five salads (RMB 38-48), bagel sandwiches (RMB 24-30), bagel pizzas (RMB 15), several desserts (RMB 10-35), a selection of European-style bread, smoothies, juices, coffee, and tea. And of course, a bunch of bagels (RMB 8-25) in different colors which are eye-catching and additive-free. Those that stand out most are perhaps the green bagel prepared with matcha powder, and a red one laced with red wine and cranberry. Of the lot, our favorite was the simple but delicious cinnamon and raisin bagel (RMB 8).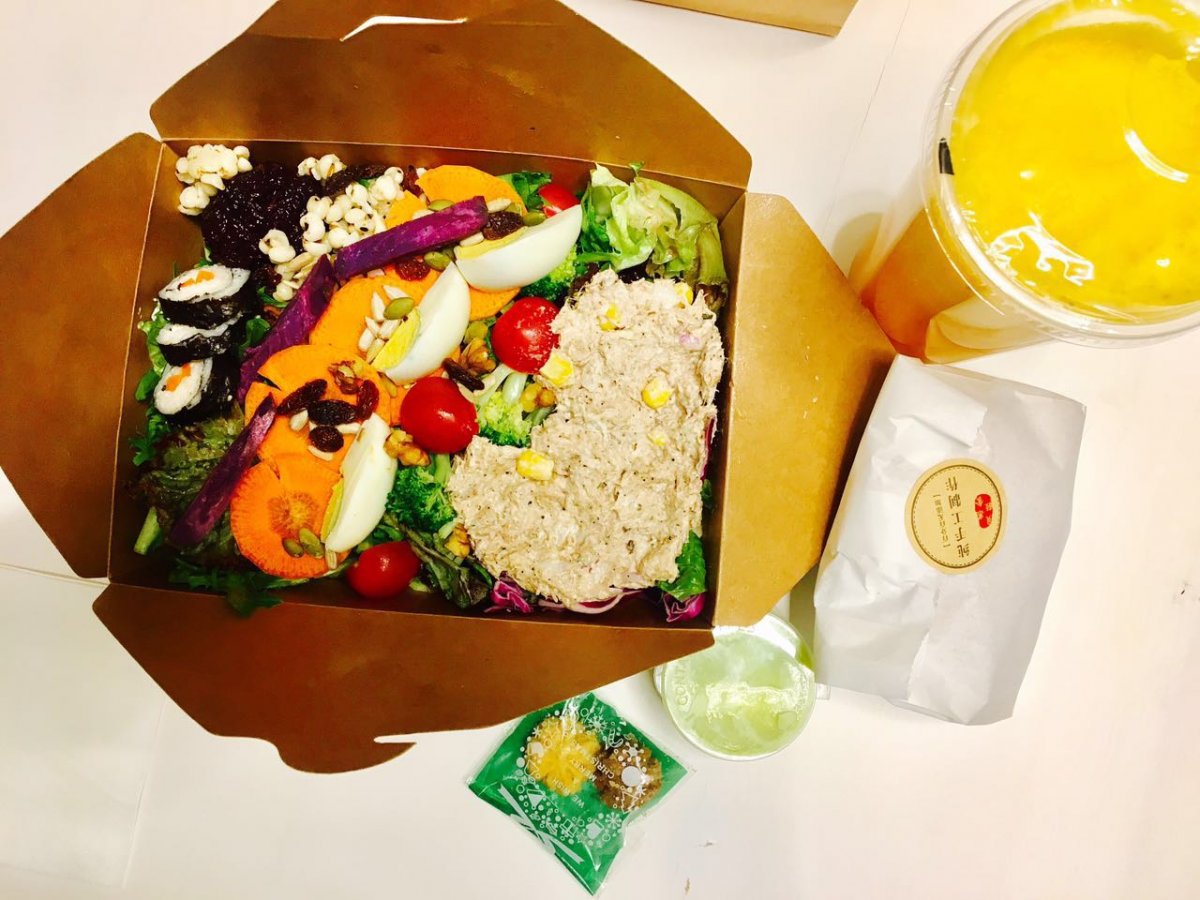 The sizable salads are also sold via Beijing's numerous food apps, including Dianping, which currently offers a salad, glass of fresh-pressed juice, a bagel, and two small cookies for a very reasonable RMB 38. The salads are pleasing to the eye, and filled with enough ingredients – several pieces of sushi, a purple rice ball with a tuna filling, purple sweet potato, carrot, cherry tomato, boiled egg, broccoli, lettuce, corn, pearl barley, some cooked tuna, and some nuts – so as not to bore the palate. There are four dressings to choose from: avocado sauce, Caesar salad, Japanese vinegar, and French-style white sesame. The varied nature of the salad (and the price) means that Ebeiguo would function as a decent detox option if you're looking to diet long-term.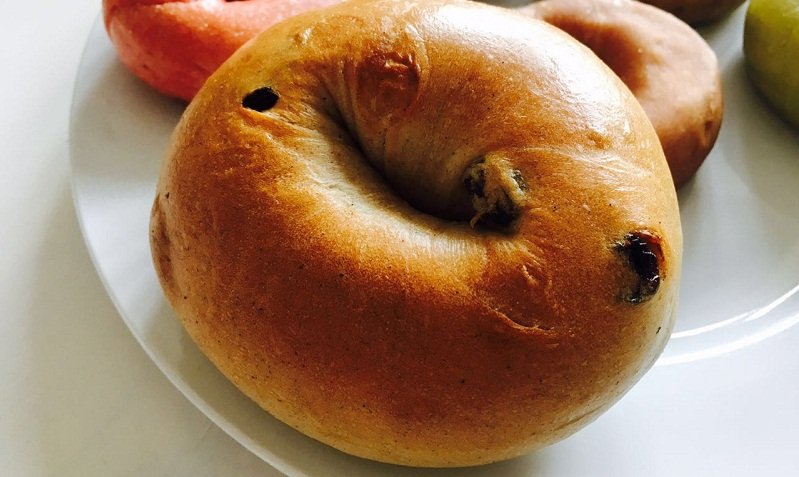 We had a chance to chat with Ebeiguo founder Grace Chen, who was born in Sichuan province, grew up in Yangzhou, and was educated in New York. After traveling and tasting good food all over the world, she decided to pursue her culinary dreams and open a New York-style bagel shop of her own.
The Beijinger (TBJ): What inspired you to open Ebeiguo?
Grace Chen (GC): When I lived in New York, it didn't take long to see that bagels are just as popular there as roujiamo is in China. It also perfectly fits my personal criteria – relatively healthy, delicious, and filling. I also like how bagels look cute and you can eat them in many different ways. If donuts symbolize fashionable movie stars, which are well-dressed, then bagels symbolize sports stars, which are simple and down-to-earth. 
TBJ: How do you design the menu for the people who are looking to get fit or strong?
GC: The essence of the food we serve is based on the mission to find good ingredients. Our team and partners have all been in the food industry for many years and this experience means that we have high standards for quality control. We also work with a number of experienced nutritionists and senior athletes and private coaches to combine professional fitness and dining. Last but not least, we hope to attract people with the same mentality to cooperate with us and to advocate the same lifestyle.
TBJ: Considering the get fit trend in Beijing, do you think you are a leader or a follower?
GC: With more and more people becoming health conscious, looking towards healthy dining and healthy living habits, these aspects are definitely a growing trend. We hope that we are building a healthy platform with our Internet concept, through spreading out our culture, letting more young people know about Ebeiguo and about living a healthy lifestyle. It's just like the shape of a bagel – a cycle of good living.
The food is genuinely good and is also of good value, which makes it stand out in the Sanlitun area, especially for people who work or workout here, and are actively seeking a healthy choice. Ebeiguo is also aiming to cooperate with more gyms and hopes to eventually open 100 stores along with customized meal services to better serve the ever-growing number of health conscious Beijingers.
Ebeiguo
Daily 9am-9pm. 1/F, bldg 4, Zhaolong Hotel, 2 Gongti Beilu, Chaoyang District (152 1077 9808)
贝果轻食: 朝阳区工体北路2号兆龙饭店内4号楼1层
More stories by this author here.
Email: tracywang@thebeijinger.com
Twitter: @flyingfigure
Instagram: @flyingfigure
Photos courtesy of Ebeiguo, Tracy Wang
Comments