Book Talk: Bamboo Goalposts by Rowan Simons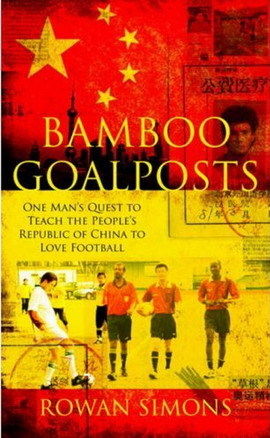 May 22
Book Launch: Bamboo Goalposts by Rowan Simons
Rowan Simons first came to China in the late 1980s and has been promoting football in the capital ever since, most notably with ClubFootball, a center of all things soccer in Beijing. Simons will be reading from his book, Bamboo Goalposts, an affectionate account of his quest to foster a football community in China. Free.
7.30pm. The Bookworm (6586 9507)
Due to the three days of national mourning, the launch of Rowan Simon's book Bamboo Goalposts was postponed from Tuesday evening to this evening. We caught up with Rowan earlier this month and asked him a few questions about the book.
the Beijinger: Football, the world game, is of interest to a great many people as it is. Likewise, at the moment China is doing a pretty good job of hogging international headlines. Which, if any, of these two factors that inspired you to write Bamboo Goalposts?
Rowan Simons: Football is my inspiration and I wrote a book about it because a Chinese adviser told me it is the best medium if you want to get a serious message across in China other than music … I think China really needs to stop and think about its relationship with sport, and learn again to appreciate its values at community level.
the Beijinger: It's refreshing to read a book about China that isn't to do with making money or the economy, especially since many such books appear to be cashing in on pre-Olympic hype. Were the Games something that you took into consideration when deciding to release the book?
RS: My timing is deliberate … unlike economic writers, if there was ever a platform designed to encourage real debate about sports in China, surely it is the Olympics.
Although China is always in the international news these days, very little attention is being paid to sports inside the country. When the discussion does turn to sport, it is all about the elite systems. Nobody seems to be going deeper again, looking at how sport is controlled politically or why it is still largely shunned by the educational system or why football has failed to take root at amateur levels as in other countries, despite its supposed popularity.
If we miss this Olympic-sized opportunity to encourage China to start reforming its sports system and we fail to use this window (that closes in October) to promote popularization of sports clubs and associations by adopting tried and tested international models, I just wonder when will we get another chance?
the Beijinger: On one hand you are writing a book about a sport that millions of people know, love and care about passionately, while on the other you are writing a book about a country that comparatively very few people really know about at all. Did this conflict cause difficulty when writing the book?
RS: I hope this central conflict makes it easier for Chinese readers to learn something about football and readers elsewhere to learn something about China. The English version includes more background about China, while the Chinese version has some anecdotes that make little sense in English.
the Beijinger: While it's not always in a book's best interests to be compared to other pieces of literature, I couldn't help but think of two books while reading Bamboo Goalposts: Fever Pitch by Nick Hornby and River Town by Peter Hessler. Did the work of either of these writers, or any writers influence your writing of the book?
RS: I did start reading Fever Pitch many years ago and I have heard many people mention River Town, but I have not read it. Actually, I do not read as much as I evidently should, so there is no particular influence. It is definitely my voice. I knew what I wanted to say, since it is what I have been thinking for twenty years, and I was clear who I wanted to say it to, the government and people of China. As you say, football and China are two popular subjects, so I hope it provides an insight for people who have never been to China.
the Beijinger: Bamboo Goalposts offered some intriguing insights into the foreign media's conduct in China – in everything from foreign journalists turning up to co-host your football show, playing football against local journalists, to actually going about reporting on China (particularly in Chapter 7). What's your opinion of the Western media's coverage of China and Beijing in the lead up to the Games?
RS: I try to keep up with what the international English media is saying about China and it sometimes seems like the bigger the story, the less we hear from the frontline journalists. TV and newspapers are just too fast, they have no time to stop and debate issues thoroughly, so they tend to talk about the same issue very quickly and then repeat it as much as possible.
I think the "western" media, and politicians, are still missing the real challenge and opportunity of this Olympics, which is to encourage more and more Chinese people to understand and share the same sporting values of which we are so proud. If they focused on this and repeated it as much as possible, perhaps it would have an effect.
the Beijinger: An interesting point was made about the defeatest attitude of Chinese football fans – especially when it comes to the national team's performance. Why, in your view, doesn't basketball suffer the same predicament?
RS: The one thing basketball is missing as a sport is the massive global celebration that footballing nations call the World Cup. The World Cup dwarfs every other sports event in the minds of the most nations on earth because they all know what it means to actually win it. As I write in the book, Deng Xiaoping recognized that football was China's national game.
In almost every other respect, Chinese basketball is in a much better position than football … [now] the NBA is hiring senior business executives to head its expanding and profitable China operations, while the game of football has no independent representation in China at all.
the Beijinger: Though Bamboo Goalposts is effectively one detailed answer to this question, how and when will we see China becoming a footballing force to be reckoned with?
RS: If China continues, post-Olympics, with the Soviet Union-inspired model that basically it has followed since Liberation in 1949, it could take 10,000 years before China builds the strong grassroots sports networks that are needed to succeed consistently at the top level in football. However, if serious and positive reforms are made as a direct result of the Olympics and football is encouraged to spread along the lines that ClubFootball is pioneering in Beijing, we could see China emerging at the professional level within 10-20 years, no longer than it took China to change its economy. More importantly, by that time there would be millions of people of all ages playing the game.
Bamboo Goalposts is published by Macmillan UK. Those interested in getting their hands on a copy can purchase it from the Bookworm or via ClubFootball who are offering members the chance to pre-order an autographed copy for RMB 200. This price includes delivery to any address within China.
Comments