Beyond Odds and Evens: Beijing's New Plan to Reduce the Number of Cars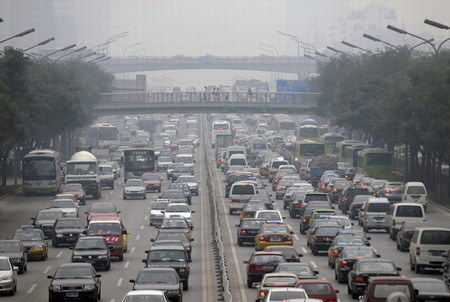 The Beijing Municipal Government has announced a series of post-Olympics car restrictions that will take effect next month. According to the English-language report, under the new rules, 30 percent of government vehicles will be taken off the road and as of Oct 11, the remaining 70 percent of government vehicles, along with corporate and private cars, will be banned from driving one day during the five-day-working week. Cars ending with either a one or a six will be banned on Mondays; those ending with a two or a seven will be banned on Tuesdays, and so on.
The article goes on to clarify that:
The ban will be applicable within the Fifth Ring Road inclusive,from 6 a.m. to 9 p.m. for private cars and round the clock for government and corporate vehicles. It will take effect on a trial basis on October 11 for six months until April 10, but does not apply to police wagons, ambulances, fire and corporate vehicles.
Aside from this new rule forcing cars to spend one of the five working days off the road, the city government has also drafted a few other measures to discourage Beijing residents from driving:
Limiting the issue of registration plates
Only 100 thousand plates will be issued each year from now on. Considering 400 thousand new cars appear on Beijing streets every year at present, this measure will efficiently reduce the total amount of cars in the Capital.
Increasing the cost of parking
Raising the parking charges is another measure. The price of the downtown parking lots might be 5 or 6 times higher than the current standard. The government hopes the economic level principle can improve the city's central part's traffic.
Developing public transport system and facilities
The government is going to further strengthen the construction of the city transport system by the implementing a traffic network plan. The plan involves the construction of three more subway lines (14, 7 and 15), which will increase the total amount of and distance covered by subway lines to 270 km. The goal is to have one new line running every year and to achieve a comprehensive transportation system that is aimed at integrating the urban center with the rural area as well as speed up the parking and transferring facility construction of public transport
Links and Sources
Xinhua: Post-Olympics Beijing car restrictions to take effect next month
Beijing Times: 北京市人民政府关于实施交通管理措施的通告
Dayoo.com: 北京停车费近期不会上涨
SEPA: Capital to Stick with Traffic Restrictions to Beat Gridlock
Comments