Zoom Zoom: The Race of Champions at the Bird's Nest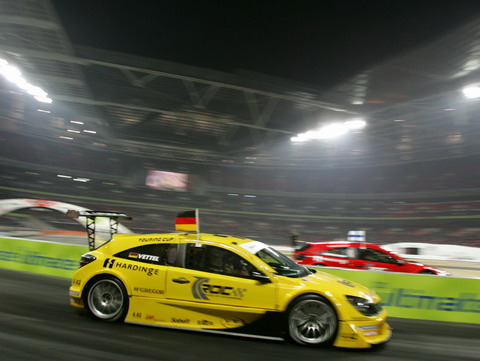 There are two kinds of motor sports fans: those who appreciate the pushing of fine-tuned supersonic speed machines to their absolute limit, and those who watch for what happens when that limit is breached. And it is this fine line between mastery and destruction that tantalizes drivers – from amateur racers on urban roadways to those on Formula 1's most expensive racetrack, the USD 240 million circuit in Shanghai that hosts the Chinese Grand Prix.
In China, where the few racetracks that exist are too expensive for your average Zhou, racing enthusiasts take to the streets. Xie Yang, a Beijing street racer, used to run with a group of twentysomethings who zoomed around the Second Ring Road at night; those who could do it in 13 minutes, averaging 151km/hr, were called "13-Minute Boys."
The thrill of street racing, Xie has said, "changes every moment, every day. You will meet every possibility, fresh and exciting." Such a hazardous recreation can have fatal consequences. Just this past May, a 25-year-old student in Hangzhou was struck and killed by a street racer. Yet despite the dangers, the temptation can be irresistible. "Cars are something many young people like, and car sports are very fashionable, very cool," says Rambo Xu, vice general manager of GreatGate Sports and Entertainment. "Street racing is very serious and it shouldn't be done, but it's an indication of people's fondness for racing. They do it because they like it."
But do they like it enough to pay to watch? This is the question on Xu's mind. His company is in charge of helping host Beijing's first major international racing event, the Race of Champions (ROC), at the Bird's Nest on November 2-4.
Held since 1998, ROC is motor sports' all-star race, bringing together big-name drivers from a variety of disciplines to compete in identical rally cars, tournament-style, for the title "Champion of Champions." Past participants have included such luminaries as NASCAR's Jeff Gordon, rally car star Sebastien Loeb and seven-time Formula 1 champion Michael Schumacher, who may quite possibly be the most popular racer in China.
International Media Productions, ROC's organizer, had been eyeing China for years, but bringing such a glitzy event to this country doesn't come without its risks. China is a relative newcomer to racing, having hosted its first international race just 12 years ago, the China Rally, which lasted on World Rally Championship's events calendar just one year.
True, the country has 25 million cars - and, if experts are right, the largest auto market in the world within the next five to ten years - but as Cui Jianjun, inspector general of the Federation of Automobile Sports of China, points out, "Racing, everyone likes to watch. But how much they comprehend is another story."
Still, "win or lose, it'll be a boost for China's drivers," says Liu Bin, a rally driver for Monarch Mitsubishi Ralliart China Team. That Beijing beat out four cities vying to host ROC is also encouraging, and since last October, Xu has worked around the clock. Currently, he is overseeing the track's construction, which requires more than 4,000 tons of gravel and asphalt to be laid over bamboo boards. It will be 20 percent longer and 8 percent wider than the track at London's Wembley Stadium last year, making for faster turns and speed, speed, speed.
That feeling of watching someone go faster than humanly possible is precisely what Xu is banking on. "Speed, to people, can be a type of drug," he says. "Once you try it, it's hard to let go."
The Race of Champions goes down at the Birds' Nest on Nov 2-4. To buy tickets, visit www.ticketone.com.cn or call 400 810 1887 or 8408 5551. RMB 100-2,800. 7.30pm. More info at www.raceofchampions.com.
Comments