Litmus Test: Beijing's Funky Jazz Experiment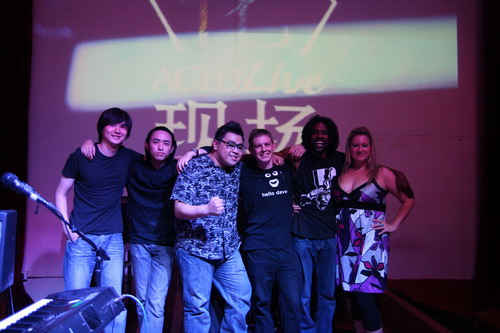 Beijing's jazz scene has always been defined by pioneers like Liu Yuan, Liu Yue and Xia Jia, and centered around the hidden bars of Houhai and Gulou. Pleasant enough, but some of us want more dynamite. Back in February this year, a newborn band called Acid Live (aka Hua Acid Live) played their first live show at Tiny Salt Coffee Club. Their sound is as their name suggests: acid jazz charged with wild funk and house beats. Consisting of Zhang Zhang (keyboard), Liu Yang (bass) and more recent recruit Fei Jia (guitar), with DJ Shiva providing the background blend of funk and electro, the band has emerged as a unique addition to the local music scene.
Like many Chinese children of his generation, Zhang Zhang was forced into piano practice at the age of 5 in order to "get ahead in the competition." "I only started getting into it when I was 13," recalls the keyboard guru, who is the band's liveliest stage presence. "But I have to say that having a classical music background does provide a good foundation – it was a beginning stage."
The electro elements come from the laowai face of Chris Cook, better known as DJ Shiva. A child of the early '90s UK rave scene, Cook came to Beijing three years ago and has been working as a producer, a DJ and (yep) an English teacher. "I never really knew much about jazz, but I've always enjoyed dance music that had a jazz or funk influence," Cook says. "Now I have a much greater understanding of jazz. It's this mixture of classic and electronic music that makes Acid Live unique."
Guitarist Fei Jia and bassist Liu Yang were not typical smooth jazz lovers either. In fact, both were actively involved in the rock scene before Acid Live. Fei Jia's star first shone in a 2006 guitar contest, after which he helped produced the music for the opening ceremony of last year's Paralympics. Liu Yang, meanwhile, has played with local pop and rock musicians, including Chinese rock pioneer Zheng Jun.
Acid Live jam with Danish drummer Emil de Waal, watch more live videos here

It's the variety of the members' musical backgrounds that most distinguishes Acid Live. This year, the band has collaborated with local musicians as well as international visitors, making every show a new experience. The band has built solid collaborations with Irish vocalist Anne Marie and American hip-hop artist Kor-E. They recently shared a stage with local rap group In3'er and guzheng player Zhang Wei from indie rock mainstay Buyi. They're looking to bring even more musical elements into their own work. "Acid jazz can take many forms and cover many styles if you want it to," says DJ Shiva.
The band also uses visual aids to support their live performances, including art displays and videos. Listening to an Acid Live show can sometimes feel like dwelling within an art gallery. Behind the curtain stands the band's visual effects man Mick Zhou, formerly creative director at an advertising agency. Hailing from Malaysia with a fine arts background, Zhou is all about making live shows more diverse and professional. "Live music is about affecting one's mood," he explains. "When visuals are added at the right time, it enhances the music and atmosphere tremendously."
Off to a good start, with a growing fan base and more guest artist appearances, Acid Live could be going places. Not only are they unlike anyone else in the Beijing scene, but they're open to endless new possibilities. "Jazz music becomes really attractive when mixed with electro – it allows us to have more space to explore," says Zhang Zhang. "During a jam session, people express their life experiences. Therefore everyone on stage has their own chance to express – that's what we call a solo!"
Listen to Acid Live at
www.myspace.com/huacidlive
www.douban.com/artist/acidlive
Acid Live plays at 2 Kolegas with Da Wei on drum, Jia Wei (of In3'er) on the mic and DJ Eric Lee on the spin on December 12 (Saturday). RMB 50, RMB 30 (students). 10pm. 21 Liangmaqiao Lu (inside the drive-in movie theater park) north of Chaoyang Park, Chaoyang District (6436 8998). 朝阳区亮马桥路21号(燕莎桥往东1500米路北汽车电影院内)
Comments