Did you Know Beijing Has a Second Airport?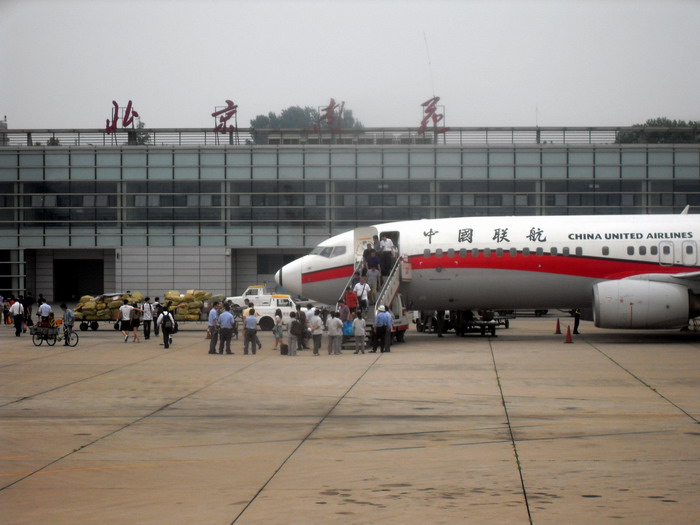 If you're tired of long walks, crowds, or sold out flights, Capital Airport doesn't have to be your only option when it comes to flying out of Beijing. The little known Beijing Nanyuan Airport, sitting approximately 20km south of Tiananmen Square, serves as a very viable alternative for domestic flights. And with 113% passenger growth since 2007, the airport is becoming more and more relevant.
We were trying to head out to Baotou, Inner Mongolia this past weekend, but all daytime flights from Beijing Capital were sold out. Fortunately a search on Ctrip gave us an interesting option. It was a flight on China United Airlines (who?) out of Nanyuan (what?). The fact that we had no idea about either made us worried, but the price was good and, well…we really wanted to go to Mongolia.
The airport, however, deserves wider recognition. It was originally built in 1904 as a small runway and was China's first airport. Later it was the site where the PLA air force was formed. Now, China United Airlines, founded in its present form in 2005, is the only airline that operates out of the airport to 22 destinations throughout the nation.
Getting There
Because of Nanyuan's location and sparse foreign patronage, public transport to the place or any information about it in English is almost non-existent. All we found online through google maps were multiple transfers on buses coupled with long walks. A cabbie told us the drive would take approximately one hour from Dongsishitiao subway station, and we weren't prepared to spend that amount of money just to get to the airport.
So we took the subway to the southern-most point we could before jumping in a cab. Which meant line 5 to Songjiazhuang. For two passengers, our trip to the airport totaled RMB 30 (RMB 4 for the subway and RMB 26 for the cab). or RMB 15 each, comparable to taking the Airport Express bus to Beijing Capital Airport.
Additionally, for single travelers who might not mind the inconvenience and want to save a buck, there is a bus from Xidan Civil Aviation Building, 西单民航大厦, (right outside the C exit of the Xidan subway station) for RMB 16, leaving daily at 0610, 0700, 0900, 1100, 1300, 1400, and 1500. Travel time is 1 hour. Coming back to Xidan, a bus attendant informed us there was no set return schedule, but buses are available throughout the day to pick up passengers up to the last arrival.
Check-in, Security and Boarding
Because of the small number of desks, check-in does not open until 1.5 hours before departure. In the meantime, there are some shops inside the building and a cafeteria located across the street from the terminal building. There was only one restaurant inside with various noodle and dumpling options, and a shop selling snacks and drinks. The interior of the cafeteria looked slightly rundown (pictured below), but the food was decent and held us over until we got into Baotou.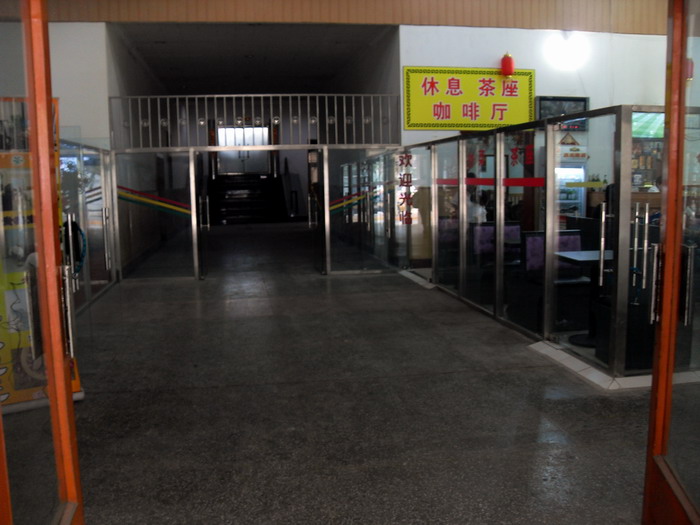 The biggest advantage to using this airport versus Capital is the sheer compactness of the terminal. From check-in to security to the gate area is quite literally five minutes. Once inside, there are various stores, including toy and book shops, as well as a decent view of the tarmac to keep you occupied until departure.
But be warned. There is virtually no pinyin or English signage after passing security, so you might need to know some characters such as 登机口 (gate) in order to navigate the terminal, although it's pretty self explanatory. You will also need to match up your destinations' characters with the electronic gate monitor (shown below). There are no English announcements, so keep an eye on the boards if your spoken Chinese is shaky.
The boarding process felt more like getting on a Chinese train than a plane. Even though everyone was assigned a seat, people still found reason to push and shove to get on the plane first. One of the perks of departing from Nanyuan is that you get to board the old-fashioned way, climbing stairs from the tarmac.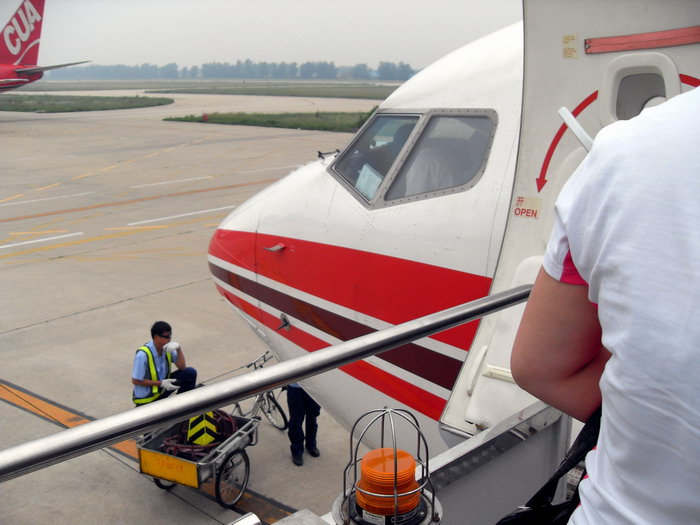 Is China United Airlines safe?
You've probably never heard of China United so naturally safety might be of concern. One taxi driver we asked said that as an airline formerly owned by the PLA, the pilots are likely more skilled than those who fly out of Capital, while another said that the airline probably isn't as safe as the international airlines.
Regardless of those comments, China United Airlines has had a flawless safety record since its establishment and flies Boeing 737s, the most popular airliner in the world. China's aviation industry holds a category I certification from the FAA – the highest safety rating. It's an approval the international body wouldn't hesitate to revoke if they found anything wrong (e.g. the Philippines). In short, I wouldn't think twice about flying China United or any other Chinese airline as far as safety is concerned.
Onboard service is about what you would expect on a short domestic sector. Ctrip representatives informed me that meals were available depending on the flight's duration and the flight's departure and arrival times. As our flight departed at 3, we missed the lunch service, but were still offered these tasty bean snacks and a bottle of water.
China United Airlines serves 22 cities around China: Baotou, Changsha, Changzhi, Changzhou, Chengdu, Chongqing, Foshan, Fuyang, Fuzhou, Guangzhou, Hailar, Hangzhou, Hohhot, Lianyungang, Linyi, Manzhouli, Ordos, Quzhou, Sanya, Shanghai-Hongqiao, Wuxi, and Yulin.
Comments