The Best Ass in Town: A Tasty Way to Enjoy Donkey Meat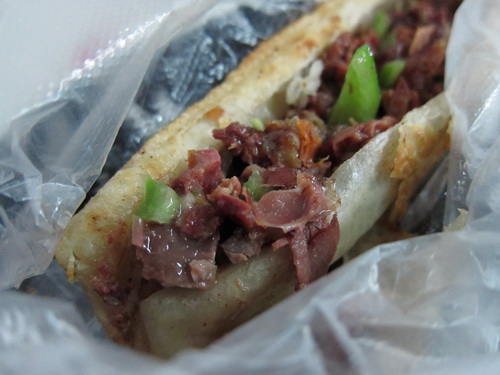 "Huoshao! "("Donkey burger!") You have to shout out to be heard in the packed dining room at Wang Pangzi. As soon as you order, the chef puts some brown buns into a grill pan. While they toast, he grabs a handful of braised meat and chops it up with a short length of green pepper on a worn wooden board. When the bread is crisp enough, he quickly ladles a spoonful of hot gravy onto the meat and mixes it to warm it up. Then he cuts a pocket into the bread and shovels the filling inside – done in less than a minute so you can bury your mouth into some hot donkey meat. Lovers of roast-beef sandwiches might be struck speechless by this Oriental counterpart. Maybe that's because their mouths are full.
The donkey sandwich (lürou huoshao 驴肉火烧) is exclusively Chinese. The two types of bun, round and rectangular, originated in the cities of Baoding and Hejian (in Hebei province), respectively. Wang Pangzi uses the rectangular Hejian-style bun. They opened their first shop in Gulou five years ago; now they have five branches around town.
Rich in protein, donkey meat is usually lean and served cold. While the standard mixed lean and fat donkey meat burger (RMB 5) is the best item on the menu, there are other ways to enjoy donkey. Two other sandwich options are equally excellent: burger with lean meat only (RMB 6, jingrou huoshao 精肉火烧) and the donkey penis burger (RMB 12, qianrou huoshao 钱肉火烧). Wash it all down with a bowl of savory clear soup (RMB 1) or donkey meat soup (RMB 5).
Try it: Wang Pangzi. Daily 10.30am-10.30pm. 80 Gulou Xidajie, Xicheng District (8672 7507)
王胖子驴肉火烧.鼓楼西大街80号
Comments