Capital Bites: McKenna Leaves ROOM, Restaurant Week Reservations Go Public and Vote Vote Vote!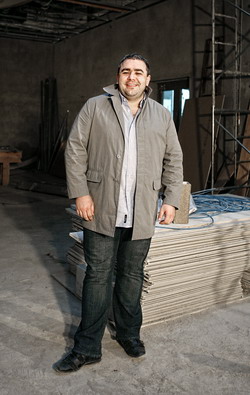 Big news this week as Brian McKenna confirmed that he has sold his stake in ROOMbeijing. ROOMbeijing remains in business, while McKenna is moving on with two new projects: an exclusive ten-seat chef's table called INO in Beijing and another project, Restaurant@The Mansion, in Tianjin. No doubt those will be very interesting, so we'll be keeping a close eye on both.
Next up, have you cast your vote in the Beijinger's 2012 Reader Restaurant Awards yet? If not, go and do so now! Click here to vote.
You've now missed out on our exclusive pre-booking deal for DiningCity's Beijing Restaurant Week, which runs from March 12-18. Reservations were opened up to the masses this morning, so if you want to book up for set meals at restaurants like Agua, SALT, The Cut, Cepe, Alameda, Modo, Mosto and more, do it very soon, as some restaurants are likely to be fully booked sooner or later. Reserve here.
Lots more to report this week. Tong Luo Wan is a tiny new clay-pot rice restaurant at Yonganli, almost directly opposite Lavazza at the Silk Market. In a city where "Cantonese" is almost synonymous with "high-end," the no-frills decor is refreshing. And the food is great. Prices are around RMB 40-50 for the clay-pot dishes, and they also offer suanla fen.
Looking forward to my next visit to The Sweet Spot. If you haven't tried it yet, do so before the whole of the China World office buildings know about it. The spit-roast chicken sandwich is among the best things I've eaten this year, no exaggeration.
UME Cafe at Guanghualu Soho does filling pasta and sandwiches featuring decent bread. With On the Corner Cafe and this place, has Guanghualu Soho turned a corner? At the very least, you don't need to eat in SPR Coffee any more.
Sunday brunch is available at S.T.A.Y. from March 4. Order a la carte, and add RMB 200 for free-flow champagne.
Agua's menu is now available on electronic tablets, allowing guests a digital browsing experience. Ordering is still done via the traditional hired human hand.
Playing on the appeal of the traditional Italian family gathering, Barolo has launched its "Family Sunday" promotion, featuring fresh pasta, antipasti and free-flow wine. Also at Ritz-Carlton Beijing, Aroma's amazing weekend brunch is now available on Saturdays as well. You've still got until February 29 to win a voucher to check it out by entering our contest. Click here for more.
The Westin Chaoyang are also toying with Sunday traditions at Grange Grill, moving the Great British Sunday roast midweek for Wednesday evenings filled with roast beef and leg of lamb. We say as long as they have Yorkshire puddings, they can have it on whichever day they want.
The new Switch! is now open just east of the Swissotel.
Amandine has closed at Sanlitun Soho, which is a pity. On the bright side, they tell us they'll be opening in a new location.
Finally, congratulations to Jennifer McClelland, Beijing's tireless champion of the virtues of a raw food diet. McClelland came second in a pack of 32 last month in the "Hot Raw Chef Sweet Valentine Video Recipe Contest," organized by the California-based Living Light Culinary Institute. Well done to her.
PHOTO: Tom O'Malley
Comments