From Hard Rocker to Blue-Collar Worker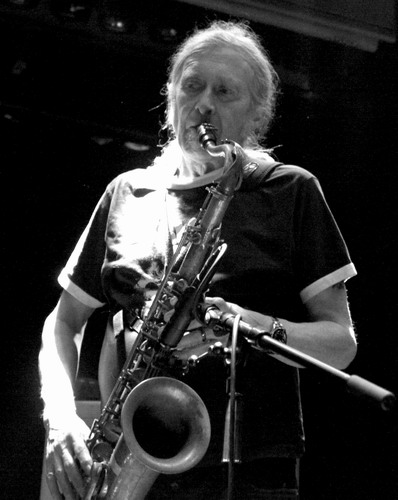 He fell from punk stardom to trade labor. Then the world literally left him for dead. Saxophonist Steve Mackay will hit the Hot Cat Club on March 16 to promote his latest solo album, Sometimes Like This I Talk. But he's best known for playing on The Stooges' seminal 1970 release Fun House. His sweltering horn blasts were a sonic mimicry of front man Iggy Pop's infamous swagger.
He followed that breakthrough with decades of downfall. Below, Mackay describes quitting touring to become an electrician, hearing rumors about his own death, and inhaling a lethal "rotten egg smell" that nearly turned those rumors into reality.
Why did you forgo rock & roll to tinker with fuse boxes?
Giving up touring was a condition of my former marriage. I stayed local, but I wasn't getting enough money playing gigs in San Francisco, and you'll find many artists working in the building trades there to make ends meet.
I didn't have any papers and learned it on the job. It started out with the boss telling me "put the red wires together." Then it got more complicated, like rewiring electrical systems in old Victorian homes. When I decided to start touring again (around 2000), thank God for Iggy Pop, who brought me back with The Stooges. It was good because I'm getting too old to climb ladders and crawl around under old houses.
Before that comeback, rock journalists were writing your obituaries. How did those death rumors happen, and how did you react to them?
The first death rumor was from (rock journalist) Nick Kent's Iggy biography. It was ill-researched, and he confused me with former Stooges' bassist Zeke Zettner, who did in fact OD in 1973.
Around 2000 there was another Steve Mackay, an author, who died of AIDS in San Francisco and a lot of folks who Googled it thought that was me. I was amused by all this and thought, "I guess that's why the phone wasn't ringing with gig offers!" There were a couple of times when I should have died – but so far, so good.
Tell me about those other 'couple of times' when you almost died. What happened?
Before the electrician stuff, I worked in a sewer plant. I breathed up too much hydrogen sulfide – that rotten egg smell you get every time you walk by a sewer. After awhile it gave me blisters on my lungs. I had to go to the hospital and get cut open. It was like being on that ER TV show. I was 33 – nobody in the industry knew about that time.
What's the best thing about being back in the music biz?
For years and years I couldn't sell records or tickets, then a whole new generation came up claiming Fun House was their favorite. Now I just hope that I can keep on playing to make a living until I drop dead. I don't want to have to go get a regular job anymore.
Catch Steve Mackay at the Hot Cat Club on March 16 as part of this year's JUE Festival. Tickets are RMB 50. For more information, check the festival website at spli-t.com or call the venue at 64007868.
Photo: Courtesy of the organizers
Comments