Nathan Zhang: On His Brand-New Brand Nu
Formerly a charity boutique, Brand Nu has been through many ups and downs over the years (see here and here). Last month owner Nathan Zhang closed down shop, only to reopen this month with a fresh concept and a sleeker look. We spoke with him to find out the reasons behind the change, whether he is still committed to philanthropic causes and what he thinks about the rapidly "developing" Wudaoying Hutong.
What's different about the new shop?
The new shop will be more fashion-minded and focus only on upcycled items – mainly clothes, bags and jewelry.
What's the difference between recycle and up-cycle?
Recycle usually means reusing old items that have been made functional again. Up-cycle is more about reinventing old items to give them greater value than before.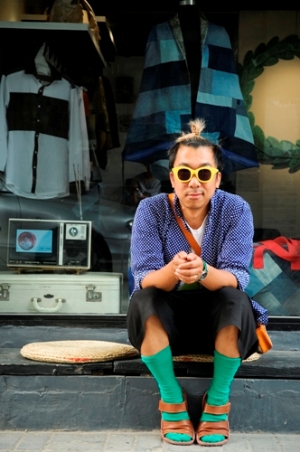 Why have you decided to focus exclusively on up-cycle products?
In the beginning, Brand Nu focused on secondhand donations, which we always donated directly to Tongxin Huhui Migrant Worker Community. Nowadays there are several secondhand clothing shops in the community, but many of their clothes never find a home and are simply growing dusty on the racks. I wanted to come up with a way to make unwanted items cool and fashionable again.
Then last year, I began working with the Migrant Women Sewing Cooperative to cut unwanted secondhand clothes into different shapes, and sew them together with new fabric. I teamed up with local designer Sara Yun to make a few capes and we received a lot of positive feedback.
At that point, I started collaborating with more designers and branched out into making bags and other accessories. After a few months of this, I thought, it's time to have a new concept – an up-cycle focused shop in the city – and it's time to give the Brand Nu shop a brand new look.
Are people still able to drop off items they don't want or want to swap?
Anyone interested in doing so should call the donor migrant worker community number (8433 2170, 40 0659 0098) so their truck can make pick-ups directly, to save us all time and energy.
Your store has been through many ups and downs. What was the toughest time, and what keeps you going at the end of the day?
I think the shop concept is very new in Beijing and there is no other model I can use for reference. I have involved myself with too many charity projects and sometimes lose focus on my shop. The toughest time is the cold winter, when there are fewer customers in Wudaoying. What keeps me going is I think I'm the one person who can spearhead this project of inspiring people to do good, look good and feel good!
How much are you involved in the design aspect of Brand Nu's clothing?
I am not a trained designer, but I appreciate cool designs. I spend a lot of time with different designers. With some designers, I do research, find the things I want and then explain my vision to the designer. With others, I just give the pitched fabric to them and give them free space to design.
What are your favorite Chinese brands?
I love Sara Yun and (na)too. I don't pay too much attention to names because I care more about my relationship with the designers. We have to have the same goal in order to make the collaboration work.
Will Brand Nu still be involved with local charities?
Yes, everyday. I provide consultation to many different non-profit groups. I also continue to work closely with a few Chinese NGOs such as Rural Women Organization and Shanshui Conservation Group.
Wudaoying Hutong has seen tremendous growth in the last couple years – do you think the development is for better or for worse?
It's both. More shops attract more people to the hutong. However, that also means a busier lifestyle for all. All of the local business owners used to connect, have wine and food and great conversation at the end of the day. These days, there are less and less opportunities to be as nice and relaxed as before.
Will there ever be a Brand Nan?
No, I like to work with women and for women.
Brand Nu
Tue-Sun, 10am-10pm, closed Mon
61 Wudaoying Hutong (just west of Vineyard Cafe), Dongcheng District (150 1115 3421)
东城区东城区五道营胡同61号
Click here to see the Beijinger August issue in full.
Photos: Judy Zhao
Comments