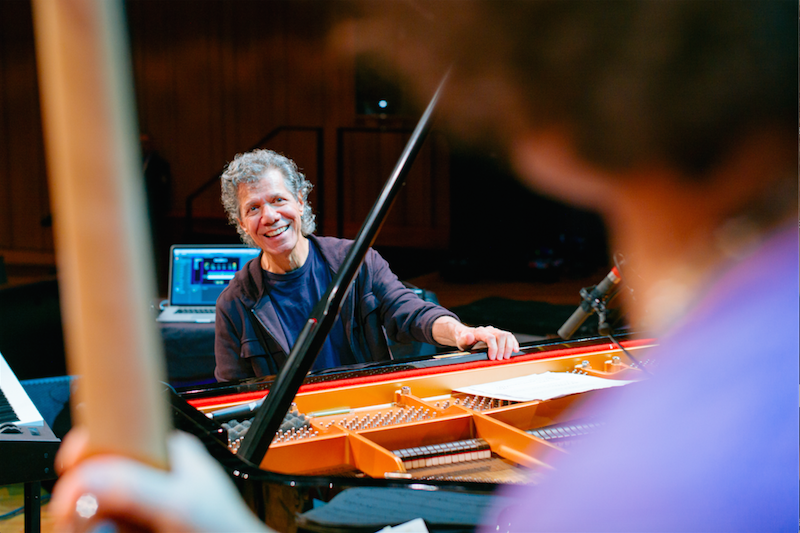 Q&A With Jazz Icon Chick Corea Ahead of His March 24-25 Blue Note Gigs
After more than five decades of performing and recording, 63 Grammy nominations and 22 wins, and being mentored by and playing with Miles Davis and other legends, Chick Corea is still vital and vibrant, just like the Latin inflected jazz standards that became his claim to fame.
The 75-year-old piano player celebrated his birthday last November with an eight-week run at Blue Note New York that spanned music from throughout his career. Several weeks before that he stopped by the newly opened Beijing branch of that jazz club franchise for an eager audience unaccustomed to such star power. Corea enjoyed that experience so much that he has decided to return to perform in China's capital on March 24 and 25 with his famed Elektric Band as part of their first proper Asian tour in 12 years. Below he tells us more about how his 50-year-long career began.
An eight-week residency like the one you had at Blue Note New York is impressive. At the age of 75, how do you stay mentally sharp, physically healthy, and spiritually motivated to pull that kind of thing off?
I do only the things I really want to do. I continue to be interested in music and life and so I continue to experiment and learn. I'm always a student first. I try to take care of myself with good rest and healthy food.
Last year you talked to the New York Times about experimenting with electronica and letting contemporary artists like Swizz Beats listen in. How has that work progressed since then? And have you shown it to any other interesting musicians?
I have a recording in its final stages ready to release, and I have some performances planned for next year.
You've said before that when you sit at the piano, you like to think of your fingers as drumsticks or mallets and that you imagine the piano is a "a great big marimba. Or a percussion instrument. There's so many possibilities of putting it together when you've got 10 mallets and 88 drums." Can you tell me more about how you arrived at this way of thinking? Did it begin when you started to learn drums at the age of eight, or did it take much longer?
I love the drums. The piano is a "percussion instrument," that's the way I see it.
I'm also curious about how you go into music in the first place. Apparently your father was a Dixie trumpet player that introduced you to the piano, and bought you your first suit to wear for gigs. Can you tell me more about how he was an inspiration to you as a youngster?
My Dad, Armando, was a jazz trumpet player who led his own band in the 1930s and 1940s. He taught me to read music and introduced me to the jazz music that I grew up loving. I'm very fortunate to have had him as my dad. My mother Anna – was also a great supporter of me and my musical trials – she worked so hard to provide me with everything I needed and everything I wanted. I was blessed with the best parents anyone could ever have.
I also have to ask about your most famous mentor: Miles Davis. Can you tell me anything about him that people might not realize or expect, an underappreciated or overlooked quality of his that people really should know more about?
Miles is one of the positive forces for the uplifting of our Earth culture. He demonstrated perfect artistic integrity for his whole life – and communicated so much beauty that he will be fondly remembered as long as cultures can remember their past.
Chick Corea and his Elektric Band will perform at Blue Note on March 24 and 25. Both shows start at 6.30pm. Tickets range from RMB 480 at the bar to RMB 680 at the side to RMB 880 for a table. To purchase tickets, click here and for more information click here.
More stories by this author here.
Email: kylemullin@truerun.com
Twitter: @MulKyle
WeChat: 13263495040
Photo courtesy of Blue Note Beijing
Comments