Shenzhen Sightseeing: What is There to See in the Southernmost Pearl of the River Delta?
A city with a population of almost 12 million, Shenzhen is one of the five largest and wealthiest municipalities in China. This city, which borders Hong Kong, had a tiny population of just 30,000 people approximately 30 years ago, but now stands at over 10 million. Because of its rapid rise, in large part because the once small harbor town was used as an exemplar by Deng Xiaoping of what China could accomplish post-opening up in 1979, it may not be a surprise that there isn't that much to see, apart from reveling at its insane modernity and baffling skyscrapers.
With my parents recently packing up and moving from Europe to the south of China, I've spent a few long weekends down in Shenzhen helping them set up. If you do find yourself in Shenzhen, these are some of the most visit-worthy attractions. Saying that, this is not an explicit recommendation to go to Shenzhen (no hard feelings, SZ), as there isn't a whole lot to do as a tourist. But it isn't all bad.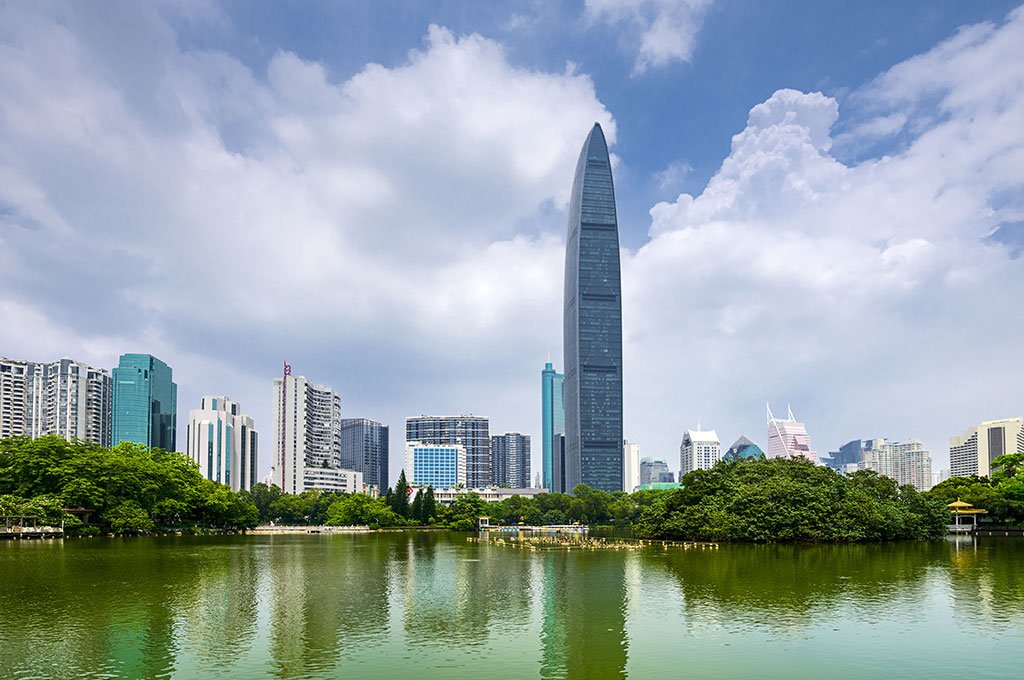 KK100
The KK100, formerly known as Kingkey 100 or Kingkey Finance Tower, is a 100-story-tall skyscraper in Shenzhen's buzzing Luohu District. The building is 441.8 meters tall, making it the 14th tallest in the world, and is worth a visit to get a scope of the size of Shenzhen. There's a café of the St. Regis Hotel on the 96th floor where you can get afternoon tea or a drink to soak up the views. Needless to say, this is not a cheap way to take in the sights.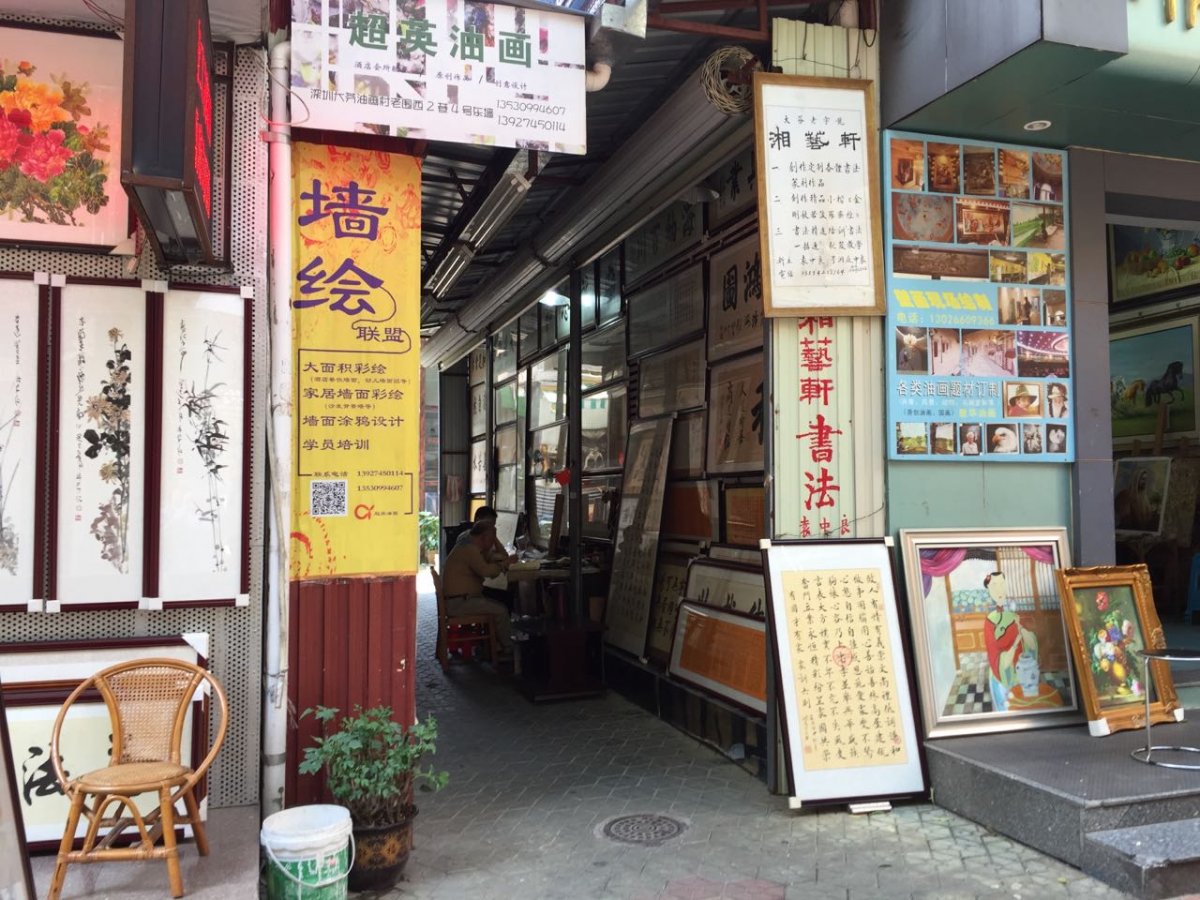 Dafen Oil Painting Village (大奋油画村)
An oil painters hub, Dafen Village is dotted with artists replicating famous works of art as well as original works. It's worthy of a little stroll, although not necessarily a must-go in Shenzhen, especially if you've only got a day or so. If you have more time in Shenzhen you can take along photos that you want turned into paintings and ask for a quote. There are also plenty of cheap paintings on sale to fill barren walls.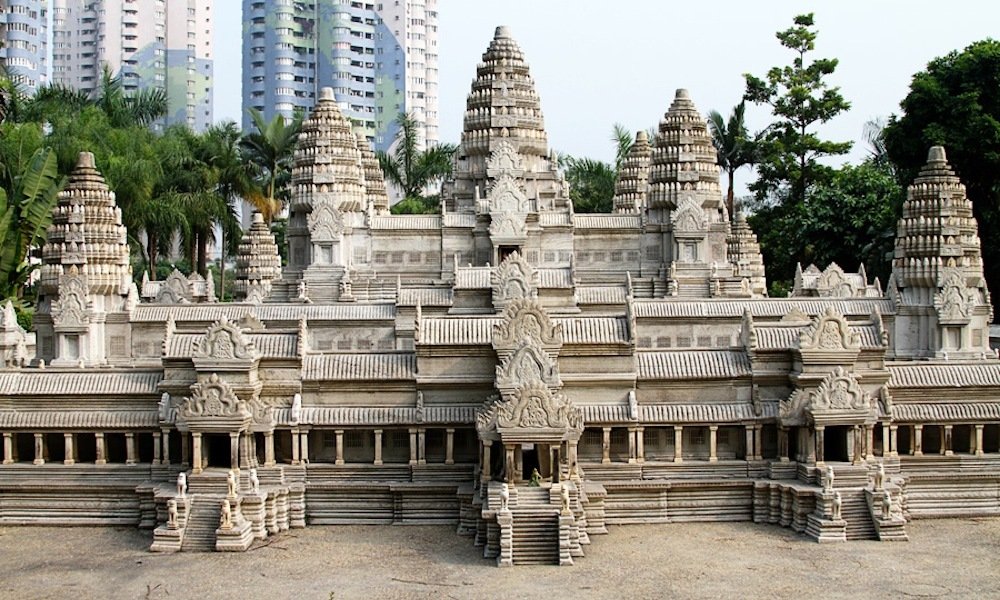 Window of the World (世界之窗)
Not that exciting if you're expecting a theme park, Window of the World is more of a plot of land with some small copied versions of global sights, not too dissimilar to Beijing's World Park. Think a little replication of the Eiffel Tower, a small Venice, and a little windmill with tulip gardens. In total there are about 130 reproductions of some of the most famous tourist attractions in the world.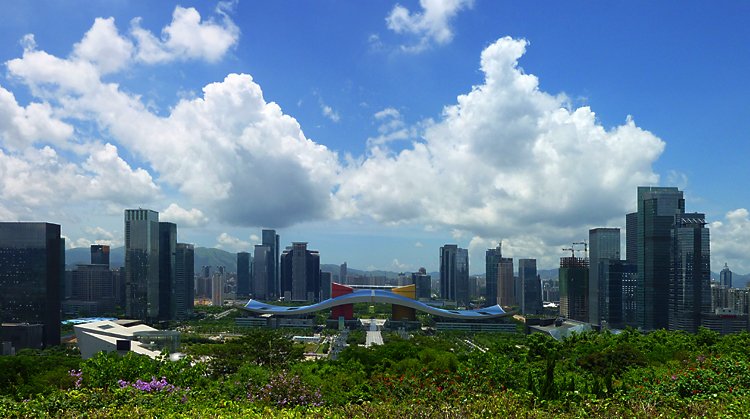 Shekou Sea World (海上世界)
The heart of Shekou District dining, Sea World is home to numerous good restaurants (both Western and Chinese), as well as a massive ship that was bought from the French in 1973. Pizzeria Alla-Torre (pictured at top) had decent prices (good Italian pizzas under RMB 100) and a great view of the 7pm fountain display. Another good spot for a drink (albeit without the view) is McCawley's, an Irish bar and restaurant chain that has a number of venues across the city.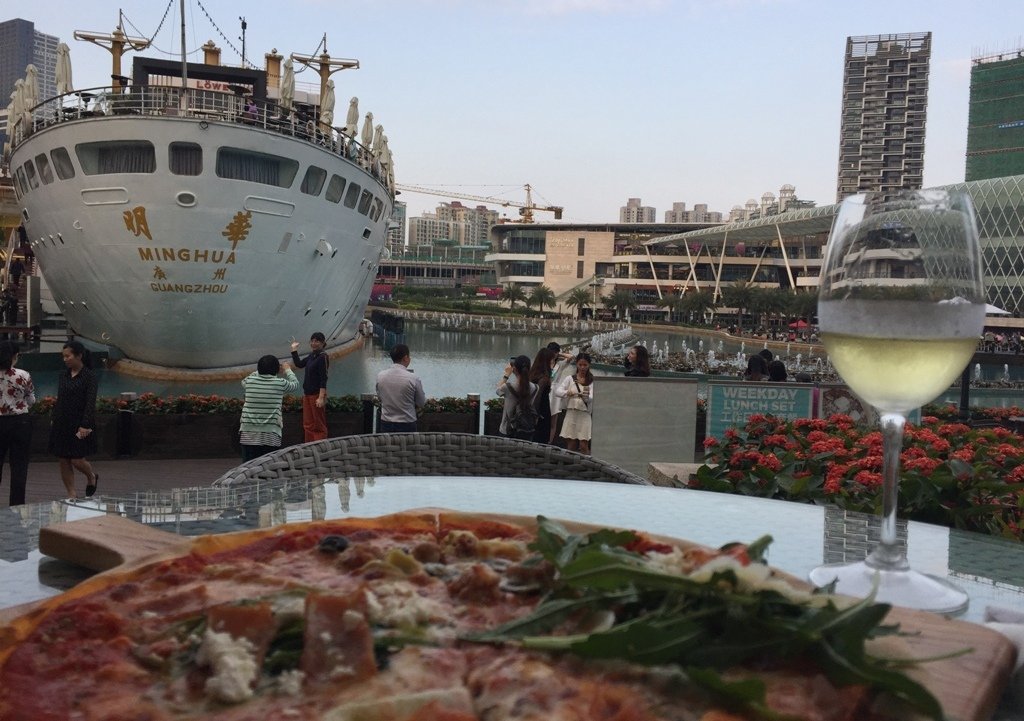 Lianhuashan Park (莲花公园 )
One of the best-known parks in the city, Lianhuashan Park is notable for its hill that allows for panoramic views of Futian. At the top you will also find the "Godfather of Shenzhen's," Deng Xiaoping's statue. Don't worry, the hike up isn't too strenuous, and once you get to that summit there's lots of signage pointing you in the right direction.
Don't Go to Zhongying Jie: Foreigners Can't
Zhongying Jie is border street between Hong Kong and Shenzhen an hour and a half'd drive out of the city proper. It's often visited because of its trapped-in-time nature from before the British handed back Hong Kong to China. It grabbed our attention online but left us severely disappointed after finding that there is no way for foreigners to enter. We also tried to get in with a tour group, thinking that maybe we could pay our way in, but a Chinese ID card is definitely required for entry. The Internet doesn't note this minor detail, so beware.
Where to Stay
High End: Residence G
One of the latest additions to Shenzhen's skyline, Residence G, is a luxury lifestyle hotel and serviced apartment (with studios as well as one-, two-, and three-bedroom apartments). It's located close to the aforementioned Sea World in Shekou and Nanshan (which itself is good for a climb), and has a range of facilities from a restaurant and a bar to a full floor dedicated to sports and fitness.
4078 Dongbin Road, Nanshan District, Shenzhen (8663 7888)
深圳市南山区东滨路4078号
Budget: Shenzhen Loft Youth Hostel
What used to be a simple workers' home is now high quality budget accommodation. Some of the balconies have been incorporated into the rooms for great views, and there is lots of choice between small dorms, single rooms, twin rooms, and even family rooms. 
Bldg 3, Enping Jie, Huaqiaocheng, Nanshan District. Shenzhen (8609 5773)
深圳市南山区恩平街华侨成3栋
More stories by this author here.
Email: margauxschreurs@truerun.com
Instagram: s.xuagram
Photos: Margaux Schreurs, Presidential Aviation, Travel Mindset, Brian Au, gcphospitality.com 
Comments