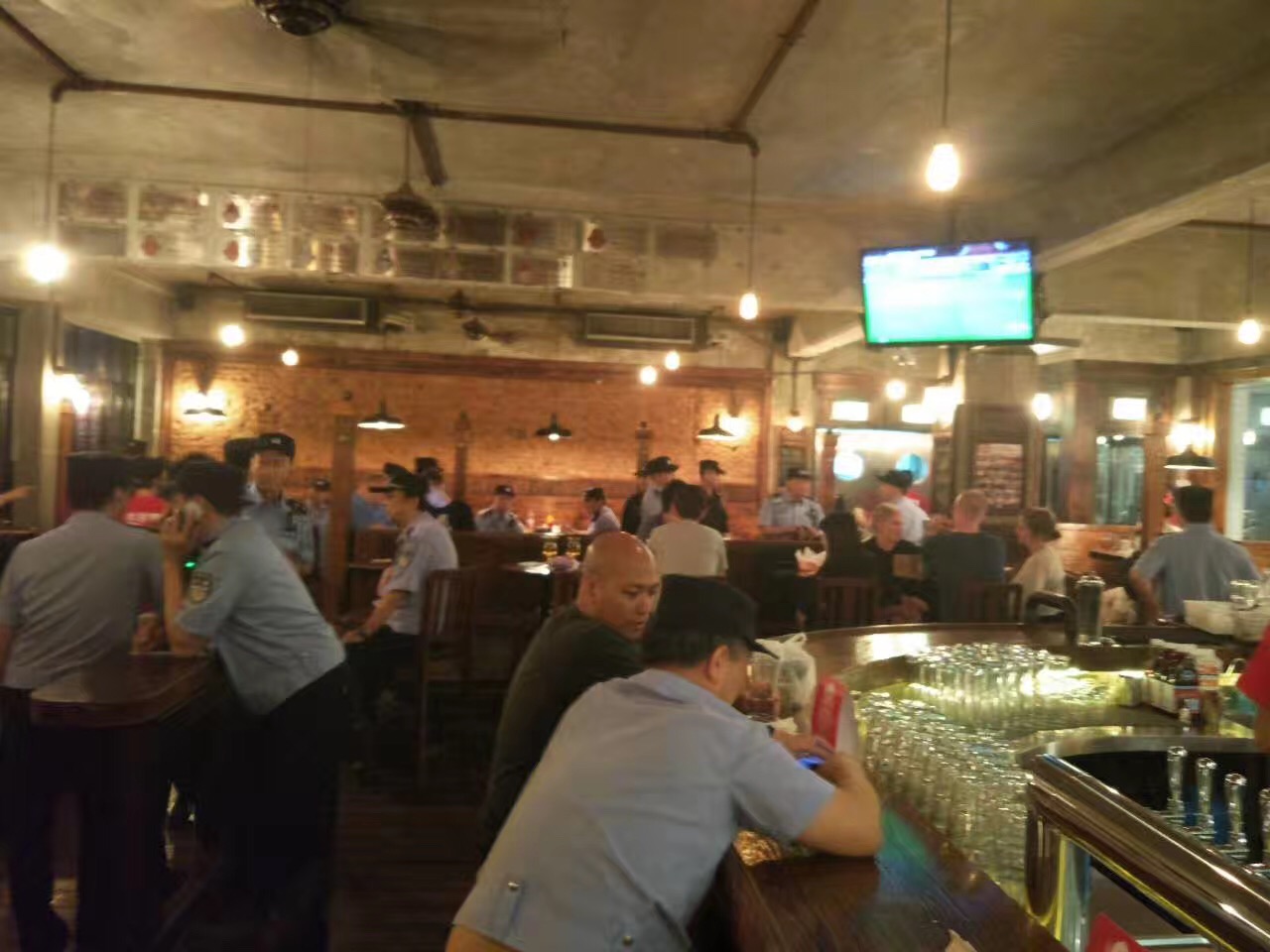 Cafe de la Poste, GLB #12, and Other Venues Hit by Drug Raids Over Labor Holiday Weekend
Police raided a handful of popular Beijing bars and restaurants over the holiday weekend, conducting on-the-spot urine sample tests on customers and demanding to see their passports and other forms of identification.
Among the confirmed businesses that underwent the raids were Great Leap Brewing #12 on Xinzhong Jie, Cafe de la Poste and Queenie's Sandwiches & Bar (QS) (the latter two both being situated near the Lama Temple). Numerous WeChat groups have been abuzz with rumors about as many as seven venues being raided, although those details are still unconfirmed.
The Cafe de la Poste raid occurred on April 29, which was followed by an April 30 raid at QS and then a similar inspection at GLB's flagship brewpub on May 1.
Police arrived at Cafe de la Poste on Saturday night at approximately 10pm, according to co-owner Tristan Macquet, carrying out drug tests on some of the patrons. He believes that one customer may have tested positive at the popular Yonghegong Dajie bistro, and adds: "They (the police) left shortly afterwards and the night went on without anymore trouble."
This photo was circulating on WeChat on the night of the Cafe de la Poste raid: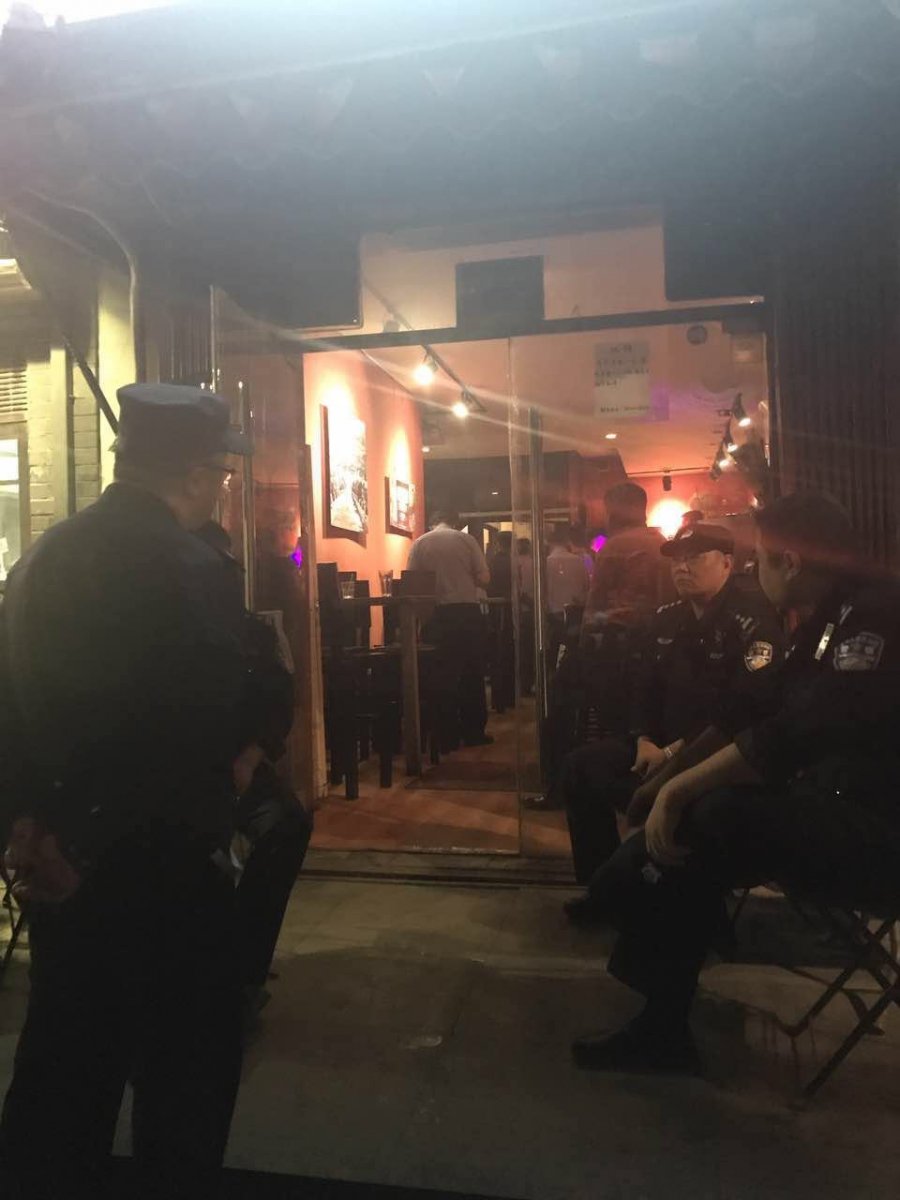 These photos of the GLB #12 police action were also widely circulated on WeChat on Monday night: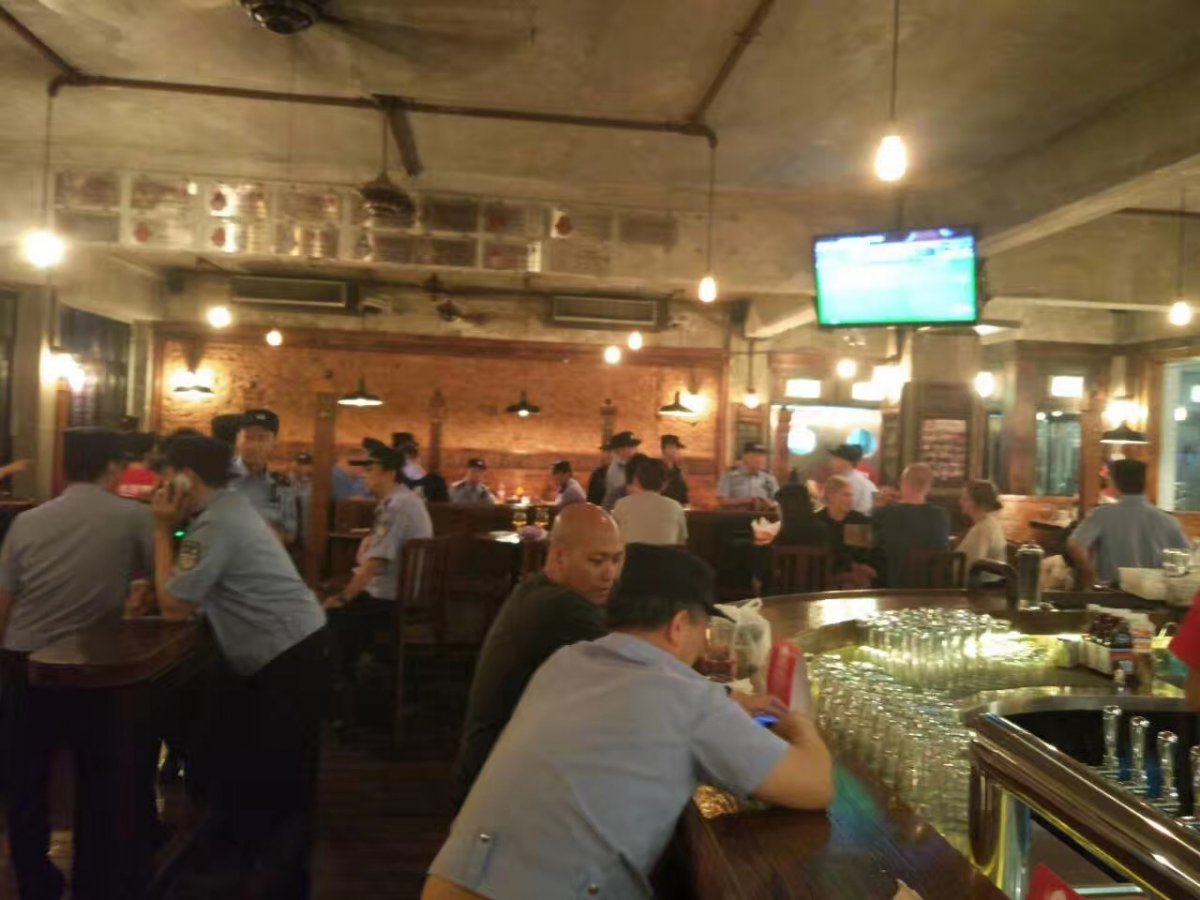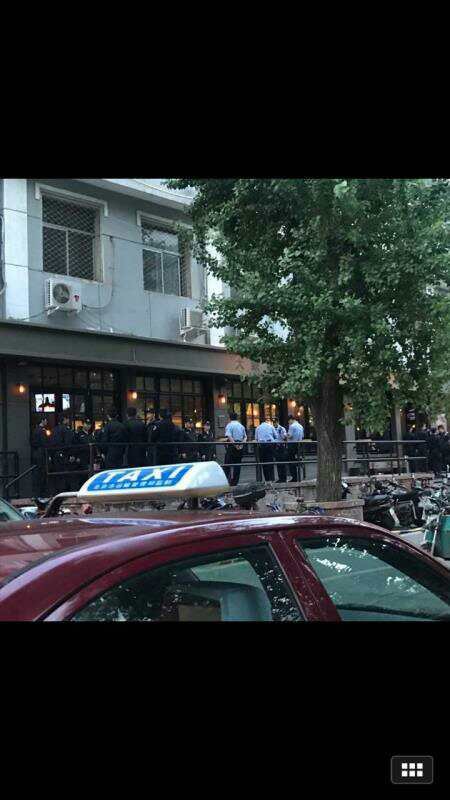 "Earlier this evening, Great Leap [Brewing] was subject to an inspection in which multiple bureaus came to our #12 location. Entry and Exit Police and Fire Inspectors found little to no violation and no customers were detained. Great Leap's staff facilitated and complied with all requests and as a result Carl is treating them to dinner and giving them an early night. Starting Tuesday, bar service will in no way be affected, but suggestions for repairs on some minor code violations have led us to limit food service to cold food only for the next couple of days. We apologize to anyone whose night or for the next couple nights has been affected and we will be back to regular service as soon as possible," Great Leap Brewing co-founder Carl Setzer told the Beijinger by WeChat. He added that neither the #6 flagship location on Doujiao Hutong nor the #45 location near Liangmaqiao were affected and both are operating normally.
Jim Wang, owner of QS, said the raid at his Yonghegong adjacent sandwich shop occurred on Sunday, April 30 at about 10:30pm. "Around 30 customers had to do urine tests, and the police checked their passports," he says.
A Cafe de la Poste manager, who asked to remain anonymous, added that the raid at the Yonghegong occurred in a similar fashion to the type of snap police inspections that occurred at Dada and Destination this past autumn, explaining: "About 12 cops entered the café and asked everyone to pee in a cup. Once the person peed, the person was asked to step outside, in order to do the procedure properly I guess," the manager said, before clarifying that 25 people were tested in total. He added: "One person apparently was positive, but I am really not sure about it, I don't have so much details about it."
"All the people who tested negative were told by the police you can go,' but only this person was asked to stay behind. Since everyone was asked to go out one by one, we couldn't have a clear view on everyone," the manager said when asked to clarify.
The Cafe de la Poste manager said he is unsure why the police chose their bistro, or why the other venues were targeted. Such uncertainty leaves him to suggest that foreign patrons take special precautions whenever they go out, no matter where, just in case such a surprise inspection takes place.
"We advise foreigners to avoid using drugs," the manager said. "Having a photocopy of your passport is strongly recommended- a picture of the information page saved on your phone seemed enough for the policemen, as well as the picture of your current valid visa."
Both foreign residents and visitors to China are required by Chinese law to carry proper identification with them at all times. While Public Security Bureau officers have on occasion accepted photos, photocopies, or scans of passports and visa information pages, they are within their rights to request and inspect original documents. 
Photos: WeChat  
Comments