Celebrating 30 Years in China, KFC Unveils Angry Burger on July 31
The Beijinger Burger Cup was held three months ago, but obviously, our passion for burgers never ends. And that passion is not limited to local "craft" restaurants, but also extends to global chain outlets. Last year, it was the Angry Birds-themed green burger at McDonald's. So when KFC announced its celebration of being in the Chinese market for almost 30 years – since the first KFC opened in Beijing on November 12, 1987 – and unveiled the Angry Burger, endorsed by boy band TFBoys on July 31, we couldn't help ourselves.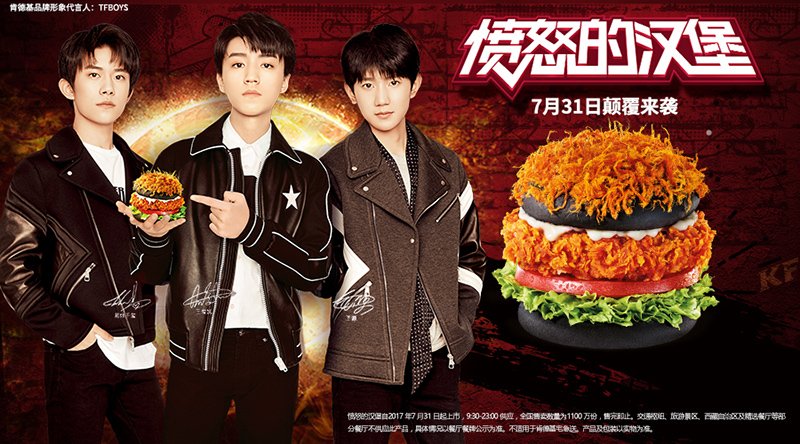 Naively, we assumed this rendition would be similar to Burger King's Angry Burger in 2009, and the Angriest Whopper in 2016 – the latter featuring red buns, flame-grilled beef, thick-cut bacon, American cheese, lettuce, tomatoes, onion petals, jalapeños, and a spicy "angry sauce" – but when we saw KFC's rendition with some pork floss in red, we knew it would be another item with a Chinese twist. It's not the first time that KFC has localized its menu to the market; They started serving porridge, vegetable soup, rice, deep-fried batter (youtiao), and soy bean milk in 2008. They've also taken some great leaps in culinary innovation with zongzi and mooncakes with meat filling.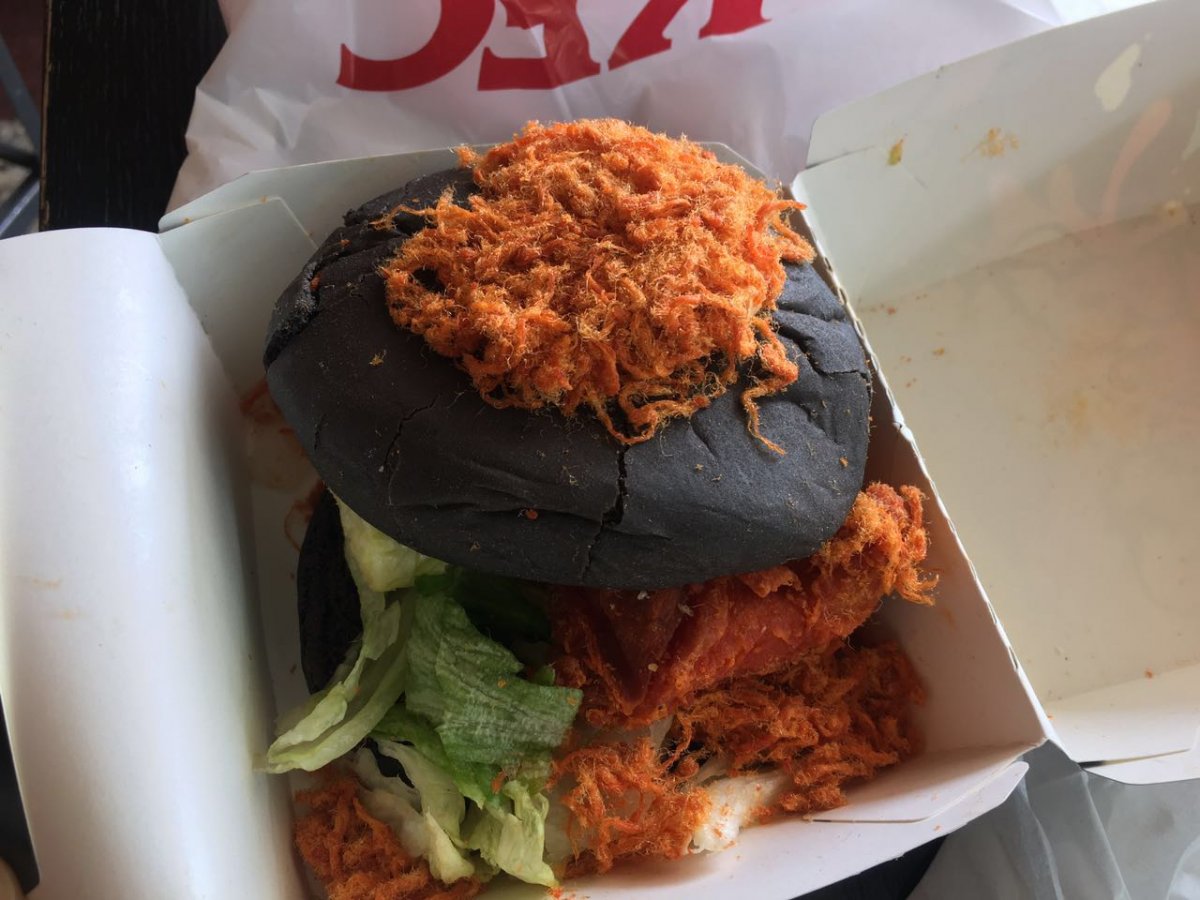 We headed to KFC on a weekday during lunch time and ordered the Angry Burger (RMB 19). A meal with a drink and some fries or even more fried chicken (a thigh and a wing) will run you RMB 32-37. After a mere 5-minute wait, the burger was ready. We have to say its presentation was a bit pathetic: two buns in black, a chicken patty with red crust, a slice of tomato, some pork floss (fluffy shredded pork in a sweetened soy sauce) and some lettuce lying on the bottom of the box. And that was all. We urge you to be prepared mentally when you open the box, because the whole thing looks like some blood on a black rock.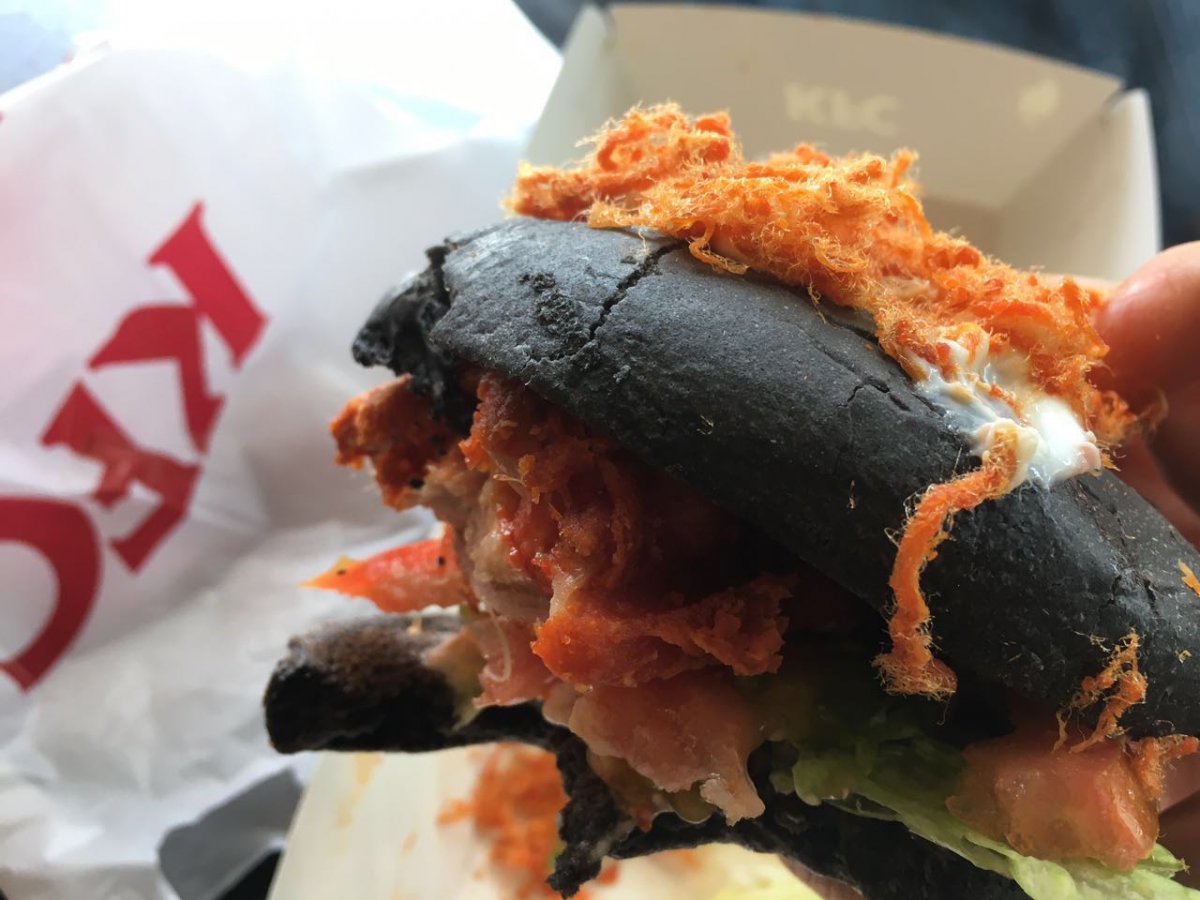 Now, we try not to judge on appearances, some of the most delicious foods in the world are unsightly. Whoever had the idea of sticking the red pork floss to top of the bun with mayonnaise, we need to talk. See, eating it requires at least one hand to grab the whole thing, which means your fingers will immediately become sticky and slimy with mayonnaise. Seriously, there's no way to eat this burger without messing it up. Clumsy eaters beware: this meal is best eaten alone, in private, where no one can observe your struggle.
The chicken fillet was salty without any hint of spice, while mayonnaise provided some creamy texture, and the lettuce was just sad. The pork floss, being essentially dehydrated meat, made the whole thing dry and hard to swallow. Verdict? It looks not as neat as the McDonald's Angry Bird green burger from last year, but tastes more … edible.  
After finishing this burger, you will be like a surgeon entering the operating room, holding your sanitized hands up (but greasy hands, in our case) and trying not to touch anything. So be sure to inform anyone who may try to WeChat you during the meal that you won't be able to operate your phone for the duration. Oh, and before you dash out to wash your hands, don't forget to check your teeth – the black bun and red pork floss are likely to get stuck in your teeth and ruin your smile for the rest of the afternoon.
If you insist on trying it, remember to wear black from head to toe, bring your own wet wipes, and take a mirror to check your teeth. Prepare your stomach with the largest iced coffee at the Starbucks next door and you will be all set.
More stories by this author here.
Email: tracywang@thebeijinger.com
Twitter: @flyingfigure
Instagram: @flyingfigure
Comments