This Week in Health and Fitness: How to Say the Names of Common Wheat-Free Flours in Chinese (and Where to Buy Them)
Wheat-free flour, sometimes referred to online as "alt flour", is a great way to add flavor and depth to your cooking, whether you are fully gluten-free or just looking to eat a little bit more healthily. 
As a country that produces and consumes a wide variety of different grains, you may be surprised to find how easy it is to source interesting flours in China. Flours made from oats and buckwheat, which are used to make noodles and other staples, can be bought from larger supermarkets in Beijing, while trendier flours such as coconut and spelt are easily sourced on Taobao.
Use the translations below to search Taobao/Tmall for the flours of your choice. A good brand to look out for when shopping online is American brand Bob's Red Mill, which has an official outlet on Tmall. Alternatively, Taobao store House Organic 有机e家 (of which your editor is a frequent patron) sells a wide selection of wheat- and gluten-free flours and grains. 
Note: Not all of the types of flour below, notably spelt and rye, are gluten-free. If you have celiac disease or are severely gluten intolerant, look out for the characters 无麸质 (wúfūzhí), which means "gluten-free." 
Almond flour (also known as almond meal) 杏仁粉 xìngrénfĕn
Made from ground whole almonds. High in fat and fiber, this flour adds moisture and density to recipes. 
Best for: Anywhere you would use breadcrumbs (such as meatballs); rich, non-risen cakes such as chocolate tortes 
Buckwheat flour 荞麦粉 qiáomàifĕn
Despite the name, buckwheat is actually made from the fruit of a plant related to rhubarb, although it does contain a small amount of gluten. It has a distinctive, toasty, and slightly bitter flavor.
Best for: Pancakes (sweet or savory) and waffles 
Chickpea flour (also known as gram flour) 鹰嘴豆粉 yīngzuĭdòufĕn

Commonly used in Indian cuisine, chickpea flour is incredibly nutritious and is a good way to add extra protein and fiber to recipes. The Easternmart Taobao store, which specializes in South Asian ingredients, is a good place to buy it. 
Best for: Flatbreads and wraps; savory fritters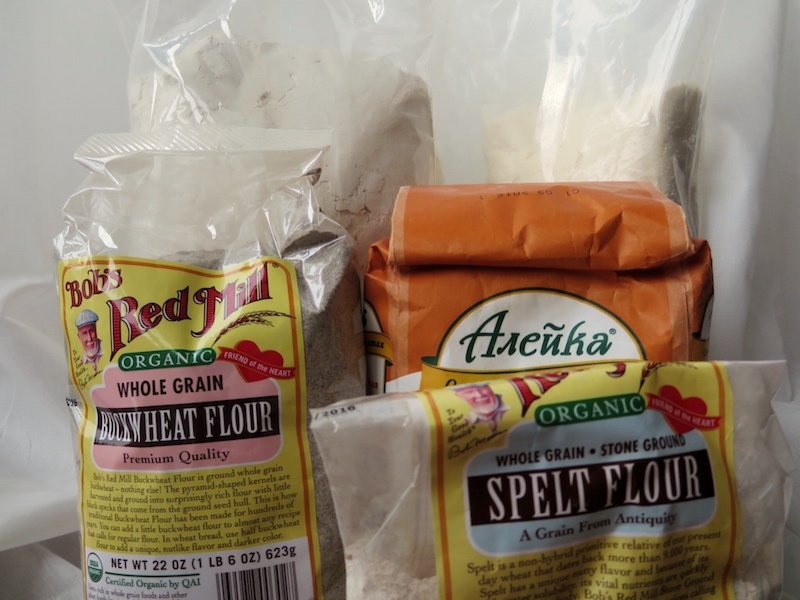 Coconut flour 椰子粉 yēzifĕn

Made from finely ground coconut meat, coconut flour is high in fiber and fats. Note that coconut flour is highly absorbent so it cannot be substituted 1:1 with other flours and may require you to add extra liquid. 
Best for: Savoury fritters; cobblers and crumbles 
Oat flour 燕麦粉 yànmàifĕn
Oat flour is a great option for serious bakers as it behaves much like traditional wheat flour, but lends a lighter, fluffier texture to finished dishes. 
Best for: Most cakes and cookies; kneading bread (as it won't make the bread tough if too much gets incorporated into the dough)
Rye flour 黑麦粉 hēimàifĕn
Rye's rich, nutty flavor means it pairs well with autumnal foods such as pumpkin, apples, and strong cheddar cheese. Try replacing 25 percent of the flour in your favorite pastry recipe with rye flour.
Best for: Bread; recipes with chocolate (such as brownies) 
Spelt flour (no standard translation, although may appear transliterated as 斯贝尓特)

Spelt is an ancient strain of wheat and produces a flour that has a sweeter, more complex flavor than regular wheat. Spelt flour is usually available in white or whole-wheat varieties and can be substituted for normal wheat flour 1:1.
Best for: Most sweet and savory recipes
Ed's note: While I am no means an expert chef, I have had good results cooking with wheat flour alternatives. However, I do find that it helps to manage your expectations; you can't expect a cake made with different ingredients to taste exactly the same as a classic recipe. I also find that slightly more forgiving recipes – brownies or dense carrot cakes rather than, say, a light and airy Victoria sponge – work best with wheat-free flours.
More stories by this author here.
Instagram: @gongbaobeijing
Twitter: @gongbaobeijing
Weibo: @宫保北京
Photos: Wikimedia, Robynne Tindall
Comments