Hutong Bar Hop: What's Up Wudaoying (& Fangjia) Hutong?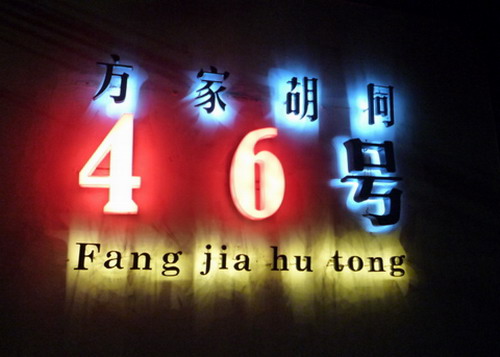 Our girl-about-town Napatra continues her bar hop series after checking out the Gulou area earlier this month. Now she's heading a little east to the lesser known Wudaoying and Fangjia hutongs, the upcoming hot spots for Beijing bar goers. Haven't been to this part of town yet? Well it's about time – and Napatra shows you how.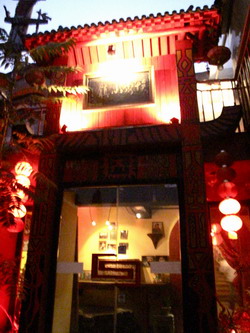 Start your night by filling your stomach with delicious Yunnan food at Aimo Town (Building G, No. 46 Fangjia Hutong | 埃蒙小镇 方家胡同46号艺术园区G座). Across the bridge noodles (Guo4qiao2 mi2xian4 – 过桥米线) are the restaurant's signature, but regular spicy dishes are equally tasty. Don't forget to complement your dinner with Yunnan rice wine (Zhu2 tong3 Jiu3 – 竹筒酒), although be sure not to let the rice wine's sweetness fool you. Pace your drinking to avoid prematurely calling it a night.
Another popular dining and drinking destination inside the No. 46 compound is Trainspotting (No. 46 Fangjia Hutong | 猜火车 方家胡同46号艺术园区). The restaurant is known for its delicious contemporary Guizhou food, unique interior space, and great ambience. Trainspotting is also a neat venue for private parties, and much desired place to be 'spotted.' They also have regular film screenings out the back.
Finished your dinner? Good – now you're ready to walk it out. Exit the No. 46 compound, turn left and head towards Andingmennei Dajie for thirty-some meters and you'll hit El Nido/Bar No. 59 (No. 59 Fangjia Hutong | 猜火车 方家胡同59号). Those who have visited love it. Those who haven't should.
El Nido's extensive selection of imported beer and wine at affordable prices will make you jump for joy. Imported beers range between RMB 28-45 while a bottle of Harbin is available at RMB 10 – much friendlier on your wallet than what you find in Sanlitun. Like its beverages, El Nido has a solid selection of music and the friendly owner is happy to put on your favorite tunes.
Down your drink and it's time to hit up Fangjia Hutong's partner in crime: Wudaoying Hutong. This up-and-coming hutong is just two streets north from Fangjia. From El Nido, walk eastward for 20 meters before turning left into a small alley called Gongyi Xiang (公益巷). Turn right at a mini junction; follow the hidden walk way and soon you'll hit Guozijian Street (国子监街). Cross the street and keep walking north, pass Jianchang Hutong (箭厂胡同) and you'll arrive at Wudaoying. Sounds complicated in print, but is easy on foot – especially if you have a good Beijing bearings.
First stop on Wudaoying is The Vineyard Café (No. 31 Wudaoying Hutong | 葡萄院儿 五道营胡同31号). Although much has been written about the restaurant's food, wine, and atmosphere, few people pay attention to the café's seriously delicious brownies (aka happiness at RMB 35). The dessert deserves a special mention and is definitely worth a bar hop detour.
After cleaning your plate at The Vineyard Café, it's time for a delicious sangria at Saffron (No. 64 Wudaoying Hutong | 藏红花 五道营胡同64号), another Wudaoying restaurant and bar magnet. This Spanish bistro offers red and white sangria at RMB 36 per glass, RMB 150 per jar. If you prefer sticking with the regulars, Saffron also has a large selection of wine, mainly imported from Spain, France, and South America. A glass of house wine ranges between RMB 30-45.
Wrap up you conversation and head over to V.A. Bar (No. 13 Wudaoying Hutong | 五道营胡同13号), to check out that night's live band. A venue dedicated to all things musical, you can catch a jam session on Mondays, open mic every Wednesday, and other special performances listed on their website. V.A. Bar is the perfect intimate live music venue, where you can enjoy the music and get cozy with the crowd. Note that there is normally a small cover charge.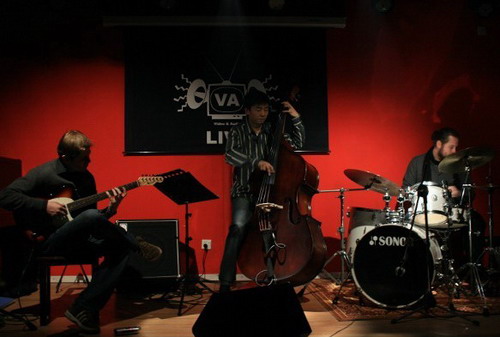 If you think Wudaoying Hutong is all about quiet bars and coffee shops, School (No. 53 Wudaoying Hutong | 五道营胡同53号) will make you think again. Home to electronica and dubstep fans, School offers regular Friday and Saturday DJ sessions that attract a consistent hipster crowd to the venue. For the rest of November, take the advantage of School's monthly special and get a bottle of Hoegaarden for RMB 25 (regular price RMB 40). Drink up and sweat it out – exactly the right way to finish your night.
Comments