Capital Bites: Two-for-One Burger King, More Mexican, Union Remodeling
It's been a big week in food, folks. While stuffing our faces at Q Mex, news about other Mexican joints keep reaching our ears, so we think it's safe to say Beijing's riding the waves of a Mexican Food Revolution. ¡Aye que fabulosa! In other news: Union is remodeling so are moving to a limited menu for a few weeks, Burger King's offering two-for-one burgers, Nathan's Famous is opening its hot dog stand at Sanlitun Megabox, and there are great deals going on at Wagas and Bar Veloce. Read on for details and more news.
First, news about Union Bar & Grille: They're remodeling their kitchen until July 20, so will only be serving salads and sandwiches off their food menu for the time being. Bar service will be undisturbed, so don't panic. RMB 30 for Guinness at happy hour is still one of the best deals in town.
We've spotted a new assembly-line burrito place in Jianwai Soho called Lucky Lopez. It's a similar concept to Avocado Tree (we told you they moved next to Home Plate, right?), but they've got pork on their menu and their prices are just a tad cheaper. Several among us have given it a try and are reporting back that it's "pretty good," and "like a higher-end Taco Bell." If you know our colleagues, that's high praise indeed. Full review coming up on the blog very soon.
There have also been murmurings of a hutong taco bar opening up, although it's been reported that said hutong taco bar's owner has told one of our team, "Hey, don't let that girl at the Beijinger – her name starts with an 'M'? – write about this yet … we're not ready." Hmm. Not sure if that counts me making vague statements about it and then sending you all to lumdimsum's tasting preview to learn more. To the mysterious Mr. Taco Man: I feel a little taunted by these photos of juicy braised meat sizzling on a grill and the house-made peach and white wine sangrias. My question is: Do you know what I look like, and more importantly, if say some random person showed up at your bar and ordered a taco, would you be serving?
Contrary to the first half of this post, there is life outside of Mexican food. Nathan's Famous is opening up its hot dog stand at Sanlitun Megabox this Sunday, July 1. They'll be doing free hip-hop classes for kids during those first three days, so if you're on the shorter side and have always wanted to learn how to pop and lock, here's your chance. They'll also be hosting hot dog eating-competitions all through the month of July, culminating in a final on July 28 wherein eaters will duel it out to win 6 months of free Nathan's hot dogs (limit one per day and up to 50 total) and six months of free movies at Megabox. Wait, where's the free six-month gym membership?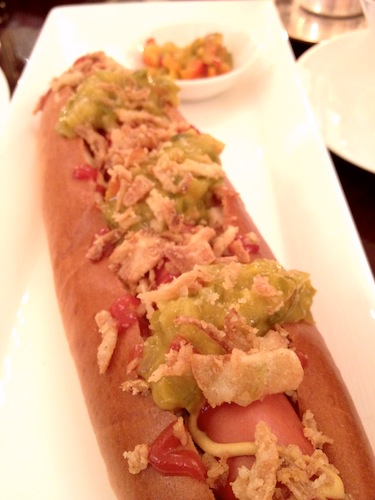 Speaking of hot dogs, the Writers Bar at Raffles Beijing Hotel just created a new all-day dining menu. Both the hotel's general manager and the Writers Bar chef hail from Germany, which means a giant frankfurter covered in homemade relish, mustard and crispy onions is, strangely enough, a highlight of the new menu. It's pricey (RMB 88), but it's huge and very delicious. If you ever decide to spend that much on a hot dog, that'd be a good bet. Other worthy items include a huge serving of steak tartar (RMB 148) and a cheesecake slice (RMB 68) that in Cartoon Land could have made a comfortable home for a small, enterprising mouse. If you think of it as two slices, it's not such a bad deal. There's also the caprese salad (RMB 98) in the above photo, which included cloud-like chunks of fresh mozzarella and organic tomatoes with just a light drizzle of olive oil. So simple. So delicious.
In other fancy news, Languedoc winemaker Gerard Bertrand is stepping up its presence across China, and M. Bertrand himself arrived in Beijing yesterday on his first visit to the capital. He hosted a dinner for media on Monday night at Brasserie Flo, introducing a range of reds and whites paired with some excellent dishes from the Flo kitchen. Highlights included Bertrand's Domaine de Cigalus Blanc, a white made using biodynamic methods. Bertrand hopes that this wine's production cycle, which chimes with the rhythms of the Lunar calendar, will strike a chord with Chinese consumers. Complex reds like the Parcelle Le Viala and Parcelle La Forge – made as a tribute to Bertrand's father – are another of the winemaker's trademarks.
Oh, and don't forget Canada Grade-Eh Week is going strong as we speak. We've got a summary of restaurants and deals for you here, but for tons more info, check out BeijingBoyce.com.
Now for some really good deals:
Burger King is celebrating seven years of doing business in China with a two-for-one deal Wednesday through Friday this week (Jun 27-29). Good for all BK locations in Beijing, but not for delivery, and not for use with any other coupons or promotions.
Wagas is offering coffees at half-price all through July. See our review here, then go get yourself some coffee.
Bar Veloce is definitely a spot to watch for the summer. They're currently running a deal in which any party who orders a bottle of wine from sommelier Krishna's thoughtful and adventurous list will get a free sampler of their delicious bruschettas. Another great excuse to check out the new space in 1949: The Hidden City. Though to be honest, the great food, great wine and great digs paired with a complete lack of snobbishness are excuses enough.
Whew. Lot to take in, huh? Go have yourselves a burger or two.
Photos: Marilyn Mai, Iain Shaw
Comments