Good to the Bone: Barbecue Ribs in Beijing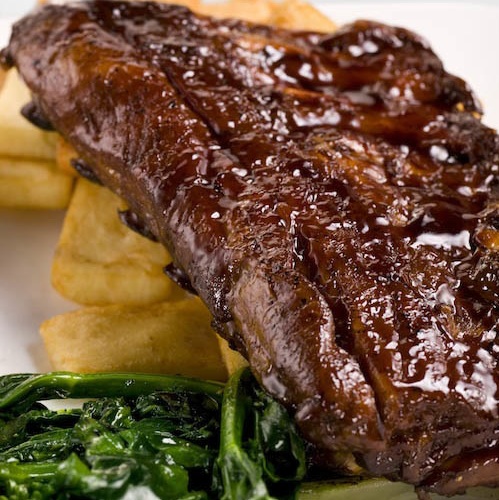 Steak and seafood are worthy splurges, but when I've got something to celebrate, barbecue ribs are in order. Here's a list of some of my favorites.
I've always said that the best ribs are the ones I've just eaten, but these are loosely ordered by my preference. You've also got a decent geographic spread here across Sanyuan Qiao, Sanlitun, Dongsishitiao and the CBD.
Home Plate Bar-B-Que
RMB 150/180 for 5/8 ribs. I keep coming back to these, mostly because I can slather it in extra barbecue sauce.
Nola
RMB 106 for four ribs, comes with hush puppies (fried cornballs) and cole slaw. Delivery via Sherpa's.
Q Mex
RMB 85/158 for 3/6 ribs, comes with a side salad. The rub on these has a lovely kick to it.
Switch! Grill
RMB 160 for 270 grams. Comes with grilled broccolini and steak fries. Buy one get one free on Tuesday 6-8, or all day Tuesday with this Dianping coupon.
Tim's Texas Bar-B-Q
Pork ribs RMB 90, Beef ribs RMB 95. These are a touch dry, but the beef ribs are a nice alternative to the usual pork. You can get these delivered through Jinshisong, though it'll cost you extra.
TGI Friday's
RMB 108/158 for 6/9 ribs. Comes with french fries, onion rings and a salad. Half off on Mondays through September. When I used to live in Haidian, this is where I'd go for ribs if I didn't want to make the trek to Chaoyang.
Photo: Switch! Grill
Comments