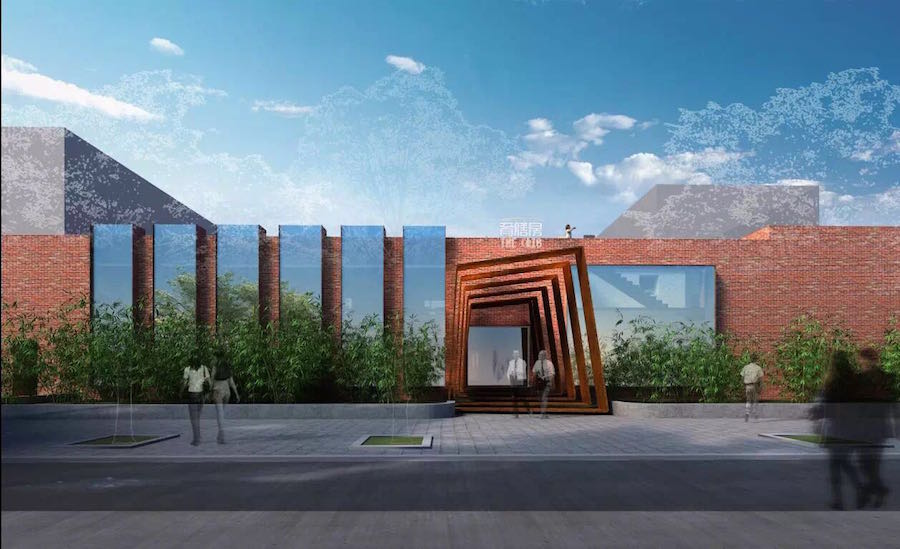 Chunxiu Lu Just Got 20 Times Tastier: The Crib Opens its Doors Today
We've been following the progress of The Crib for six months now, eagerly observing the transition of a former factory and Sichuan restaurant into a multi-storey incubator for our city's emerging food and beverage entrepreneurs. The long wait is now over, however, as more than 20 (read it: T-W-E-N-T-Y) new restaurants plan to open their doors on Chunxiu Lu from today onward.
RELATED: An Update on Chunxiu Lu Food Court and Culinary Incubator The Crib
Hsu Li (The Smokeyard, FatFace Catering) has taken his cue from the likes of Anthony Bourdain's Bourdain Market in New York, theCOMMONS in Bangkok, and Eataly in Turin to create a space that nurtures local talent and delivers fresh concepts to Beijing diners. The 2,200-square-meter space will offer low start-up and running costs for restaurateurs and other food producers. We should also mention The Crib has a 300-square-meter rooftop just waiting for summer.
According to Hsu, they've spent months reviewing applications to select the top entries in a range of categories to be given a spot. "Everyone here at The Crib has a product we've tried and we like, and we think is ready for market," Hsu told us earlier this week. "Every product and its pricing is approved by us."
Below we give a complete list of things to eat and drink at The Crib, as well as some highlights from The Crib's Marketplace.
EAT
Fromager a Pekin
Artisanal cheesemaker Liu Yang learnt the art of the curd in a Corsican agricultural college before returning to Beijing in 2009 to pursue his cheesy destiny. He'll be serving up cheeses and pizzas at his space in The Crib.
Carne
A collaboration between The Crib and Hsu's brother Eric, Carne will be pushing the boundaries of carnivorous fusion with Anthony Bourdain-worthy quantities of meat from around the world.
Mex Max
After a shakey start, Hsu assures us Mex Max has lifted its game with sufficient alacrity to secure it a place in the pantheon of Cribworthy kitchens. We hope they're bringing their bartender with them.
海盗虾饭
We don't know much about Pirate Shrimp Rice (our translation) but we do know its first restaurant in Weigongcun has a five-star rating with almost 2000 votes on Dianping.
The King of Crayfish (龙虾王)
If you're reluctant to brave the tearing down of Guijie to get your spicy crayfish fix, The Crib has you covered.
Mr Shi's Noodle Shop
Aspiring dumpling magnate (Mr.) Shi Xinzhong, is branching out into the world of noodles with what will be his sixth location in Beijing. Expect a variety of hearty northern-style noodle soups.
Glaçage
This Franco-Hongkongese pâtisserie collaboration serves up picture-perfect eclairs. Its cavalier approach to flavor sees it produce combinations such as mandarin and chestnut and foie gras and fig.
Pho3
The folks behind The Pho Laboratory will be serving up their greatest hits. If its as good as the Pho Lab, expect a contender for best pho in Beijing.
Mengba Warriors (蒙巴汉子)
These Mongolian mutton specialists will be manning the chuan'rbecue to deliver chuan'r and other mutton dishes, as well as fresh Mongolian mutton to take to cook at home.
72 Dumplings (72般饺子)
Young Beijing designer, Li Nai takes an innovate approach to dumpling design.
Classic Snack(小食大作)
These newcomers to the Beijing dining scene will be offering a range local snacks and street food.
Stone Kitchen (石头食堂)
Guilin Mifen and other Guizhou dishes.
Limin Huoshao (利民火烧)
Donkey Burgers
Man Burg (馒堡格)
Hamburgers made on mantou.
Kato-ya (加藤屋)
A chain serving simple Japanese fare including bento and tonkatsu.
Nooxo
Juices and healthy meals.
Yaksa
Thai noodles.
Stove Fire Coffee
Coffee.
DRINK
Canvas
Janes & Hooch dynamic duo Warren Pang and Milan Sekulic have created a bar space that, as its name suggests, is a blank canvas for regular reinvention. The pair will be changing things up with new themes and concepts every season.
Australian Natural
Ross Tan and Nick van Leeuwen supply Australian organic and biodynamic wines to the fancy likes of The Orchid, TRB and The Georg. Find them now upstairs at The Crib.
Jing A
One of the better breweries in Beijing.
Peiping Machine
Recent addition to the Beijing beer scene with 32 taps of local brews on Jiaodaokou Beisantiao.
Buzz Beer
This honey beer from Shandong Province hit Beijing earlier this year and is now selling well in bars across the city. Expect a crisp flavor without the sweetness you'd imagine from a honey beer.
SHOP
Vivi Dolce
Italy has a gelato university. It's called the Carpigiani Gelato University and one of its graduates, Vivienne Li whips up naturally flavored, smooth-as-silk ice treats for discerning Beijingers.
Naked Nut Butters
Health food enthusiasts Meredith Sides and Katie Tarrant believe the secret to making their nut butters is in the name: less is more. They use as few ingredients as possible to create almond and cashew nut butters abundant in nutty flavor and low in salt and sugar.
Shangrila Farms
Founder Sahra Malik and her family have been supporting farmers in the Shangri-la region for more than a decade, delivering honey, coffee, jams, soaps and other products internationally.
There are three restaurant spots and many market spots left available. Get in touch with Hsu (hsu.li@thecrib.cn) to get involved.
The Crib
Daily lunch and dinner (soft opening). 1 Gongti Beilu (just south of the southeast corner of Xingfucun Zhonglu (April Gourmet Street) and Chunxiu Lu), Chaoyang District 
朝阳区工体北路1号 (春秀路和幸福村中介路口南边)
Photo courtesy of The Crib
Comments