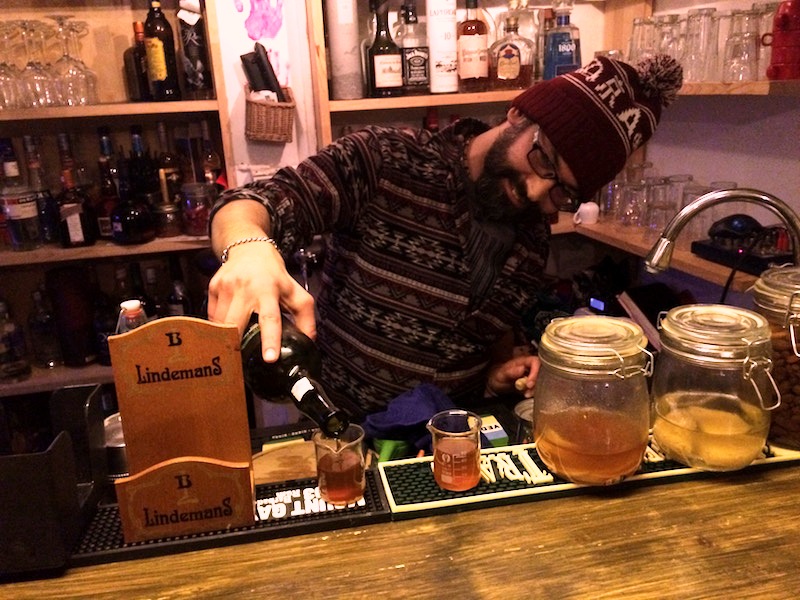 See Ya Cuju: Say Hello to Gulu Bazz, Badr Benjelloun's New Vermouth Bar
Many a Beijing rummy drowned their sorrows at Cuju this past fall after owner Badr Benjelloun announced his plans to shut down and entirely revamp the Beixinqiao bar, which was equally popular among sports fans as those with a taste for sugarcane spirits.
Now, after a few months of preparation, Benjelloun has unveiled a different sort of venue in the same hutong location: Gulu Bazz Kitchen and Vermouth Lab.
Benjelloun describes it as "Arguably the first vermouth and fortified wine-focused place in China," and has stocked the bar with bottles of Sicilian Martinez Marsala Superiore Riserva Secco, Niepoort Tawny from Portugal, and Noilly Prat and Dolin vermouths (both of which are from France). More exciting still: like a true mad scientist, Benjelloun is concocting his own soon-to-be-ready vermouths at the bar, made with various botanicals and other fragrant ingredients.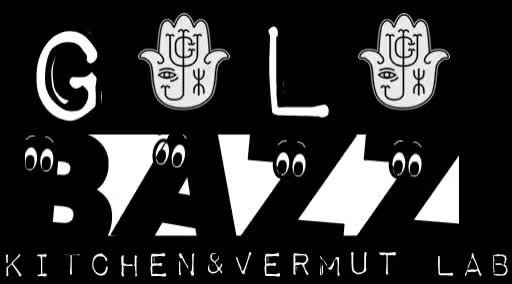 Benjelloun is serving drinks in chemistry beakers that not only look fun, but indicate to the customer the exact amount poured for them.
"What I love about fortified wines is that they're like a cocktail already, right away when you pour them," he says of the textured flavors of the imported goodies lining Gulu Bazz's shelves. He plans to serve them for about RMB 50 per glass or get a flight – better to test a range of flavors that a country or specific brand has to offer – for RMB 60-80.
Benjelloun begins, during a recent visit, by pouring us a glass of the aforementioned Marsala. It's a sharp and bitter fortified Italian wine, and its 18 percent alcohol level is almost immediately apparent, quickly leaving us tipsy.
Then, from his vermouth stash, he opts to give us the Noilly Prat, which proves to be more nuanced thanks to its faintly sour flavor and the delicate aftertaste burn. For Benjelloun, it epitomizes the straightforward sophistication of many European bars. "The French enjoy serving this one with nothing more than a slice of lemon. It's very simple, unlike the flashier, more complex cocktail trends that you hear about, which are really more of an Anglophone thing."
He finishes us off with a beaker full of Italian Punt e Mes vermouth, which has a faint sweet tinge upon touching our palate, that's quickly followed by a rush of bitter aftertaste.
Bottom line: these offerings are a marked departure from the swaths of rum that Cuju was famous for (devotees need not worry; Benjelloun will continue to serve those spirits at his Guanghua Lu located Caravan). Patrons are also sure to quickly notice that Gulu Bazz is, unlike its predecessor, anything but a sports bar. Again, Benjelloun has opted to broadcast games at Caravan during reasonable hours, because throwing open Cuju's doors for NFL diehards at all hours simply took up too much of his time. Instead, he'll throw up Charlie Chaplin oldies and other black-and-white classics on Gulu Bazz's screens.
Cuju regulars that grew fond of the menu's Moroccan fare, however, will be pleased to see Gulu Bazz's assortment of tapas with North African twists, including a "build your own shakshuka" menu. Benjelloun will also maintain several tried and true nightly specials like cassoulet Tuesdays and couscous Fridays, and he plans to have a shakshuka brunch special on weekends after Spring Festival. On top of that, Benjelloun will use the venue as an incubator for small F&B entrepreneurs on Wednesdays, including a sure-to-be-tasty effort by Candice Kitchen on Jan. 11.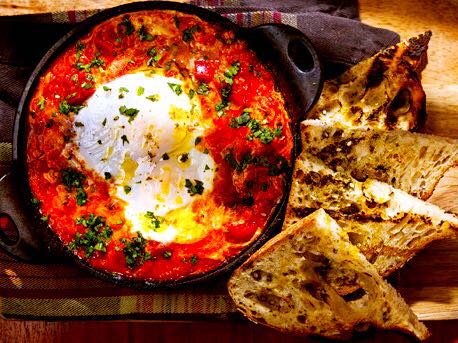 While it's a noticeable change from Cuju, patrons will see much of Benjelloun's trademark style in the revamped venue's beverages, eats, and atmosphere. And his sense of humor is also evident in the bar's name, which comes from the Moroccan language Darija.
RELATED: Get 50 Percent Off at Caravan During Social Sundays
"'Gulu' means 'say' and 'bazz' is hard to translate," Benjelloun tells us, before adding: "It's an expression of surprise at something strange and unusual. So if we see pigs fly, we say 'bazz.' If we see someone bitching about the pollution, but at the same time have a coal factory, we also say bazz."
It's likely that the vermouth and fortified wines on offer at Gulu Bazz are sure to leave patrons spouting befuddled contradictions and phrases at this fun revamped venue.
Gulu Bazz Kitchen and Vermouth Lab
Tue-Sun 6pm-late. 28 Xiguan Hutong, Doncheng District (6407 9782)
东城区细管胡同28号 
More stories by this author here.
Email: kylemullin@truerun.com
Twitter: @MulKyle
WeChat: 13263495040
Photos: Kyle Mullin, Badr Benjelloun
Comments